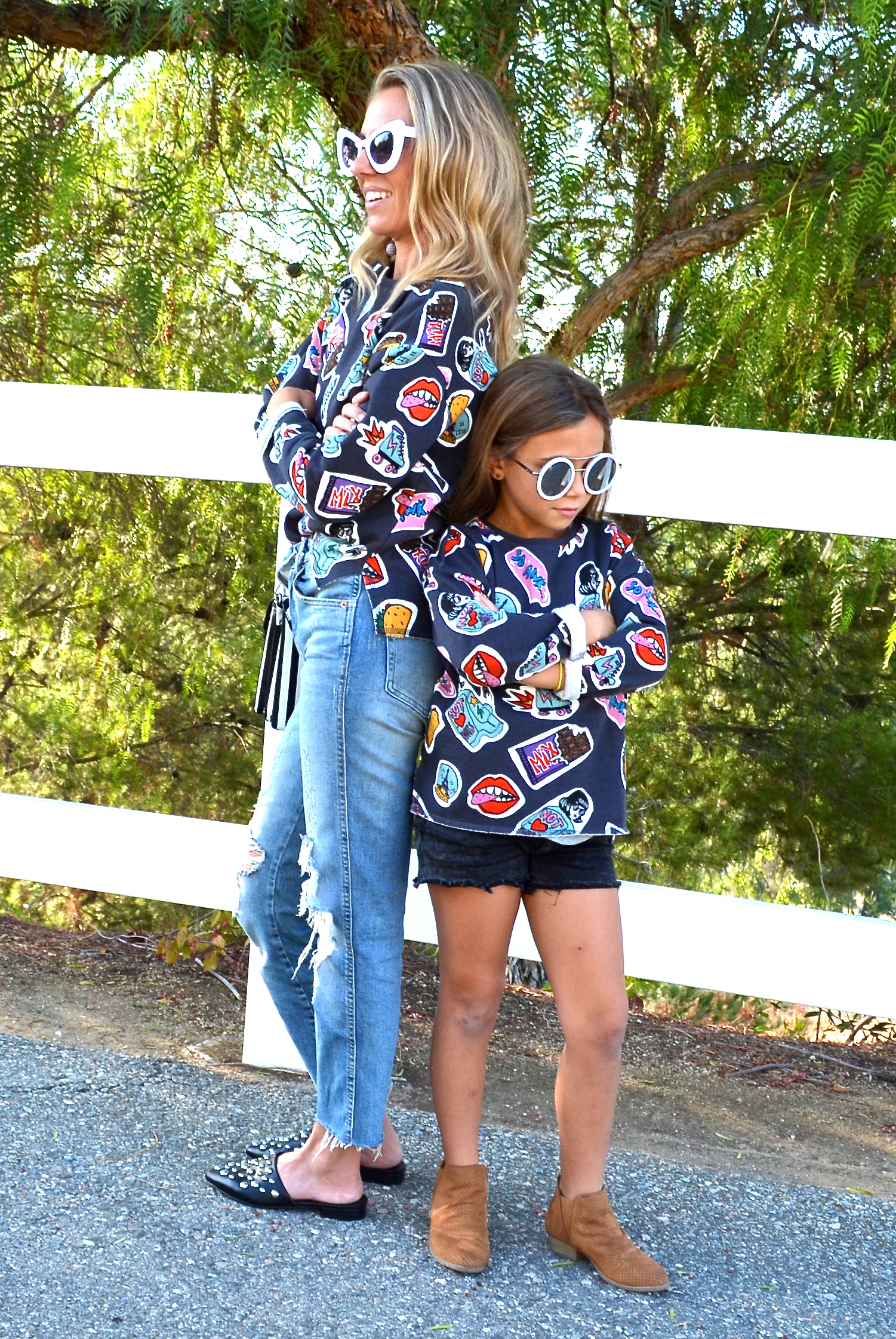 Hi Friends!!
You all know how much I love fashion and style and my little Lulu is just the same.  She loves going shopping with me and has her OWN opinion on her clothes and what she wears.  When I went on my girls trip to San Fransisco I brought her back this fun sweatshirt from Zara and I was happy to see she loved it as much as I do.  I also brought her back these black denim shorts from H&M as well as these cute booties from Nordstrom Rack and she made it into one whole look.
I started to fall in love with fashion when I was about her age.  I talked my mom into buying these black lace up booties and I wore them everyday to school.  My mom and sister always teased me thinking the boots were too crazy for an eight year old but I didn't care.
As a mother raising a young daughter I want her to have fun with fashion and not worry about what others think.  It's important she feels confident and beautiful as herself.  Sometimes she likes to wear fun girlie dresses and other times she wants her running shoes on so she can play soccer at recess.  Sometimes I buy her clothes thinking she'll love it but she says "this is your style mom not mine".  I love that she has her OWN style already!
Every now and again we are on the same style page and we get to wear matching outfits like we are here.  Not a lot of brands have matching outfits for kids and adults but luckily I can fit in the Large  in most kids clothes.  If you haven't tried doing that you definitely should!  Kids clothes have extended sizes these days and they are usually much more affordable than adults.  This sweatshirt for example was only $15!!  I'm wearing size 11-12 in this Zara sweatshirt and there are a couple sizes larger available as well.  I also love buying kids clothes at Target, Abercrombie, and Old Navy.
I'd love to hear what you think of our matching outfits and if you ever like to wear matching clothes with your kids.  Our outfit details are linked below.
Thanks for stopping by!!
xx
Jaclyn
Save