[fusion_builder_container hundred_percent="no" equal_height_columns="no" hide_on_mobile="small-visibility,medium-visibility,large-visibility" background_position="center center" background_repeat="no-repeat" fade="no" background_parallax="none" enable_mobile="no" parallax_speed="0.3″ video_aspect_ratio="16:9″ video_loop="yes" video_mute="yes" overlay_opacity="0.5″ border_style="solid" padding_top="20px" padding_bottom="20px"][fusion_builder_row][fusion_builder_column type="1_1″ layout="1_1″ spacing="" center_content="no" hover_type="none" link="" min_height="" hide_on_mobile="small-visibility,medium-visibility,large-visibility" class="" id="" background_color="" background_image="" background_position="left top" background_repeat="no-repeat" border_size="0″ border_color="" border_style="solid" border_position="all" padding="" dimension_margin="" animation_type="" animation_direction="left" animation_speed="0.3″ animation_offset="" last="no"][fusion_text]
Friday is the first official day of Fall so I wanted to give you some insight on a few Spring/Summer trends that you can keep for the new season.
1- Blush Pink: This soft shade of pink has been everywhere from Spring to Summer and it's not going anywhere.  Do you have that cute pink dress that you still can't get enough of??  Don't worry, just add OTK boots and a cardigan and you're good to go.
2- Sleeve details: From off the shoulder, cold shoulder, bell sleeves, to ruffles- ALL statement sleeves are here to stay!  Keep your favorite top and switch your cut off shorts to denim and it's an easy transition to Fall.
3- Statement Earrings:  The IT accessory of the summer has been the big statement earring and it's not going away.  You can add you favorite earrings to your new Fall looks easily.  With more clothing layers its good to keep the look simple with a great pair of earrings.
4- Mules and Slip-on Shoes: The pool style sliders were a big hit in the summer and although that particular style will stay by the pool all the other cute slip on shoes such as mules and clogs are a keeper this season.  Just pair them with a great pair of jeans and a cozy sweater for a casual look.
5- Embroidery: From shoes to dresses and tops embroidery is here to stay.  Keep that cute embroidered top and just add denim- it's that simple!!
Hope this helps you realize that you don't have to buy a whole new wardrobe just for a new season.  I'm sure you've got a few of these items already in your closet and you just need to add a couple cold weather ready items to it and you're good to go.  What's your favorite item to keep in your wardrobe for Fall?
For my outfit pictured I found this cute floral off the shoulder top at Charlotte Russe and I love the bohemian vibes.  Outfit links are listed below.
Thanks for stopping by.
xx  Jaclyn
[/fusion_text][fusion_text]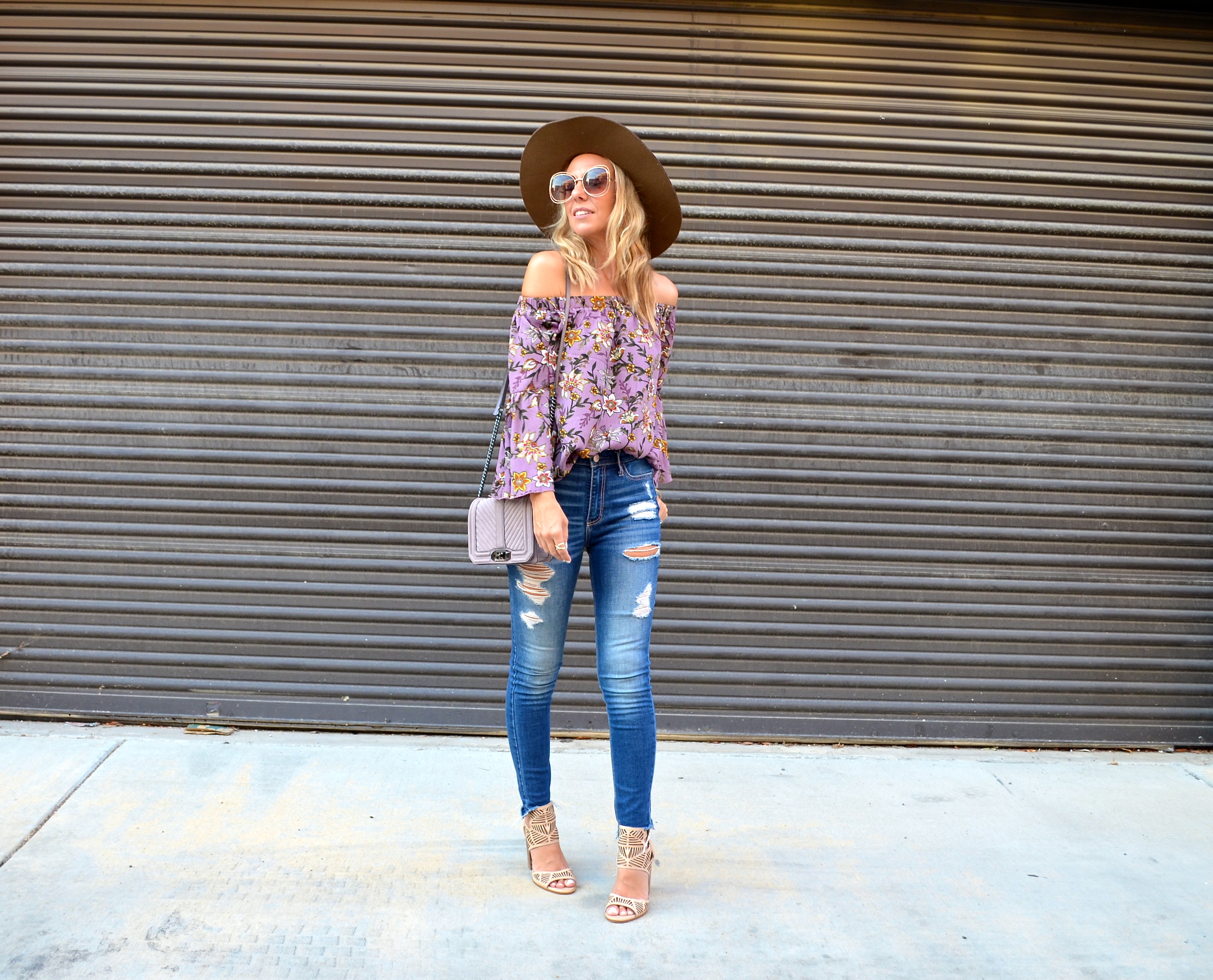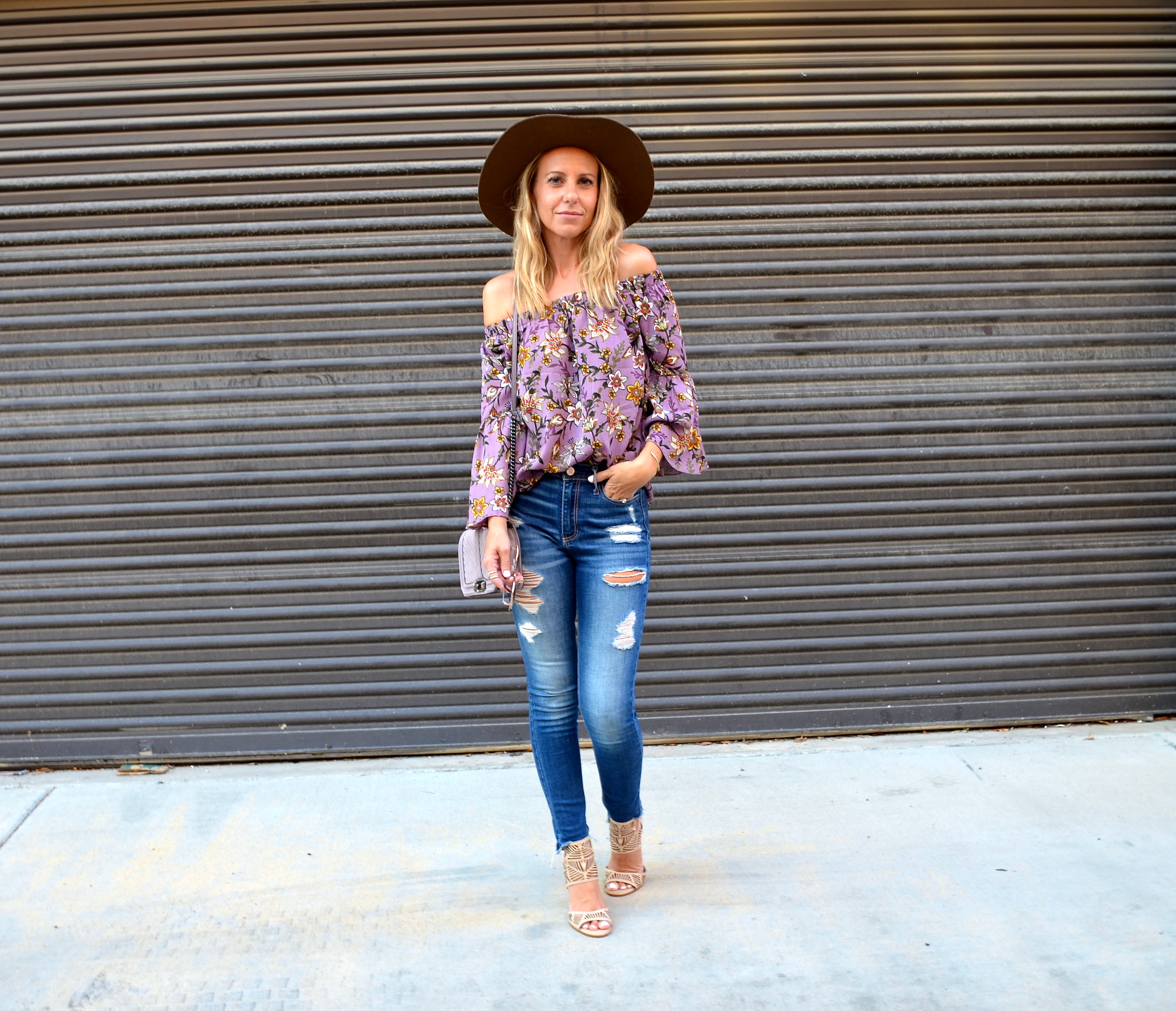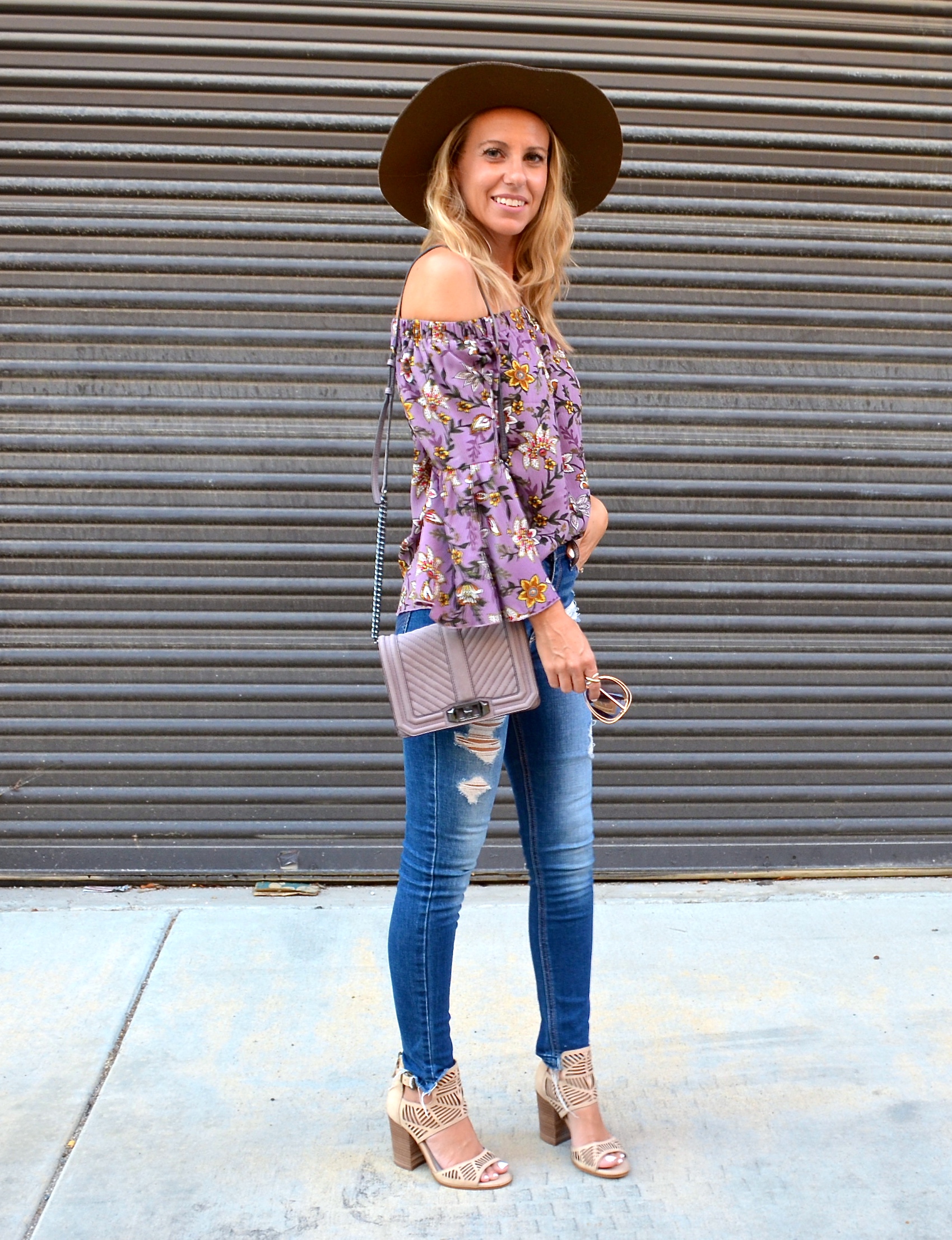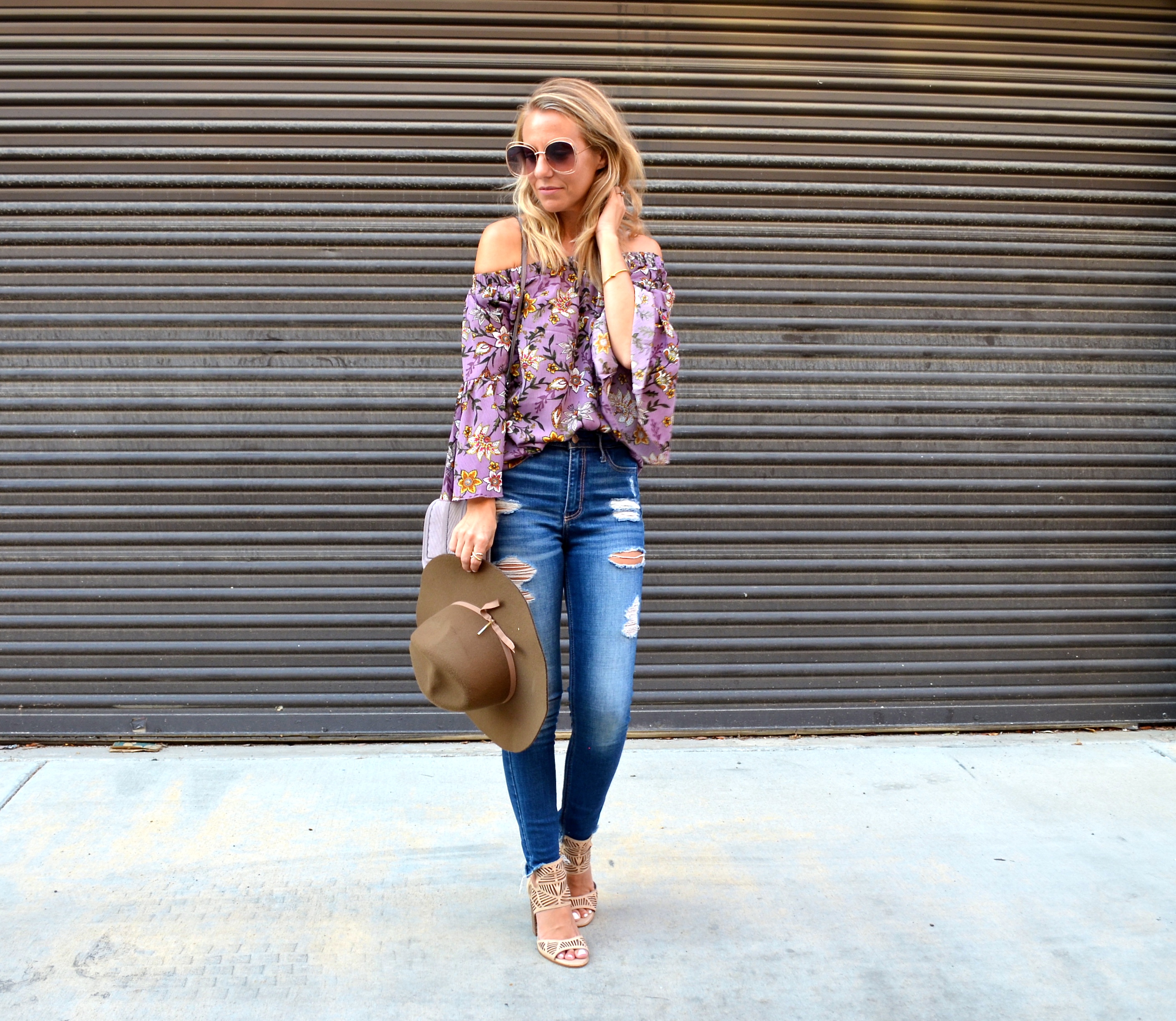 Save
[/fusion_text][fusion_title hide_on_mobile="small-visibility,medium-visibility,large-visibility" size="2″ content_align="center" style_type="default"]
shop my outfit
[/fusion_title][fusion_images picture_size="fixed" hover_type="none" autoplay="no" columns="5″ column_spacing="13″ show_nav="yes" mouse_scroll="no" border="yes" lightbox="no" hide_on_mobile="small-visibility,medium-visibility,large-visibility"][fusion_image image="https://jaclyndeleonstyle.com/wp-content/uploads/2017/09/Screen-Shot-2017-09-19-at-10.30.10-PM.png" image_id="4949″ link="http://www.charlotterusse.com/floral-off-the-shoulder-top/302411757.html" linktarget="_blank" /][fusion_image image="https://jaclyndeleonstyle.com/wp-content/uploads/2017/08/Screen-Shot-2017-08-12-at-11.43.22-AM.png" image_id="4602″ link="https://www.hollisterco.com/shop/us/p/-7635130?seq=01&categoryId=12623&ofp=true" linktarget="_blank" /][fusion_image image="https://jaclyndeleonstyle.com/wp-content/uploads/2017/08/Screen-Shot-2017-08-07-at-10.21.39-PM.png" image_id="4557″ link="http://shop.nordstrom.com/s/rebecca-minkoff-small-love-nubuck-crossbody-bag-nordstrom-exclusive/4607095?origin=keywordsearch-personalizedsort&fashioncolor=MOON%20NUBUCK%2F%20LIGHT%20GOLD%20HRDWR" linktarget="_blank" /][fusion_image image="https://jaclyndeleonstyle.com/wp-content/uploads/2017/08/Screen-Shot-2017-08-11-at-1.02.36-PM.png" image_id="4593″ link="http://www.charlotterusse.com/metal-oversize-sunglasses/302327744.html?dwvar_302327744_color=710&cgid=sunglasses#sz=30&start=31″ linktarget="_blank" /][fusion_image image="https://jaclyndeleonstyle.com/wp-content/uploads/2017/03/Screen-Shot-2017-05-24-at-10.33.16-PM.png" image_id="3689″ link="http://shop.nordstrom.com/s/hinge-drew-laser-cutout-sandal-women/4502823?origin=category-personalizedsort&fashionsize=5&fashioncolor=BLUSH%20NUBUCK" linktarget="_blank" /][fusion_image image="https://jaclyndeleonstyle.com/wp-content/uploads/2017/09/Screen-Shot-2017-09-20-at-12.04.51-PM.png" image_id="4964″ link="https://www.target.com/p/women-s-rancher-hat-a-new-day-153-brown-one-size/-/A-52348645#lnk=sametab" linktarget="_blank" /][/fusion_images][/fusion_builder_column][/fusion_builder_row][/fusion_builder_container]
Save