[fusion_builder_container hundred_percent="no" equal_height_columns="no" hide_on_mobile="small-visibility,medium-visibility,large-visibility" background_position="center center" background_repeat="no-repeat" fade="no" background_parallax="none" enable_mobile="no" parallax_speed="0.3″ video_aspect_ratio="16:9″ video_loop="yes" video_mute="yes" overlay_opacity="0.5″ border_style="solid" padding_top="20px" padding_bottom="20px"][fusion_builder_row][fusion_builder_column type="1_1″ layout="1_1″ spacing="" center_content="no" hover_type="none" link="" min_height="" hide_on_mobile="small-visibility,medium-visibility,large-visibility" class="" id="" background_color="" background_image="" background_position="left top" background_repeat="no-repeat" border_size="0″ border_color="" border_style="solid" border_position="all" padding="" dimension_margin="" animation_type="" animation_direction="left" animation_speed="0.3″ animation_offset="" last="no"][fusion_text]
Happy Friday!!
I'm on my way out of town for the weekend but wanted to share with everyone one of my favorite trends- The Gingham Print.  Now this trend is very classic and has been around forever but it definitely comes in and out of style.  Since the gingham print is usually on the preppy side I was a little hesitant but decided to give it a try……..and I LOVE it.
As all of you know I'm OBSESSED with the off the shoulder trend right now so of course this cute top I found at Target was an easy choice.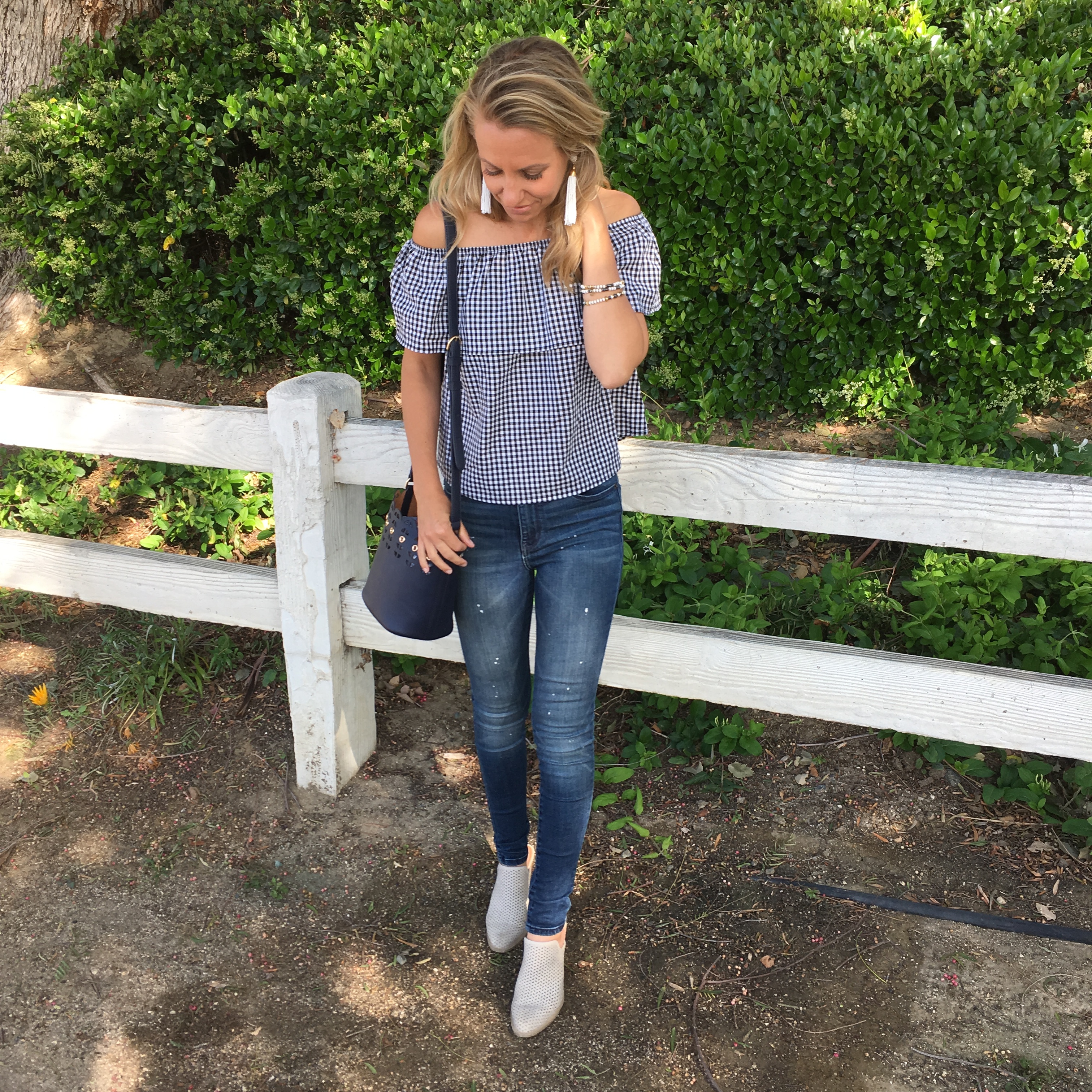 After loving my off the shoulder top I found this super cute gingham dress from Zara and had to give it a try as well.  It has adorable ruffles-which as you know is another big trend right now-and is a perfect spring dress.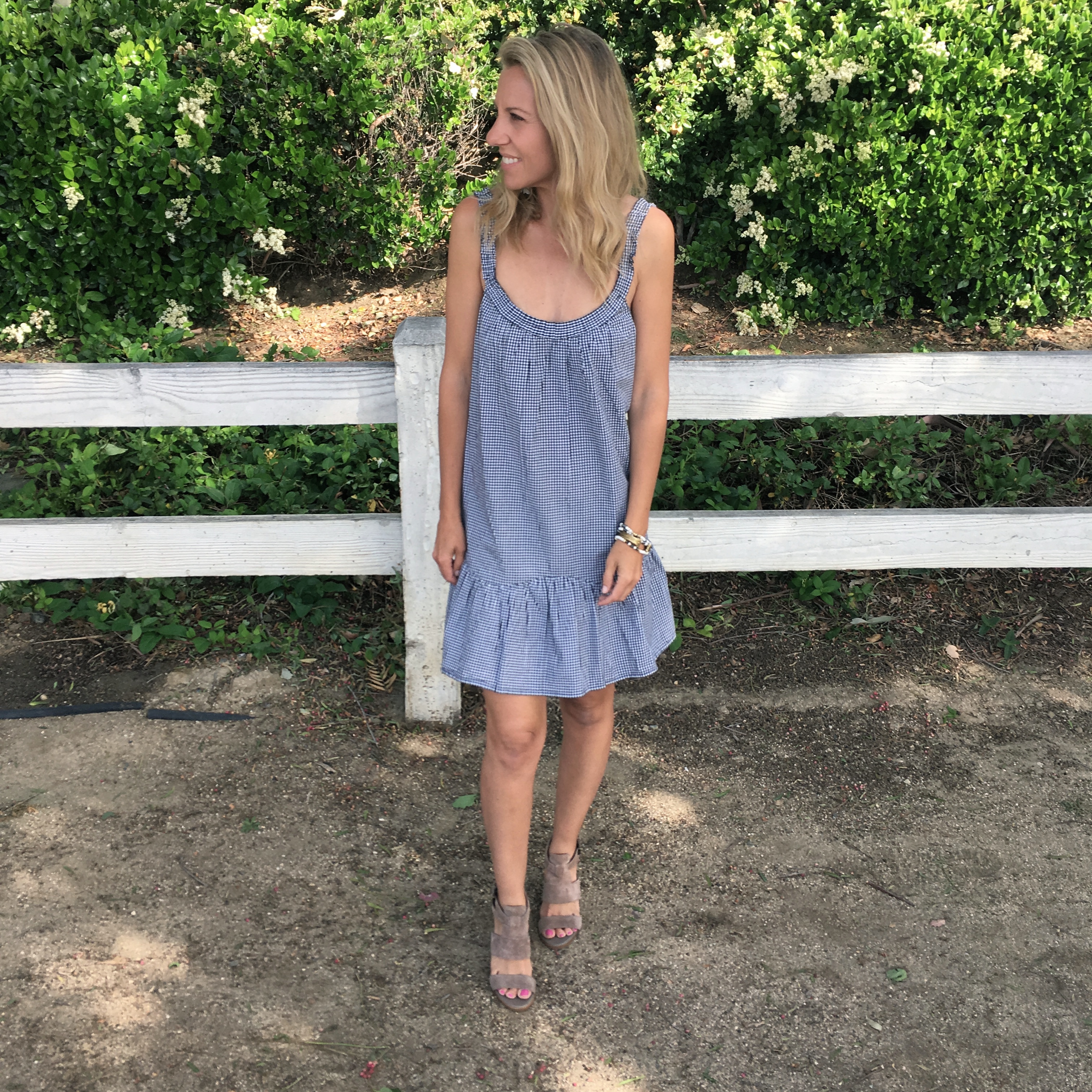 There is so many variety to styles and cuts in this print right now that you can be as preppy or edgy as you like.  And of course there are tons of great affordable options out there!
Below I've linked some of my favorite gingham print items so definitely check them out.
Save
Save
[/fusion_text][fusion_title hide_on_mobile="small-visibility,medium-visibility,large-visibility" size="1″ content_align="center" style_type="default"]
shop this trend
[/fusion_title][fusion_images picture_size="fixed" hover_type="none" autoplay="no" columns="5″ column_spacing="13″ show_nav="yes" mouse_scroll="no" border="yes" lightbox="no" hide_on_mobile="small-visibility,medium-visibility,large-visibility"][fusion_image image="https://jaclyndeleonstyle.com/wp-content/uploads/2017/04/Screen-Shot-2017-04-23-at-10.55.38-AM.png" image_id="3253″ link="http://www.target.com/p/women-s-ruffle-off-the-shoulder-top-xhilaration-153-juniors/-/A-52051919″ linktarget="_blank" /][fusion_image image="https://jaclyndeleonstyle.com/wp-content/uploads/2017/04/Screen-Shot-2017-04-23-at-11.22.24-PM.png" image_id="3273″ link="https://www.zara.com/us/en/woman/dresses/short-gingham-dress-c358003p4622523.html" linktarget="_blank" /][fusion_image image="https://jaclyndeleonstyle.com/wp-content/uploads/2017/04/Screen-Shot-2017-04-23-at-11.15.40-PM.png" image_id="3268″ link="https://www.ae.com/women-don-t-ask-why-flounce-cami-white/web/s-prod/0645_2341_100?cm=sUS-cUSD" linktarget="_blank" /][fusion_image image="https://jaclyndeleonstyle.com/wp-content/uploads/2017/04/Screen-Shot-2017-04-23-at-11.17.08-PM.png" image_id="3269″ link="http://shop.nordstrom.com/s/topshop-knot-gingham-top/4639652?origin=keywordsearch-personalizedsort&fashioncolor=BLACK%20MULTI" linktarget="_blank" /][fusion_image image="https://jaclyndeleonstyle.com/wp-content/uploads/2017/04/Screen-Shot-2017-04-23-at-11.18.29-PM.png" image_id="3270″ link="http://shop.nordstrom.com/s/love-fire-gingham-cold-shoulder-top/4587452?origin=keywordsearch-personalizedsort&fashioncolor=BLUE%2F%20WHITE%20GINGHAM" linktarget="_blank" /][fusion_image image="https://jaclyndeleonstyle.com/wp-content/uploads/2017/04/Screen-Shot-2017-04-23-at-11.19.58-PM.png" image_id="3271″ link="http://www.forever21.com/Product/Product.aspx?br=F21&category=branded-shop&productid=2000135185″ linktarget="_blank" /][fusion_image image="https://jaclyndeleonstyle.com/wp-content/uploads/2017/04/Screen-Shot-2017-04-23-at-11.21.14-PM.png" image_id="3272″ link="http://www.forever21.com/Product/Product.aspx?br=F21&category=branded-shop&productid=2000189667″ linktarget="_blank" /][/fusion_images][fusion_text][/fusion_text][/fusion_builder_column][/fusion_builder_row][/fusion_builder_container]
Save