I don't know about you but being a busy mama of 3 and working for myself I get little to no sleep each night. But who wants to look like a hot mess? I want to look and feel my best but don't have the time to always get in a full nights rest.
I've tried tons of beauty products and I'm here to share my tried and true favorites for looking like you've gotten all your beauty sleep.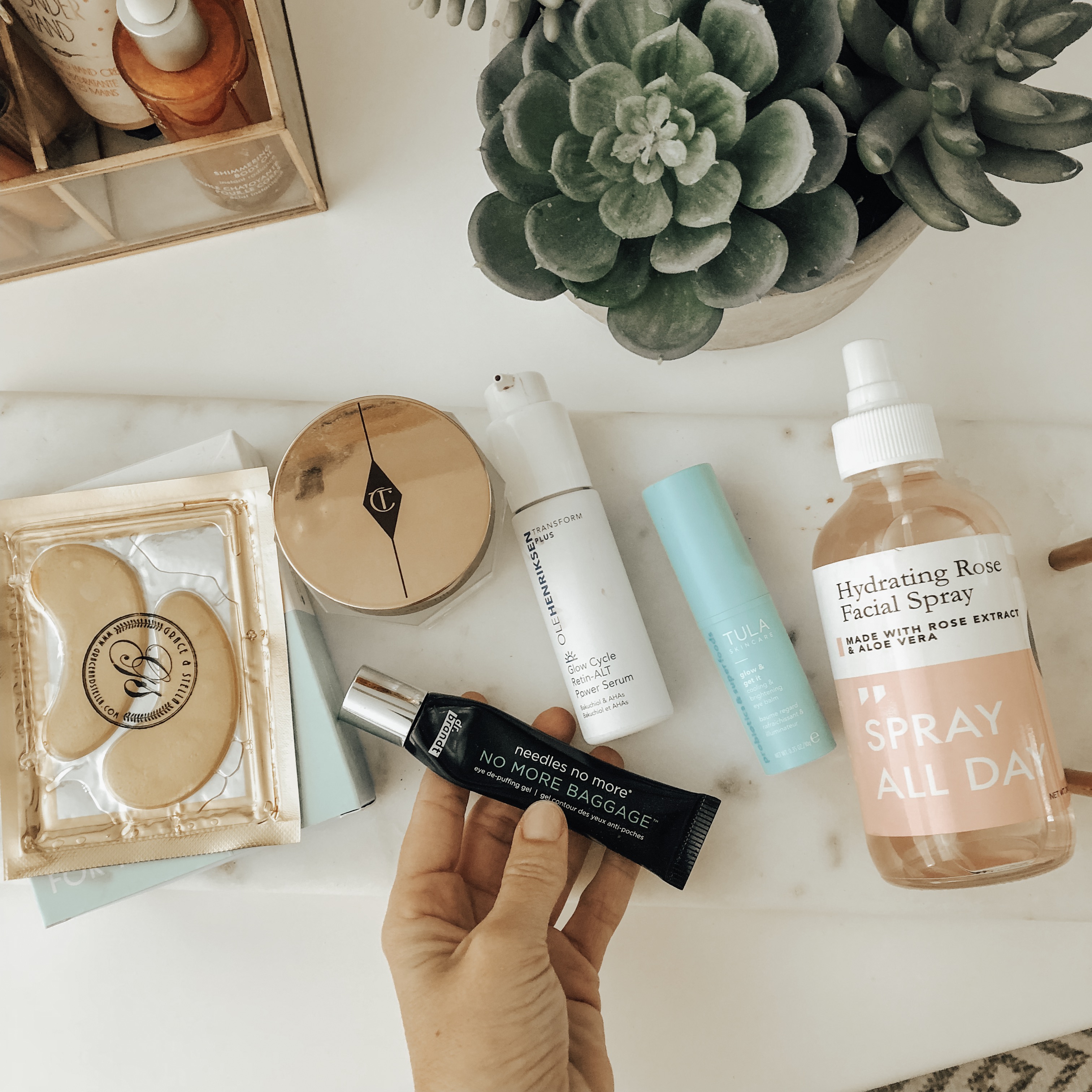 1- Glow & Get It by Tula: This might be hands down my favorite product of the bunch. It's an easy to use stick that you can apply anytime and anywhere. You can put it under or over your makeup and reapply as necessary. Best part is that it works instantly! It cools, hydrates, and brightens the look of under eye dark circles. Definitely my go to product when I'm lacking sleep and a must-have in my travel bag. And you can get 20% off all Tula products with code JACLYNDE.
2- Dr. Brandt Skincare No More Baggage Eye De-Puffing Gel: If you are someone that gets puffy eyes or bags under your eyes then this is the one product you need. Once applied you instantly feel a tightening effect and see it reduce the appearance of under-eye bags and dark circles. It's definitely a heavy hitting product that provides an immediately brighter, well-rested look. Let's just say my husband steals this product from me constantly.
3- OLEHENRIKSEN Glow Cycle Retin-ALT Power Serum: I've been using this product for quite a while and I love the glow it gives to my skin. It's a power serum that targets dullness and dramatically evens skin tone. Plus, its lavender tint instantly brightens to awaken a fresher, more youthful-looking skin.
4- Grace & Stella Anti-Wrinkle + Energizing Gold Collagen Eye Masks | Depuffing Undereye Patches: If you have the time then wearing eye patches in the morning will definitely do the trick. I love wearing them while I eat breakfast or drink my morning coffee before I put my makeup on. They reduce dark circles, puffy eye bags, fine lines and general fatigue around your eyes. The perfect way to perk up your eyes!
5- Charlotte's Magic Cream by Charlotte Tilbury: I've tried a ton of moisturizers in my time and this one by far takes the cake. It's definitely a splurge but it is SO worth it. This magic cream not only moisturizes your fatigued skin but it also creates a natural glow. I love putting it on my high cheek bones and under eye area. A little goes a long way so you don't need too much. But it truly is MAGIC!
6- Grace & Stella's Rose Facial Spray: First off this spray smells amazing and it instantly refreshes my face. It reduces redness and inflammation and leaves my skin feeling smooth. I love using it as a makeup setting spray and as a skin refresher throughout the day.

That's it, my must-have beauty products for faking a full nights sleep! Have you tried any? What's your must-have product?
And don't forget you can get 20% off all Tula products with code JACLYNDE. Thanks for stopping by!