It's definitely winter weather now and so I wanted to share my favorite coats that have been on MAJOR repeat so far this season.  Although in Temecula it usually warms up mid day I still find myself wearing a warm coat in the mornings and once the sun goes does and it really starts to get chilly.
1- FAUX FUR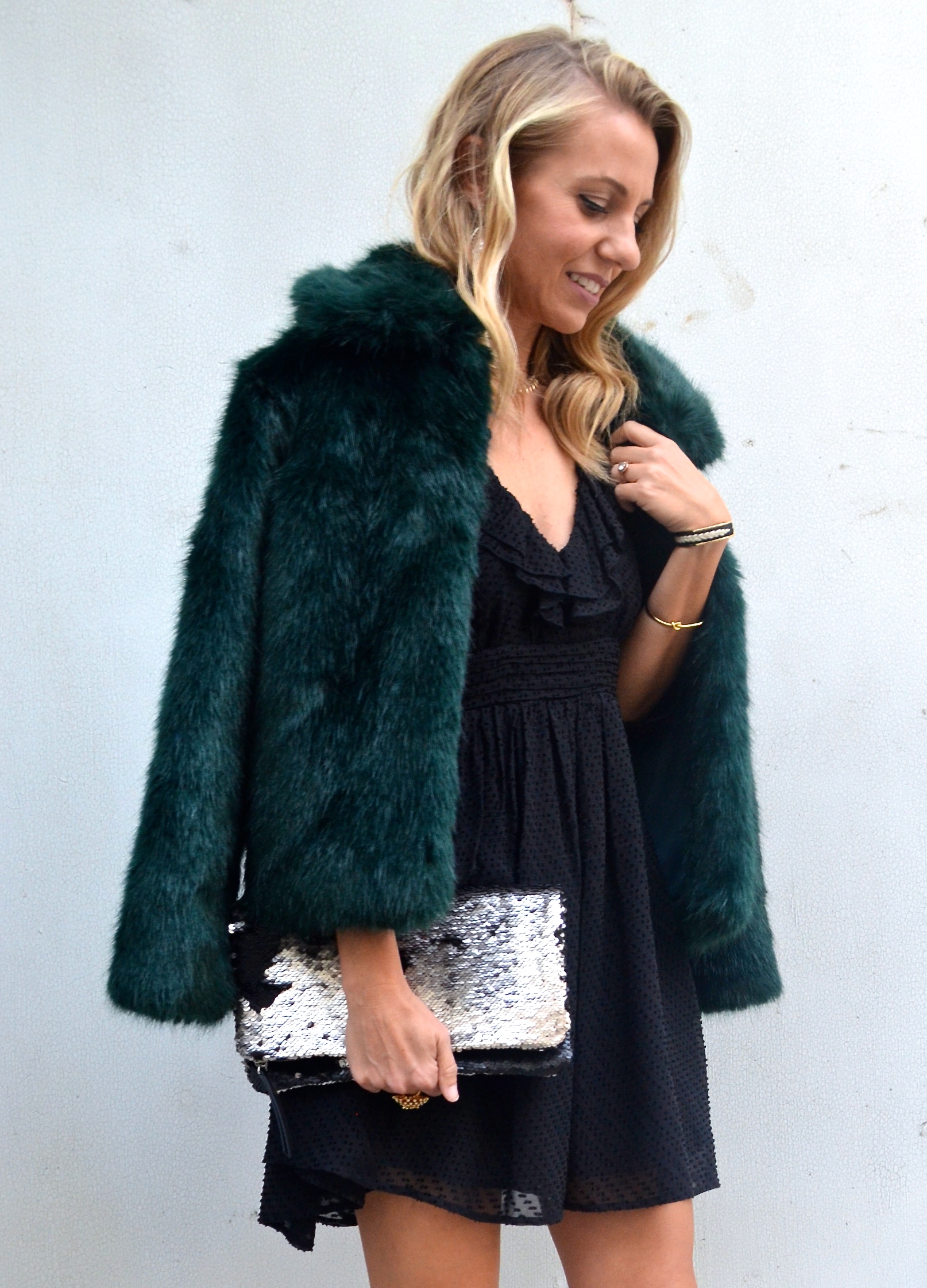 Everyone needs a good faux fur jacket in their wardrobe.  I love throwing it over a classic LBD like I did here for a wedding I attended.  It's also perfect to dress up a good pair of denim for a dinner date or a night on the town.  I love this emerald jewel tone green especially paired with black.  I picked up this jacket last year but found several similar affordable styles below.
SHOP FAUX FUR

2- LEOPARD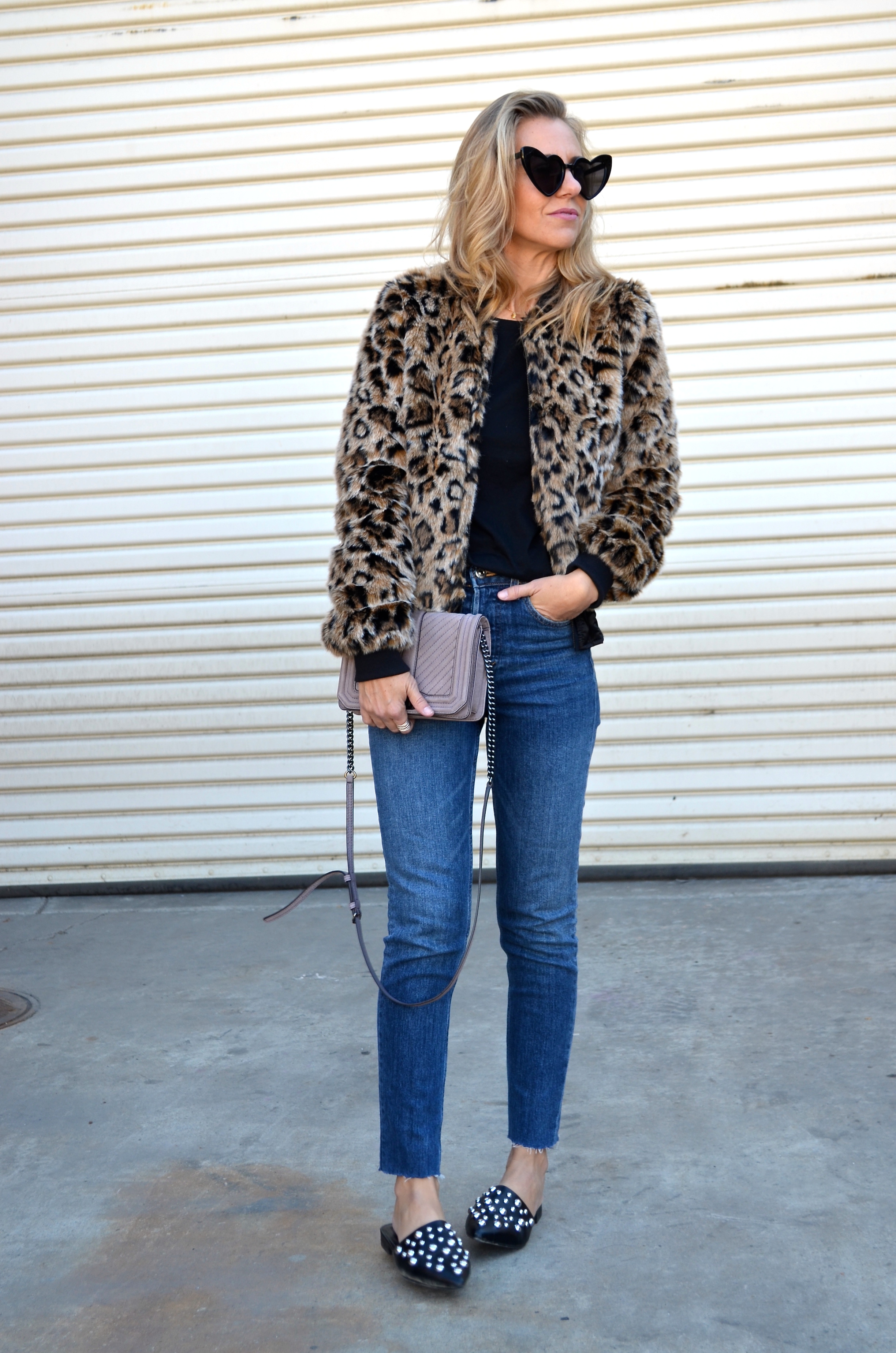 What I love about Leopard is that it's a classic print that you can pair with just about anything.  I found this bomber style leopard jacket at American Eagle and it's reversible!  The other side is solid black so I will definitely get a lot of use out if it.  Here I paired it with medium straight leg denim and a classic black shirt, but with leopard the possibilities are endless.  Have fun with it and mix it with other prints!
SHOP LEOPARD JACKETS

3- THE TEDDY COAT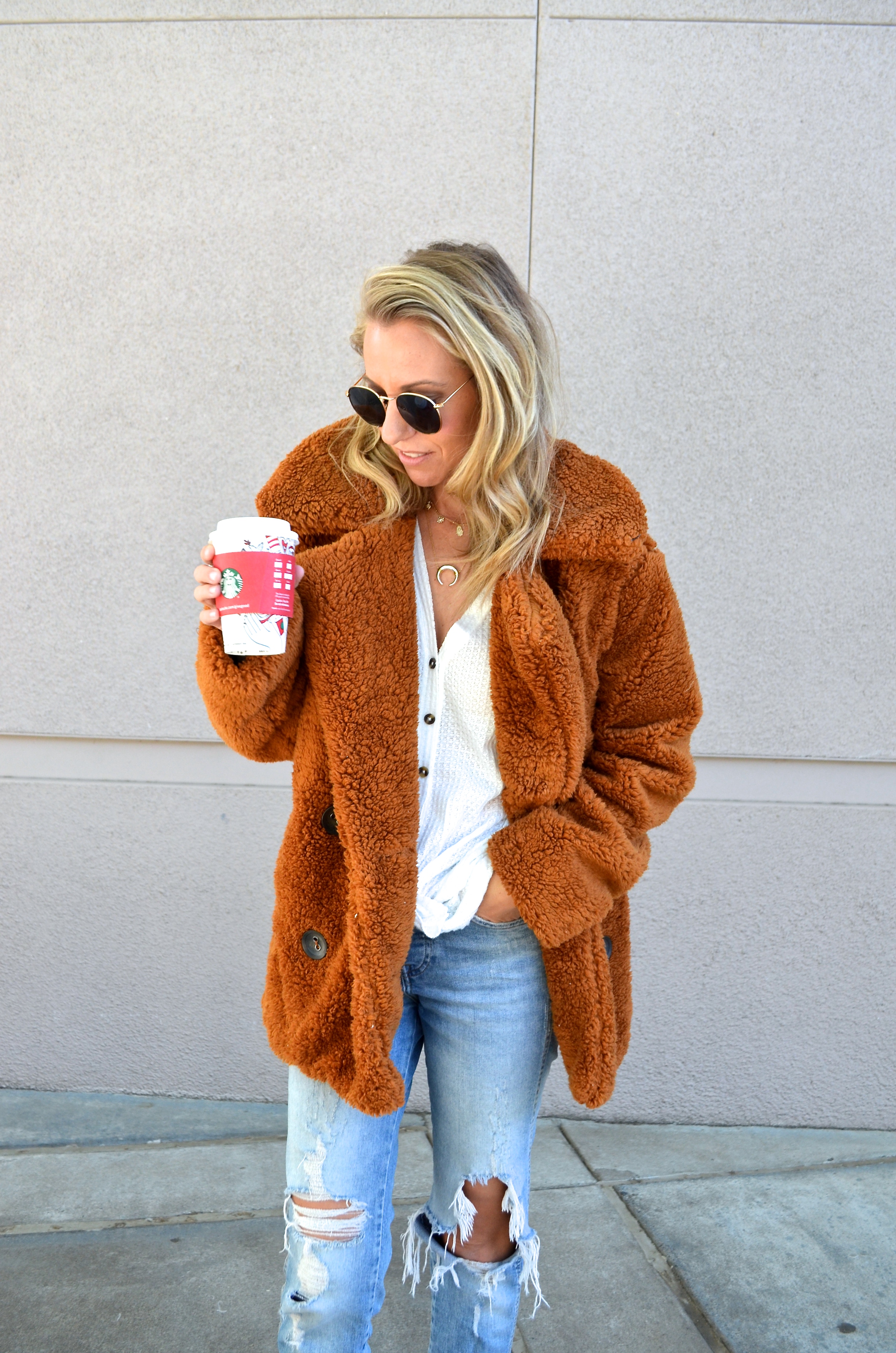 The Teddy Coat is my far the coziest jacket I've ever owned.  When I first got it I didn't want to take it off and wore it everywhere I went- and I got tons of compliments on it.  This jacket has a slight oversized fit and feels like you're wearing a soft blanket!  The one I'm wearing here is from Free People and I paired it will my everyday staples of light distressed denim and a white oversized thermal top.  This one comes in a couple different color options but I also found a really cute pink one from Nordstrom's that's now on my wish list.
SHOP THE TEDDY COAT

4- BLACK MILITARY INSPIRED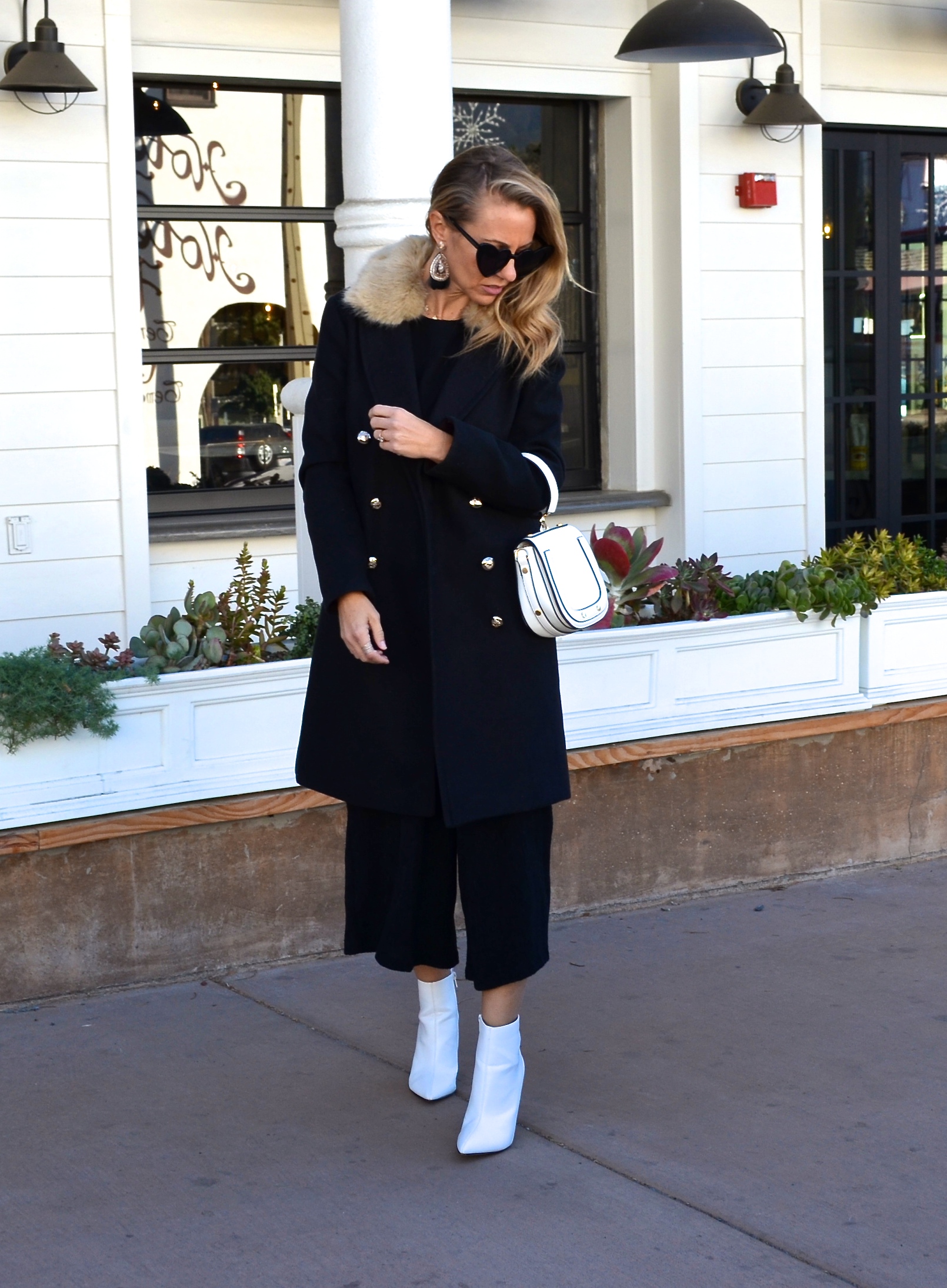 This winter I really wanted a good black jacket that I could wear this entire season and was so happy when I found this one.  It's a slightly longer coat than other styles I have but I love the slight military look paired with the faux fur collar.  This coat is from Top Shop and I love how versatile it is.  Here I paired it with a classic pair of crop flare pants when I went to see the Nutcracker with my daughter Lulu.  I've also worn it over a nice dress when I attended a winter wedding.  Here's a few similar styles below.
SHOP MILITARY INSPIRED

5- SHERPA LINED MOTO JACKET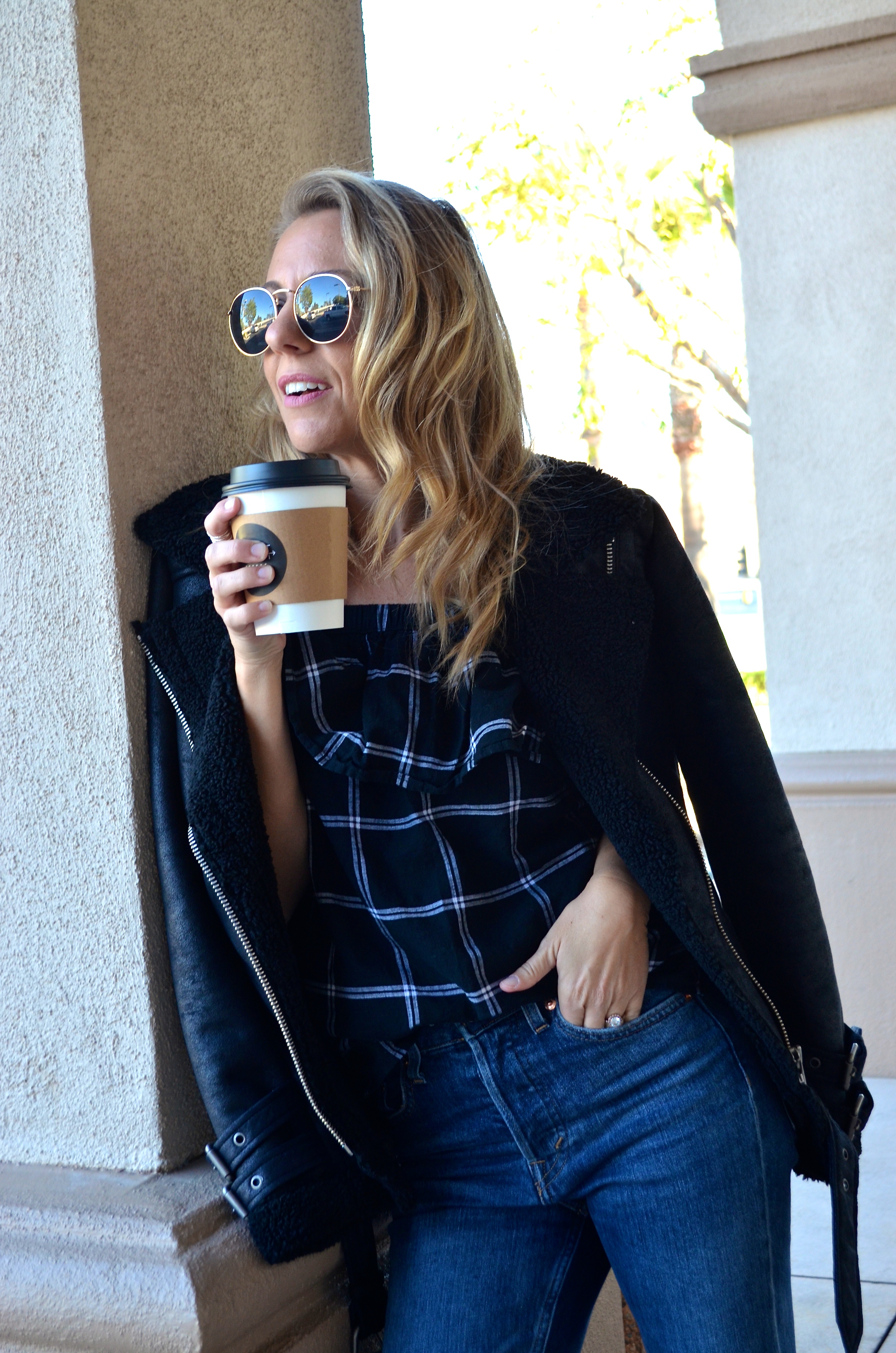 One of the hottest jacket trends this season has been the sherpa lined moto jacket.  It's a fun twist on the classic moto jacket style that's been around forever.  By adding the sherpa lining and making more of an oversized fit it's actually a rather cozy jacket.  I love my classic moto jacket that I've had for years but it doesn't really keep me warm enough in the winter (yep if you know me you know I'm always cold!).  But this sherpa lined one is much warmer and now a winter staple.  I got this one at American Eagle and I loved it so much I ordered it in the tan color as well!
SHOP THE SHERPA LINED MOTO

6- THE PINK WOOL COAT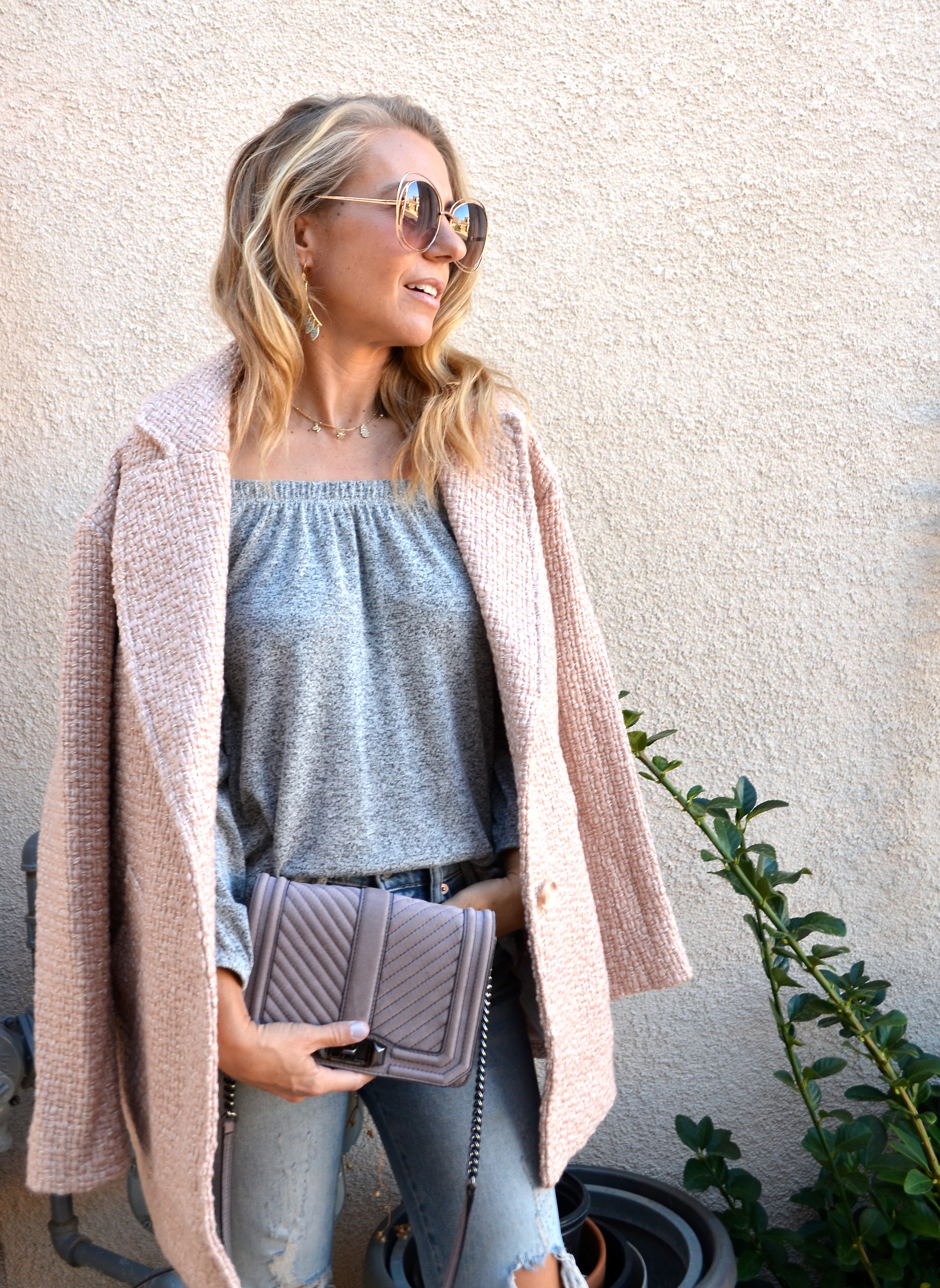 One of my favorite trends this season has been the color blush pink!  I just can't seem to get enough of it and was so excited when I came across this beautiful pink wool coat.  I picked up this coat at Abercrombie & Fitch and it quickly has become one of my go to coats.  This classic jacket can be layered over a sweater or sweatshirt to keep you super warm in the winter.  Here I paired it with my favorite denim and a classic off the shoulder gray top.  Below you can shop this coat as well as a few other similar cute coats I found.
SHOP WOOL COATS

What do you think of the 6 outerwear styles I'm loving right now?  Is there another great style that you're wearing that I should add to my closet?  Leave me a comment below with your favorite styles this season.