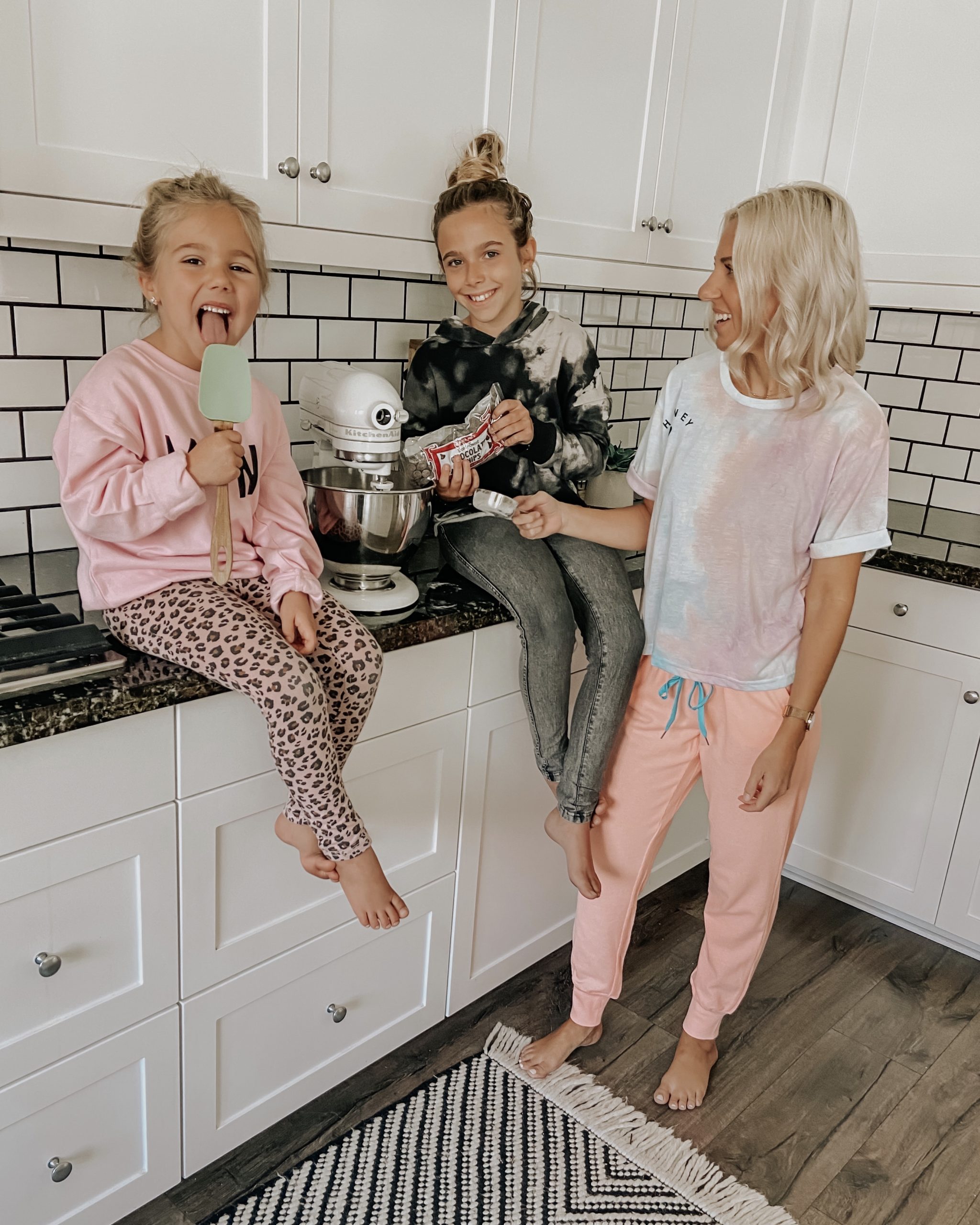 During this quarantine time we've been having fun playing more games, cuddling on the couch, and baking in the kitchen.  My mom always makes the kids banana bread and Lulu decided she wanted to start making it herself.  And not just regular banana bread but chocolate chip banana bread.  I will admit her first try was not the greatest but once she got the recipe down it was delicious!
Lulu has always loved being involved in the kitchen whether it's making dinner or baking cookies.  She loves getting up early before everyone and surprising us with breakfast in bed.  Her eggs are the best!  Blondie on the other hand just loves being the taste tester.
I know we all are feeling a little stuck at home but we've got to continue to focus on the positive and enjoy this quality time with our families.  And for us that means more time in the kitchen.
Below I'm sharing Lulu's famous chocolate chip banana bread recipe.  Hope you enjoy it as much as we do!  Thanks for stopping by!
CHOCOLATE CHIP BANANA BREAD
3/4 cup butter softened
8 ounces cream cheese softened
2 cups sugar
2 large eggs
3 cups all-purpose flour
1/2 teaspoon baking powder
1/2 teaspoon baking soda
1/2 teaspoon salt
1/2 teaspoon vanilla extract
1 1/2 cup mashed bananas
1 cup chocolate chips
Beat butter and cream cheese until creamy. Gradually add sugar, beating until light and fluffy. Add eggs 1 at a time, beating just until blended after each addition.
Combine flour and next 3 ingredients, gradually add butter beating at low speed. Stir in vanilla, bananas and chocolate chips. Spoon batter into 2 greased and floured 8x4 inch loafpans.
Bake at 350 degrees for 1 hour or until a wooden spoon inserted in center comes out clean.  And enjoy!!