[fusion_builder_container hundred_percent="no" equal_height_columns="no" hide_on_mobile="small-visibility,medium-visibility,large-visibility" background_position="center center" background_repeat="no-repeat" fade="no" background_parallax="none" enable_mobile="no" parallax_speed="0.3″ video_aspect_ratio="16:9″ video_loop="yes" video_mute="yes" overlay_opacity="0.5″ border_style="solid" padding_top="20px" padding_bottom="20px"][fusion_builder_row][fusion_builder_column type="1_1″ layout="1_1″ spacing="" center_content="no" hover_type="none" link="" min_height="" hide_on_mobile="small-visibility,medium-visibility,large-visibility" class="" id="" background_color="" background_image="" background_position="left top" background_repeat="no-repeat" border_size="0″ border_color="" border_style="solid" border_position="all" padding="" dimension_margin="" animation_type="" animation_direction="left" animation_speed="0.3″ animation_offset="" last="no"][fusion_text]
I know everyone loves concerts and nothing beats live music! Last week I was able to attend 2 concerts and an outdoor festival so I wanted to share two of my concert looks with you.
I moved to Temecula just last year so this was my first time attending the annual Temecula Valley balloon and wine festival. I was especially excited when I saw the main stage band line up was full of awesome 90's alternative bands- Tonic, Bush and my personal favorite Gin Blossoms. We had a blast out on the lawn playing with the kids and dancing to some great life music!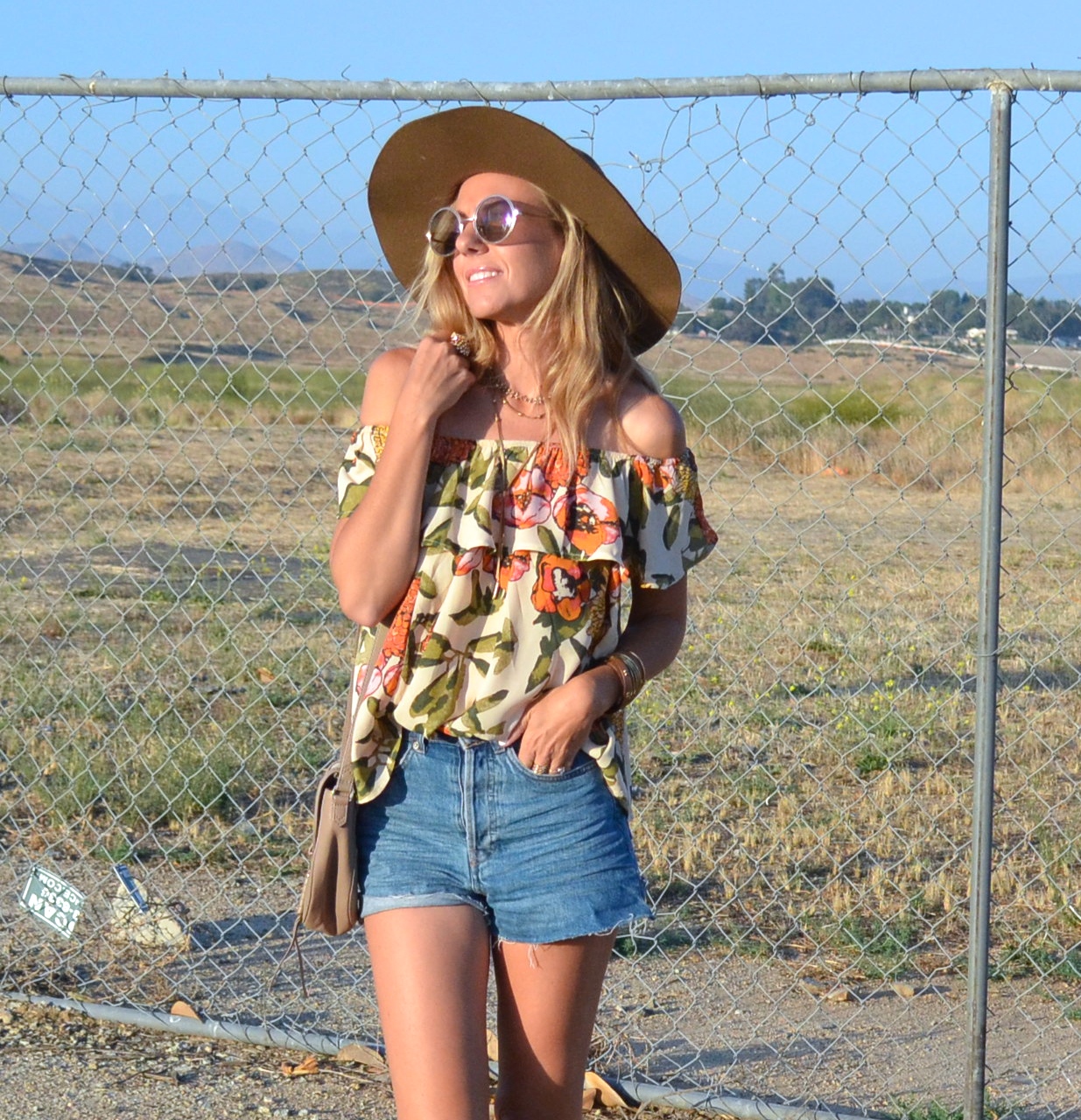 It was very hot so I wanted to wear something with a lightweight fabric and comfortable to hang out in. I picked up this pretty off the shoulder top from the Nordstrom sale and paired with my favorite H&M cut off shorts and a boho hat which fit perfectly with the outdoor festival.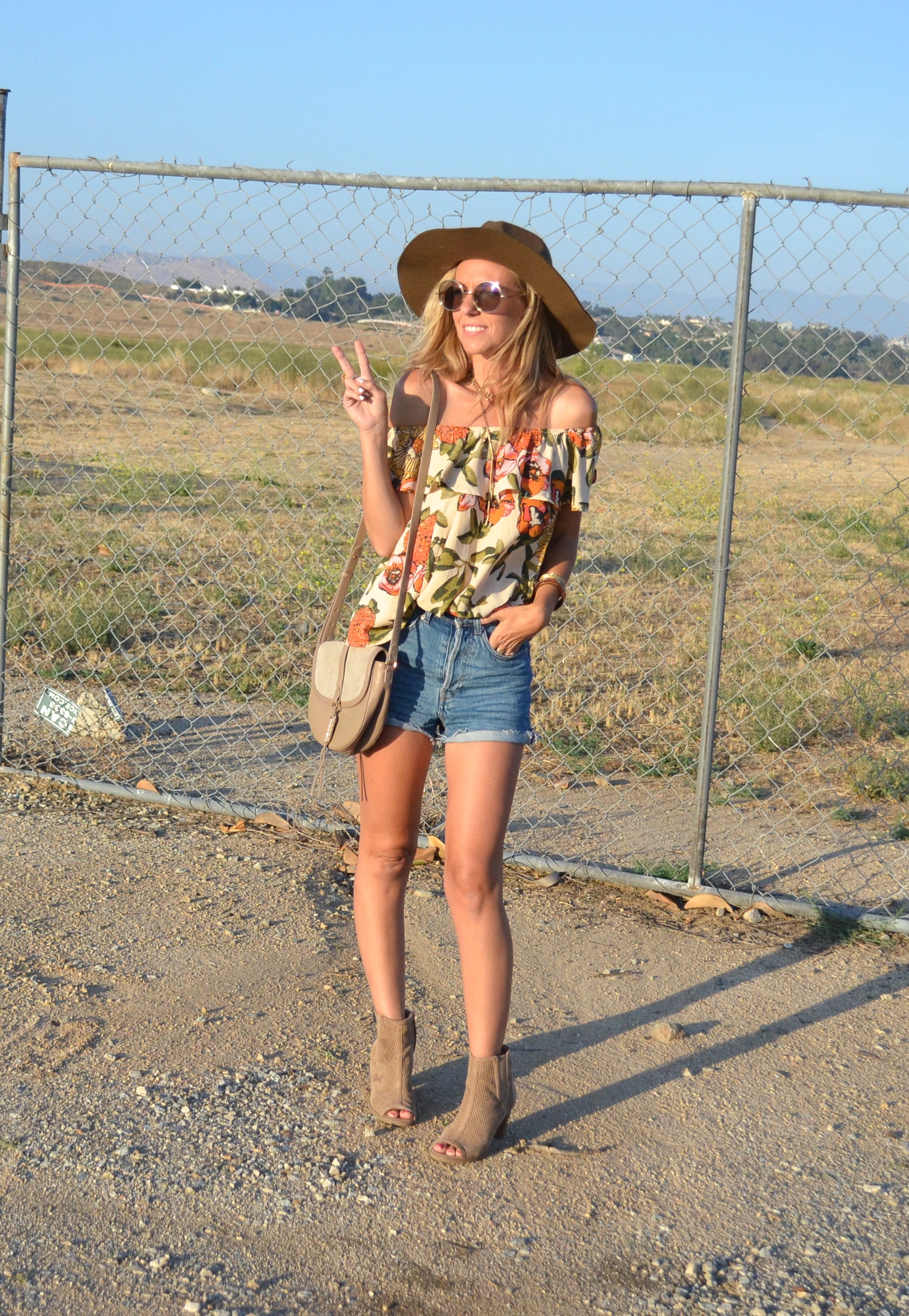 I was also able to attend the Lifehouse concert, (which was a birthday gift from the hubby), and the NKOTB, Boys 2 Men, and Paula Abdul concert with my high school friends. I have to say that Paula Abdul absolutely killed it and I was truly impressed with her performance.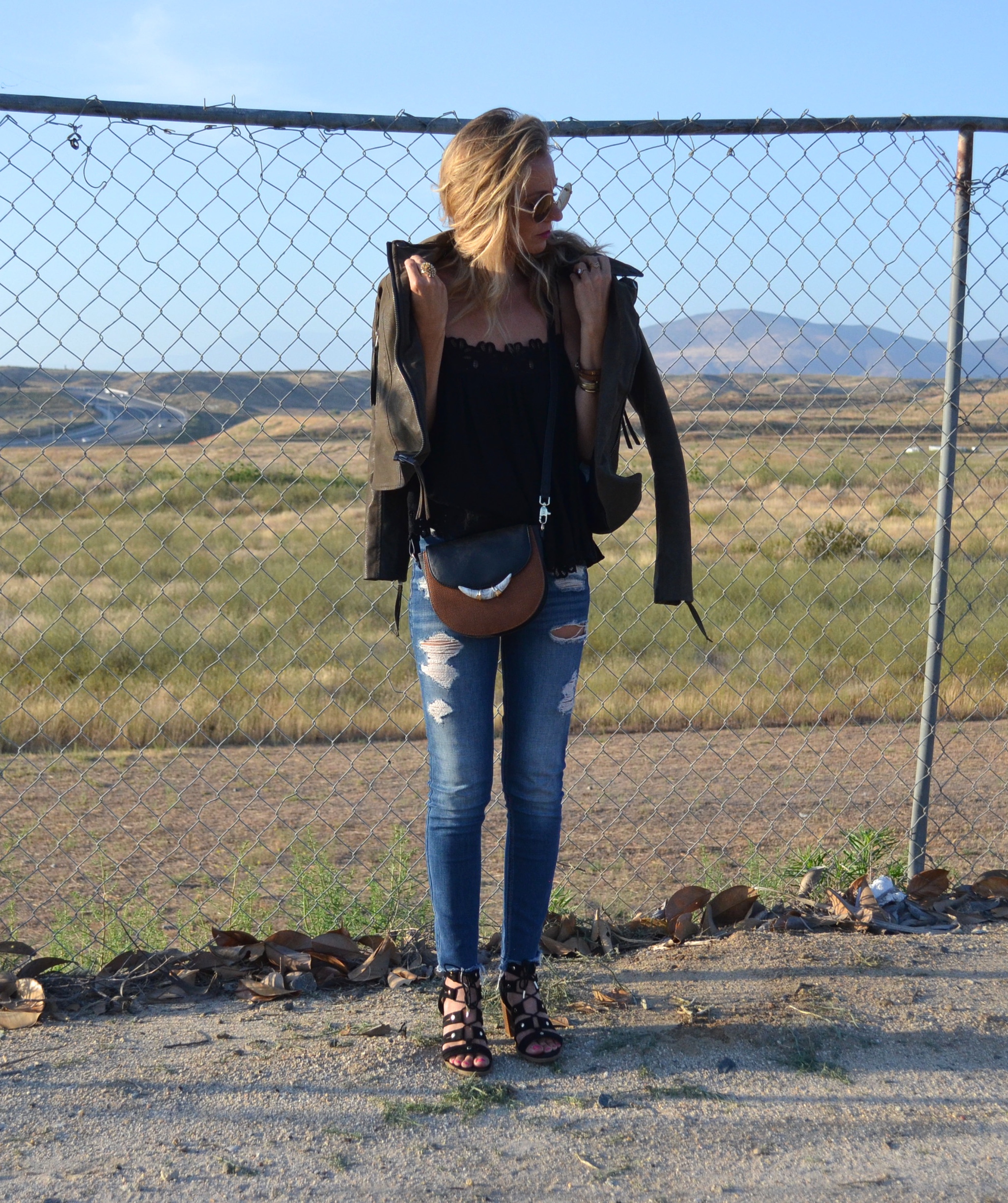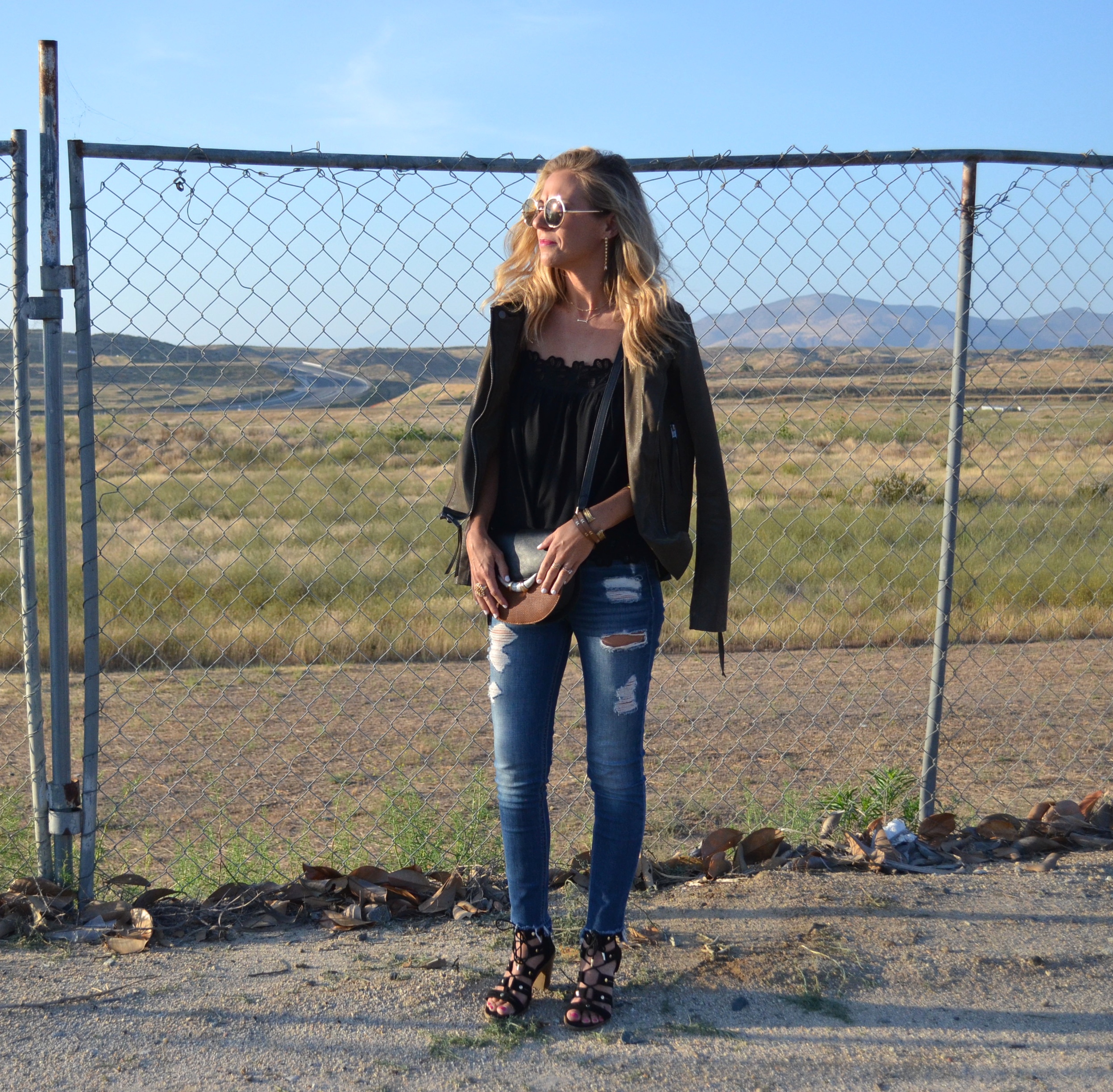 For a night time concert I love wearing denim with a cute tank and then bringing a jacket because I always get cold. Here I wore one of my favorite medium wash destroyed Hollister jeans and paired it with a cute black lace tank from forever 21. And then added the new Chelsea bag from Stella & Dot which I can't seem to get enough of.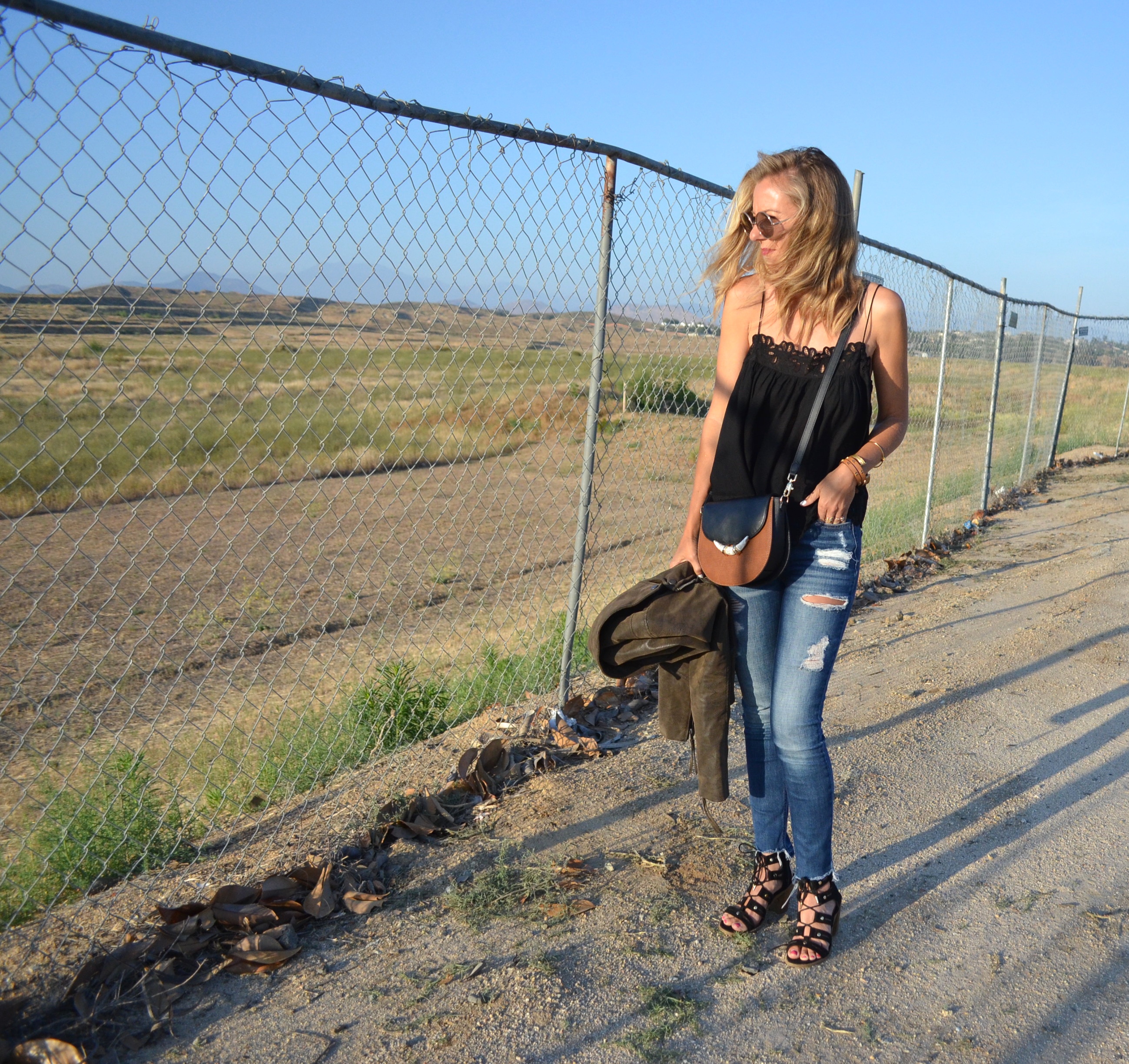 Long story short, I had a blast with family and friends at the concerts and festival and can't wait for the next one. As always I have my looks linked below but please let me know if you have any questions.
Save
Save
Save
Save
Save
[/fusion_text][fusion_title hide_on_mobile="small-visibility,medium-visibility,large-visibility" size="1″ content_align="center" style_type="default"]
Shop
[/fusion_title][fusion_images picture_size="fixed" hover_type="none" autoplay="no" columns="5″ column_spacing="13″ show_nav="yes" mouse_scroll="no" border="yes" lightbox="no" hide_on_mobile="small-visibility,medium-visibility,large-visibility"][fusion_image image="https://jaclyndeleonstyle.com/wp-content/uploads/2017/03/Screen-Shot-2017-05-25-at-12.04.21-AM.png" image_id="3697″ link="http://shop.nordstrom.com/s/june-hudson-off-the-shoulder-top/4566348?origin=category-personalizedsort&fashionsize=Regular%20XXS-XS%20(00-2)&fashioncolor=TAUPE%20GOLD" linktarget="_blank" /][fusion_image image="https://jaclyndeleonstyle.com/wp-content/uploads/2017/05/Screen-Shot-2017-05-16-at-9.59.00-PM.png" image_id="3593″ link="http://www.hm.com/us/product/63236?article=63236-C&cm_vc=SEARCH" linktarget="_blank" /][fusion_image image="https://jaclyndeleonstyle.com/wp-content/uploads/2017/04/Screen-Shot-2017-04-02-at-12.32.29-AM.png" image_id="2833″ link="www.stelladot.com/jaclyndeleon" linktarget="_blank" /][fusion_image image="https://jaclyndeleonstyle.com/wp-content/uploads/2017/04/Screen-Shot-2017-04-01-at-11.46.28-PM.png" image_id="2817″ link="http://www.target.com/p/women-s-dv-kassi-peep-toe-pumps/-/A-51885308″ linktarget="_blank" /][fusion_image image="https://jaclyndeleonstyle.com/wp-content/uploads/2017/04/Screen-Shot-2017-04-10-at-12.12.38-PM.png" image_id="3020″ link="https://www.hollisterco.com/shop/us/girls-bottoms-crop-jeans/hollister-high-rise-super-skinny-crop-8819127_01?ofp=true" linktarget="_blank" /][fusion_image image="https://jaclyndeleonstyle.com/wp-content/uploads/2017/06/Screen-Shot-2017-06-05-at-9.18.16-PM.png" image_id="3844″ link="http://www.forever21.com/Product/Product.aspx?BR=f21&Category=top_blouses&ProductID=2000227596&VariantID=052″ linktarget="_blank" /][fusion_image image="https://jaclyndeleonstyle.com/wp-content/uploads/2017/04/Screen-Shot-2017-04-02-at-8.45.48-PM.png" image_id="2894″ link="http://www.target.com/p/women-s-dv-zoey-gladiator-sandals-stacked-heels/-/A-50846500″ linktarget="_blank" /][fusion_image image="https://jaclyndeleonstyle.com/wp-content/uploads/2017/06/Screen-Shot-2017-06-05-at-2.01.07-PM.png" image_id="3834″ link="www.stelladot.com/jaclyndeleon" linktarget="_blank" /][/fusion_images][/fusion_builder_column][/fusion_builder_row][/fusion_builder_container][fusion_builder_container hundred_percent="no" equal_height_columns="no" hide_on_mobile="small-visibility,medium-visibility,large-visibility" background_position="center center" background_repeat="no-repeat" fade="no" background_parallax="none" parallax_speed="0.3″ video_aspect_ratio="16:9″ video_loop="yes" video_mute="yes" overlay_opacity="0.5″ border_style="solid"][fusion_builder_row][fusion_builder_column type="1_1″ layout="1_1″ background_position="left top" background_color="" border_size="" border_color="" border_style="solid" border_position="all" spacing="yes" background_image="" background_repeat="no-repeat" padding="" margin_top="0px" margin_bottom="0px" class="" id="" animation_type="" animation_speed="0.3″ animation_direction="left" hide_on_mobile="small-visibility,medium-visibility,large-visibility" center_content="no" last="no" min_height="" hover_type="none" link=""][fusion_text]
Save
[/fusion_text][/fusion_builder_column][/fusion_builder_row][/fusion_builder_container][fusion_builder_container hundred_percent="no" equal_height_columns="no" hide_on_mobile="small-visibility,medium-visibility,large-visibility" background_position="center center" background_repeat="no-repeat" fade="no" background_parallax="none" parallax_speed="0.3″ video_aspect_ratio="16:9″ video_loop="yes" video_mute="yes" overlay_opacity="0.5″ border_style="solid"][fusion_builder_row][fusion_builder_column type="1_1″ layout="1_1″ background_position="left top" background_color="" border_size="" border_color="" border_style="solid" border_position="all" spacing="yes" background_image="" background_repeat="no-repeat" padding="" margin_top="0px" margin_bottom="0px" class="" id="" animation_type="" animation_speed="0.3″ animation_direction="left" hide_on_mobile="small-visibility,medium-visibility,large-visibility" center_content="no" last="no" min_height="" hover_type="none" link=""][fusion_text]
Save
[/fusion_text][/fusion_builder_column][/fusion_builder_row][/fusion_builder_container][fusion_builder_container hundred_percent="no" equal_height_columns="no" hide_on_mobile="small-visibility,medium-visibility,large-visibility" background_position="center center" background_repeat="no-repeat" fade="no" background_parallax="none" parallax_speed="0.3″ video_aspect_ratio="16:9″ video_loop="yes" video_mute="yes" overlay_opacity="0.5″ border_style="solid"][fusion_builder_row][fusion_builder_column type="1_1″ layout="1_1″ background_position="left top" background_color="" border_size="" border_color="" border_style="solid" border_position="all" spacing="yes" background_image="" background_repeat="no-repeat" padding="" margin_top="0px" margin_bottom="0px" class="" id="" animation_type="" animation_speed="0.3″ animation_direction="left" hide_on_mobile="small-visibility,medium-visibility,large-visibility" center_content="no" last="no" min_height="" hover_type="none" link=""][fusion_text]
Save
[/fusion_text][/fusion_builder_column][/fusion_builder_row][/fusion_builder_container]