[fusion_builder_container hundred_percent="no" equal_height_columns="no" hide_on_mobile="small-visibility,medium-visibility,large-visibility" background_position="center center" background_repeat="no-repeat" fade="no" background_parallax="none" enable_mobile="no" parallax_speed="0.3″ video_aspect_ratio="16:9″ video_loop="yes" video_mute="yes" overlay_opacity="0.5″ border_style="solid" padding_top="20px" padding_bottom="20px"][fusion_builder_row][fusion_builder_column type="1_1″ layout="1_1″ spacing="" center_content="no" hover_type="none" link="" min_height="" hide_on_mobile="small-visibility,medium-visibility,large-visibility" class="" id="" background_color="" background_image="" background_position="left top" background_repeat="no-repeat" border_size="0″ border_color="" border_style="solid" border_position="all" padding="" dimension_margin="" animation_type="" animation_direction="left" animation_speed="0.3″ animation_offset="" last="no"][fusion_text]
Hey Friends!!
This weekend I'm in Palm Springs celebrating my 11th wedding anniversary with my hubby. We love to do little getaways every year to celebrate and get some quality time together.
I love the matching set trend for summer and wanted to share a couple tips to keep in mind when shopping for matching sets. I picked up this adorable set from Target and love the rust orange color, the embroidery detail and the slight ruffle on the bottom of the shorts.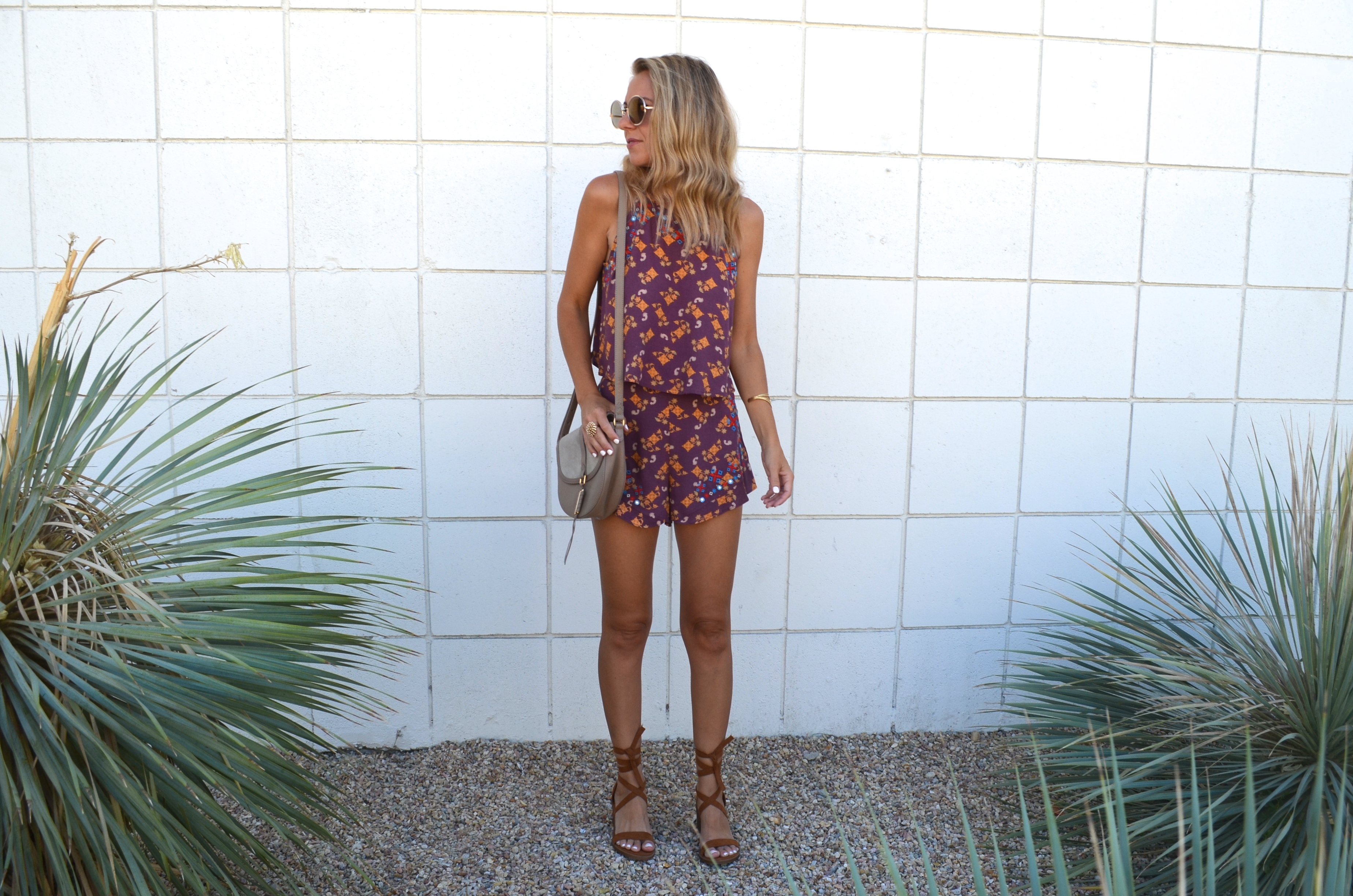 When shopping for matching sets the most important thing is the right fit. The bottoms (whether it is a skirt or shorts) needs to be high-waisted, meaning it sits at or just above or below your belly button. The top can either be a fitted tank, like the one I'm wearing here, or it can be more of a crop top style. If you are going for the crop top then your bottoms definitely need to sit above the belly button.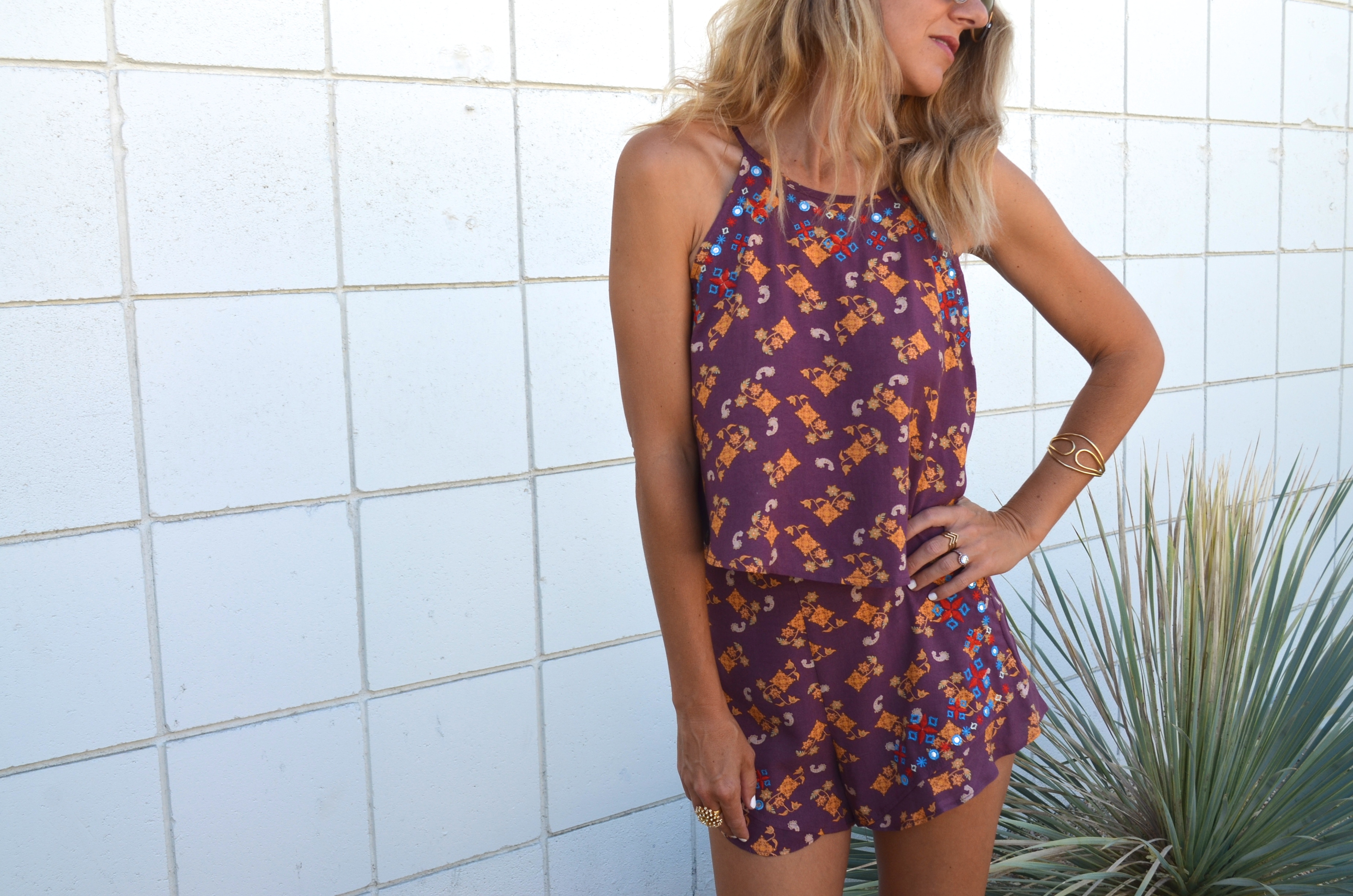 Secondly I recommend finding a cute print that you love. It can be as wild or neutral as you want it to be but the top and bottom need to be the exact same print. That's why its called a "matching set".
Lastly I would pair it with your favorite sandals and statement earrings to complete the look. Since my matching set is an all over print I paired it with a bracelet cuff, gold chandelier earrings and a block heel.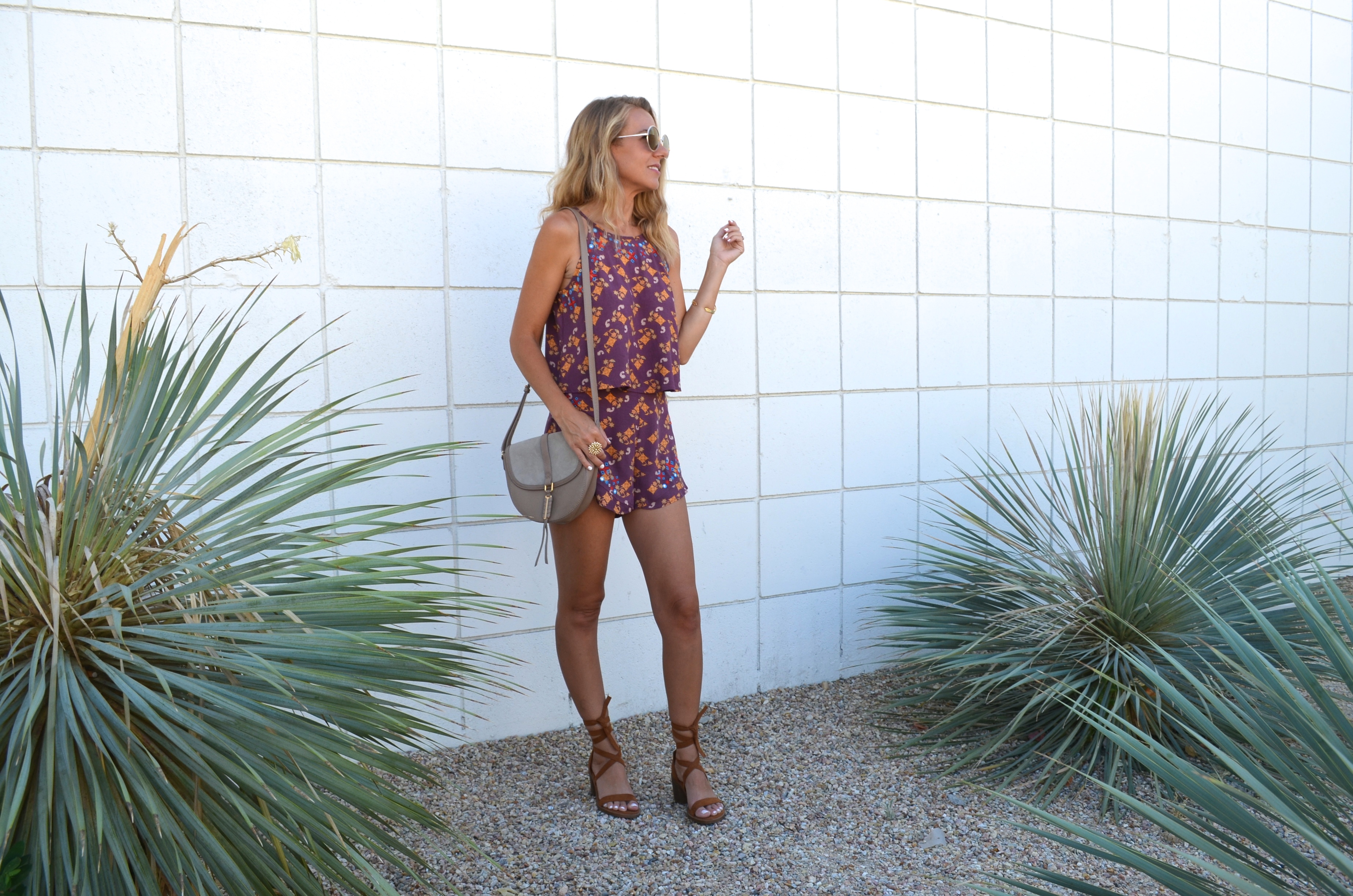 I've got my outfit details linked below but please let me know if you have any questions.
I will just be in Palm Springs enjoying my little vacation! Where are you favorite weekend getaway destinations? I would love ideas on new places to try!
Save
[/fusion_text][fusion_title hide_on_mobile="small-visibility,medium-visibility,large-visibility" size="1″ content_align="center" style_type="default"]
Shop
[/fusion_title][fusion_images picture_size="fixed" hover_type="none" autoplay="no" columns="5″ column_spacing="13″ show_nav="yes" mouse_scroll="no" border="yes" lightbox="no" hide_on_mobile="small-visibility,medium-visibility,large-visibility"][fusion_image image="https://jaclyndeleonstyle.com/wp-content/uploads/2017/06/Screen-Shot-2017-06-09-at-8.50.20-AM.png" image_id="3885″ link="https://www.target.com/p/women-s-embroidered-tank-xhilaration-153-juniors-purple/-/A-52238599#preselect=52126382″ linktarget="_blank" /][fusion_image image="https://jaclyndeleonstyle.com/wp-content/uploads/2017/06/Screen-Shot-2017-06-09-at-8.48.53-AM.png" image_id="3886″ link="https://www.target.com/p/women-s-embroidered-printed-short-xhilaration-153-juniors/-/A-52276291#preselect=52126391″ linktarget="_blank" /][fusion_image image="https://jaclyndeleonstyle.com/wp-content/uploads/2017/04/Screen-Shot-2017-04-08-at-5.55.05-PM.png" image_id="3000″ link="https://www.target.com/p/women-s-matilda-lace-up-heeled-quarter-strap-sandals-merona-153/-/A-51502859″ linktarget="_blank" /][fusion_image image="https://jaclyndeleonstyle.com/wp-content/uploads/2017/04/Screen-Shot-2017-04-02-at-12.32.29-AM.png" image_id="2833″ link="https://www.stelladot.com/shop/en_us/p/the-covet-sloane-bag-mushroom" linktarget="_blank" /][fusion_image image="https://jaclyndeleonstyle.com/wp-content/uploads/2017/05/Screen-Shot-2017-05-01-at-9.35.06-PM.png" image_id="3379″ link="https://www.stelladot.com/shop/en_us/p/fitz-cuff" linktarget="_blank" /][fusion_image image="https://jaclyndeleonstyle.com/wp-content/uploads/2017/04/Screen-Shot-2017-04-02-at-12.34.31-AM.png" image_id="2834″ link="https://www.stelladot.com/shop/en_us/p/alila-lace-chandeliers" linktarget="_blank" /][fusion_image image="https://jaclyndeleonstyle.com/wp-content/uploads/2017/04/Screen-Shot-2017-04-12-at-11.43.28-AM.png" image_id="3064″ link="https://www.stelladot.com/shop/en_us/p/trove-statement-ring" linktarget="_blank" /][fusion_image image="https://jaclyndeleonstyle.com/wp-content/uploads/2017/06/Screen-Shot-2017-06-09-at-2.11.38-PM.png" image_id="3887″ link="http://www.forever21.com/Product/Product.aspx?br=F21&category=ACC&productid=1000075672″ linktarget="_blank" /][/fusion_images][/fusion_builder_column][/fusion_builder_row][/fusion_builder_container]