[fusion_builder_container hundred_percent="no" equal_height_columns="no" hide_on_mobile="small-visibility,medium-visibility,large-visibility" background_position="center center" background_repeat="no-repeat" fade="no" background_parallax="none" enable_mobile="no" parallax_speed="0.3″ video_aspect_ratio="16:9″ video_loop="yes" video_mute="yes" overlay_opacity="0.5″ border_style="solid" padding_top="20px" padding_bottom="20px"][fusion_builder_row][fusion_builder_column type="1_1″ layout="1_1″ spacing="" center_content="no" hover_type="none" link="" min_height="" hide_on_mobile="small-visibility,medium-visibility,large-visibility" class="" id="" background_color="" background_image="" background_position="left top" background_repeat="no-repeat" border_size="0″ border_color="" border_style="solid" border_position="all" padding="" dimension_margin="" animation_type="" animation_direction="left" animation_speed="0.3″ animation_offset="" last="no"][fusion_text]
Follow my blog with Bloglovin
Hi Friends!!
I had an AMAZING anniversary trip getaway with the hubby and I wanted to share with you my easy travel outfit. Although it wasn't a major road trip (less than 2 hour drive) I always want to be comfy yet stylish when I travel.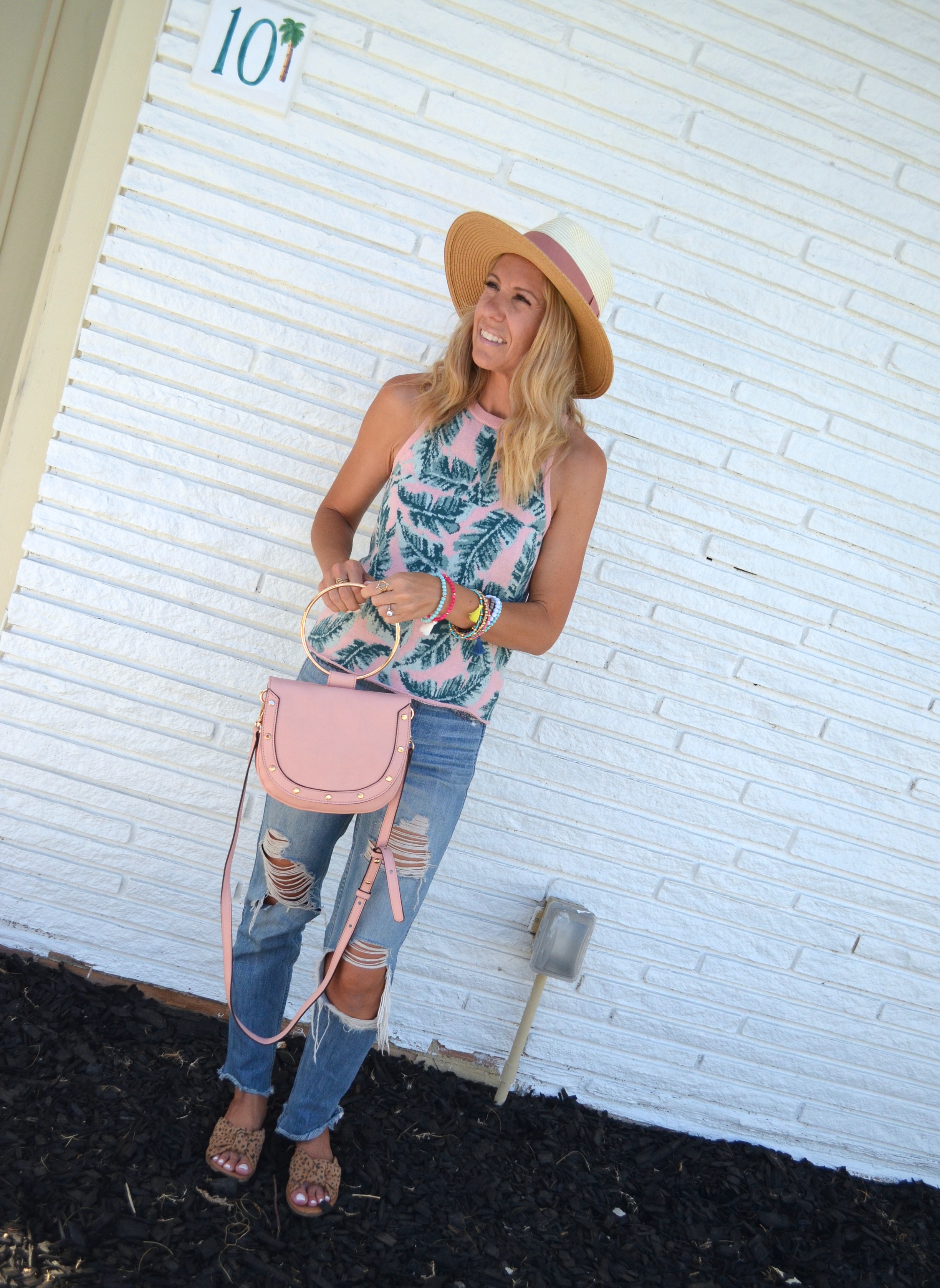 Starting with my bag, I like to bring a larger tote bag so that I can fit magazines or reading material and my planner. Then I like to have a small handbag or clutch style wallet with my necessities such as cash, credit cards and chapstick that fits in my tote bag for easy access. I don't like bringing a huge tote bag in and out of the car if I running into a convenient store or Starbucks for a quick coffee. Also once we check into the hotel I can just grab my little bag and we can go downtown and grab lunch or explore the city. For this trip I'm using my new Stella & Dot tote that is perfect for summer and I have my cute pink little bag from Target that easily fits inside the tote.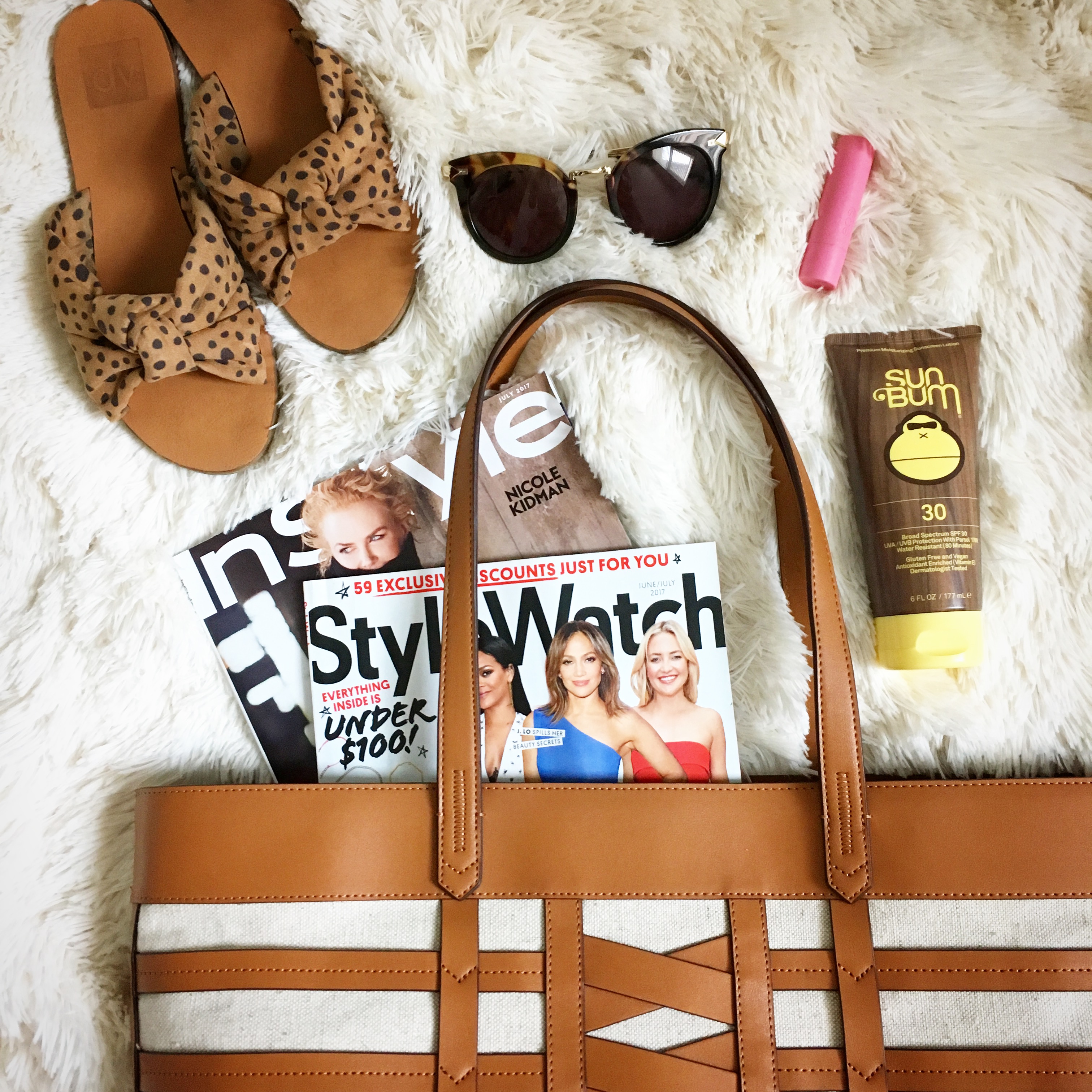 For my outfit I usually like to travel in pants (because I always get cold) so I picked my favorite boyfriend jeans from Hollister. I'm not much of a sweatpants girl, (even though I've seen some very cute joggers out there) and so boyfriend jeans are my go to since they are comfortable and easy to move around in. Slip on sandals are a must when traveling so you can easily take them on or off so I'm wearing one of my favorite slides from Target. They are super comfortable and seem to go with everything I own. Since we are traveling to Palm Springs I thought this American Eagle palm leaf tank was a perfect fit for the occasion.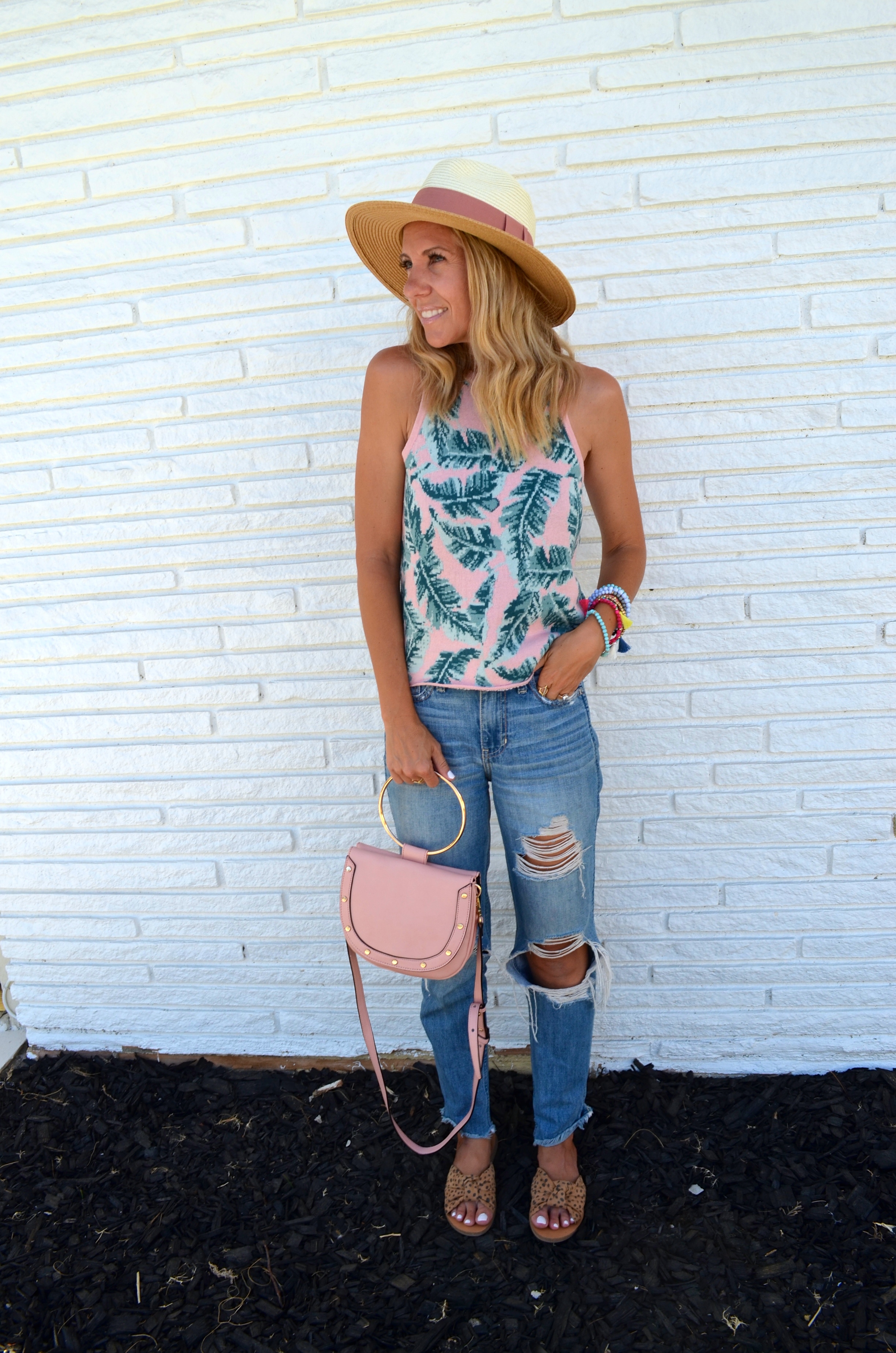 Then lastly I love to wear hats when I travel. We seem to either be leaving early in the morning or late at night when traveling so with a hat you really don't have to worry about your hair. You can take it off when your sitting in the car but then throw it on when you get there and you look instantly put together and more stylish. That's the beauty of hats!!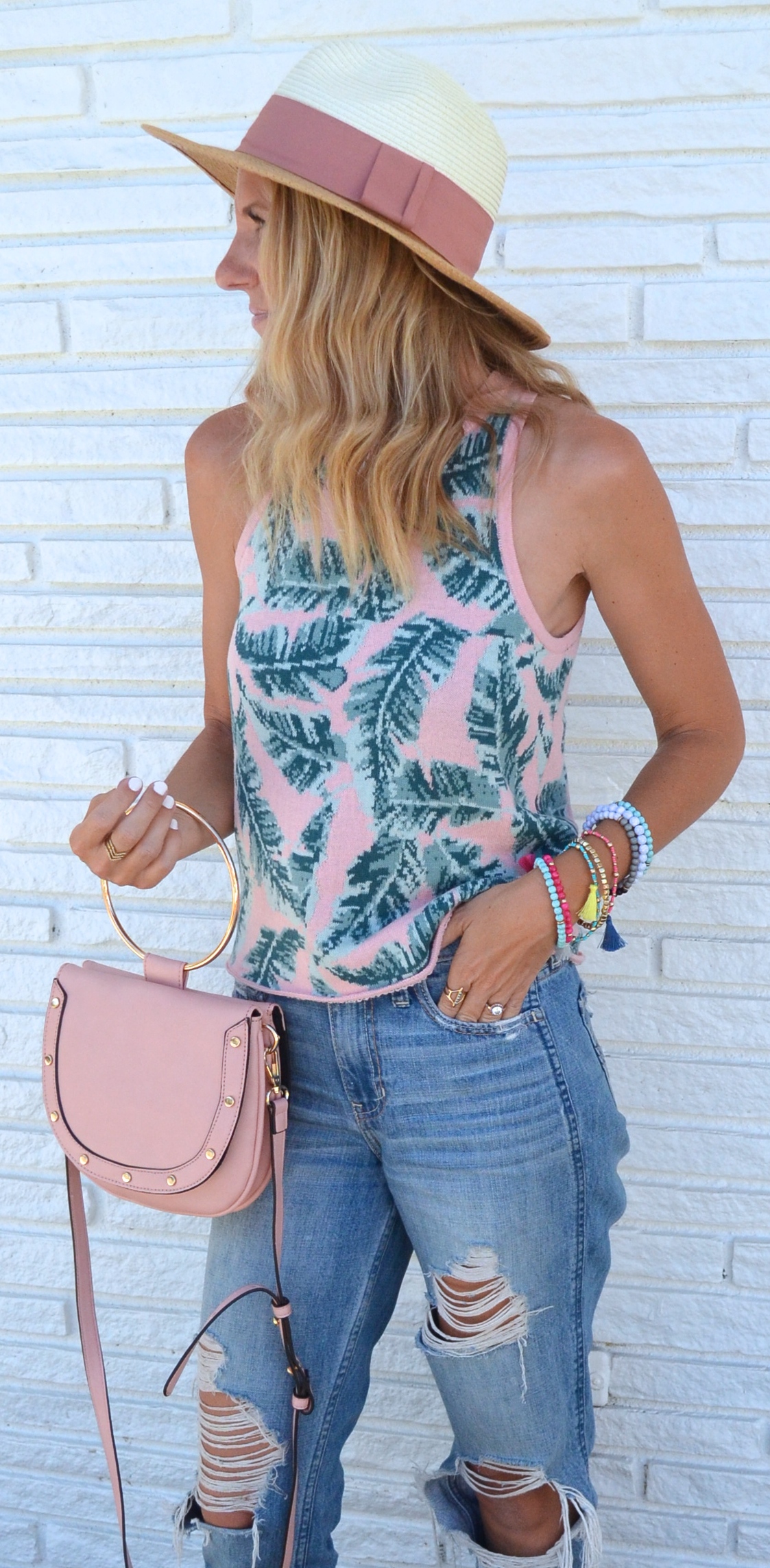 It was a quick and easy car trip and we had an AMAZING time! Thanks for reading! As always I've got my outfit linked below but please let me know if you have any questions.
Save
Save
Save
Save
Save
Save[/fusion_text][fusion_title hide_on_mobile="small-visibility,medium-visibility,large-visibility" size="1″ content_align="center" style_type="default"]
Shop
[/fusion_title][fusion_images picture_size="fixed" hover_type="none" autoplay="no" columns="5″ column_spacing="13″ show_nav="yes" mouse_scroll="no" border="yes" lightbox="no" hide_on_mobile="small-visibility,medium-visibility,large-visibility"][fusion_image image="https://jaclyndeleonstyle.com/wp-content/uploads/2017/06/Screen-Shot-2017-06-12-at-1.30.37-AM.png" image_id="3919″ link="https://www.ae.com/women-aeo-patterned-sweater-tank-coral/web/s-prod/0341_7661_199?cm=sUS-cUSD" linktarget="_blank" /][fusion_image image="https://jaclyndeleonstyle.com/wp-content/uploads/2017/05/Screen-Shot-2017-05-12-at-9.41.49-PM.png" image_id="3562″ link="https://www.hollisterco.com/shop/us/girls-jeans-bottoms/hollister-high-rise-boyfriend-jeans-8819126_01″ linktarget="_blank" /][fusion_image image="https://jaclyndeleonstyle.com/wp-content/uploads/2017/05/Screen-Shot-2017-05-18-at-9.41.13-AM.png" image_id="3601″ link="http://www.target.com/p/women-s-dv-alina-knotted-slide-sandals/-/A-51913360″ linktarget="_blank" /][fusion_image image="https://jaclyndeleonstyle.com/wp-content/uploads/2017/05/Screen-Shot-2017-05-08-at-9.33.02-AM.png" image_id="3476″ link="https://www.target.com/p/cesca-women-s-ring-handle-crossbody-handbag/-/A-52133498″ linktarget="_blank" /][fusion_image image="https://jaclyndeleonstyle.com/wp-content/uploads/2017/04/Screen-Shot-2017-04-25-at-9.09.49-AM.png" image_id="3289″ link="https://www.nordstromrack.com/shop/product/1925859/bcbg-straw-fringe-panama-hat?color=NATURAL" linktarget="_blank" /][fusion_image image="https://jaclyndeleonstyle.com/wp-content/uploads/2017/05/Screen-Shot-2017-05-18-at-9.50.16-PM.png" image_id="3622″ link="https://www.nordstromrack.com/shop/product/1925859/bcbg-straw-fringe-panama-hat?color=NATURAL" linktarget="_blank" /][fusion_image image="https://jaclyndeleonstyle.com/wp-content/uploads/2017/06/Screen-Shot-2017-06-08-at-10.15.17-AM.png" image_id="3881″ link="https://www.stelladot.com/shop/en_us/p/valencia-tote-saddle" linktarget="_blank" /][fusion_image image="https://jaclyndeleonstyle.com/wp-content/uploads/2017/04/Screen-Shot-2017-04-01-at-11.19.47-PM.png" image_id="2808″ link="https://www.stelladot.com/shop/en_us/p/wesley-sunglasses-tortoise" linktarget="_blank" /][/fusion_images][/fusion_builder_column][/fusion_builder_row][/fusion_builder_container]