[fusion_builder_container hundred_percent="no" equal_height_columns="no" hide_on_mobile="small-visibility,medium-visibility,large-visibility" background_position="center center" background_repeat="no-repeat" fade="no" background_parallax="none" enable_mobile="no" parallax_speed="0.3″ video_aspect_ratio="16:9″ video_loop="yes" video_mute="yes" overlay_opacity="0.5″ border_style="solid" padding_top="20px" padding_bottom="20px"][fusion_builder_row][fusion_builder_column type="1_1″ layout="1_1″ spacing="" center_content="no" hover_type="none" link="" min_height="" hide_on_mobile="small-visibility,medium-visibility,large-visibility" class="" id="" background_color="" background_image="" background_position="left top" background_repeat="no-repeat" border_size="0″ border_color="" border_style="solid" border_position="all" padding="" dimension_margin="" animation_type="" animation_direction="left" animation_speed="0.3″ animation_offset="" last="no"][fusion_text]
It's been really starting to heat up around here and I'm ready for my Summer Staple- Summer Dresses!!
What I love about summer dresses is that you can throw them on for an effortless everyday look. I wore this adorable off the shoulder dress on my recent Palm Springs trip and I paired it with a fun straw hat. I loved how the lightweight fabric really helped me stay cool in the heat and the floral print is just so girly and cute.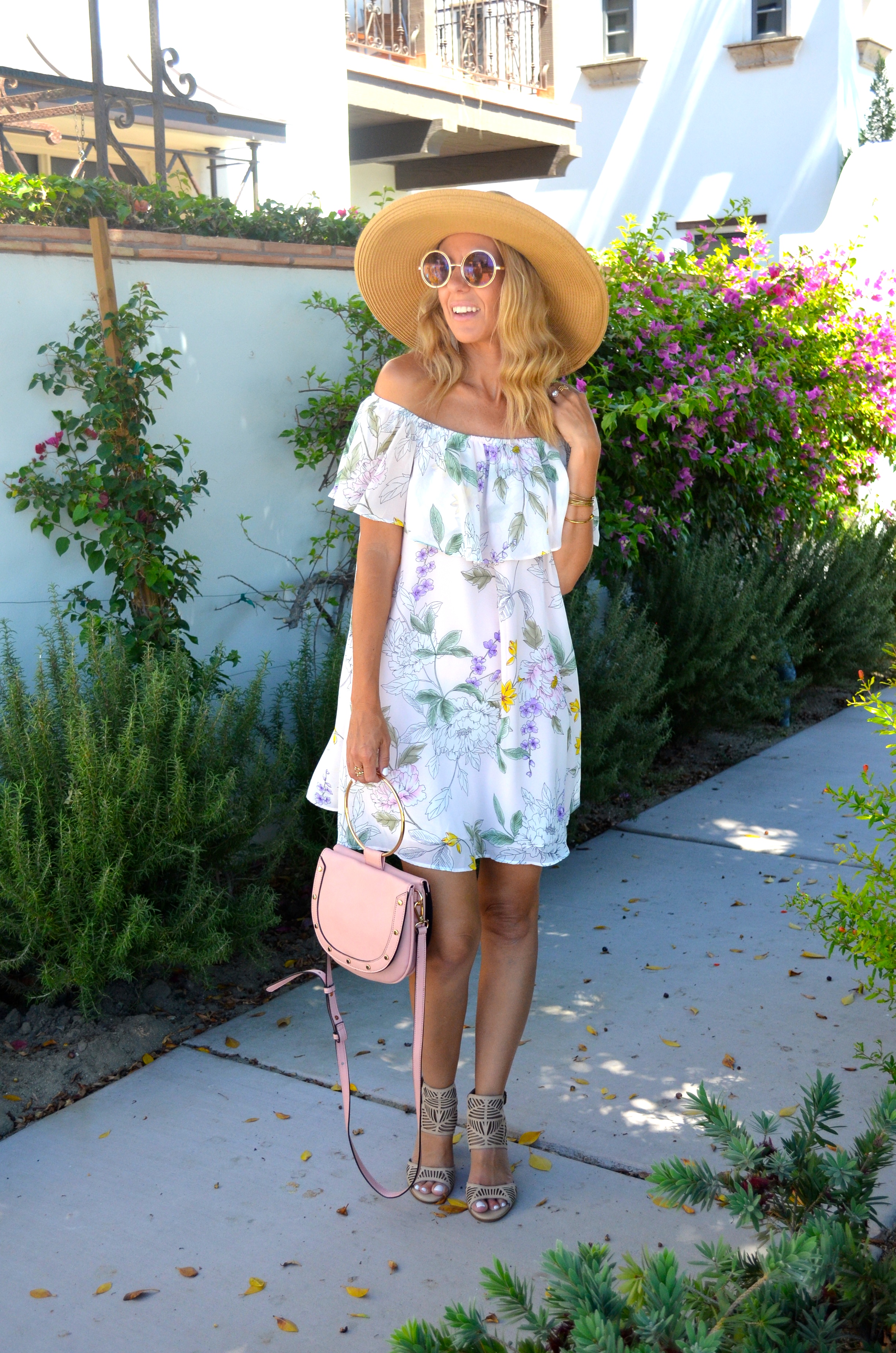 The best thing about summer dresses is you can wear them with flats for a casual look or dress them up with heels for a date night.
The dress I am wearing here is from Forever 21 and only $15!! It's a very pale pink color so I paired it with my pink Target bag and statement Stella & Dot tassel earrings. The straw hat and sunnies give it a little more of a boho vibe which I love for summer.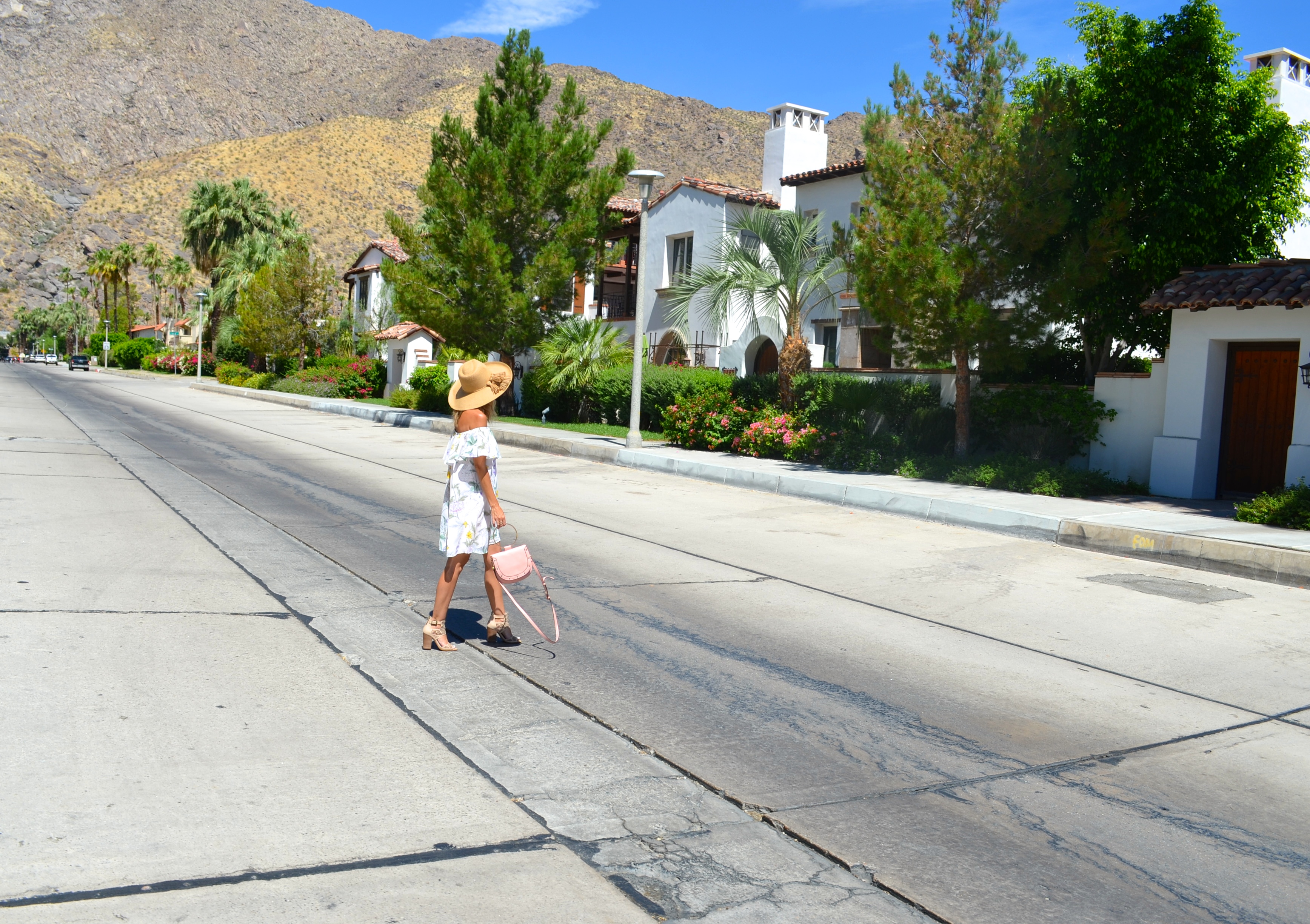 Below I linked this dress along with a few of my favorite floral dresses perfect for summer. Please let me know if you have any questions and as always thanks for stopping by!
Save
Save
Save
[/fusion_text][fusion_title hide_on_mobile="small-visibility,medium-visibility,large-visibility" size="1″ content_align="center" style_type="default"]
Shop
[/fusion_title][fusion_images picture_size="fixed" hover_type="none" autoplay="no" columns="5″ column_spacing="13″ show_nav="yes" mouse_scroll="no" border="yes" lightbox="no" hide_on_mobile="small-visibility,medium-visibility,large-visibility"][fusion_image image="https://jaclyndeleonstyle.com/wp-content/uploads/2017/06/Screen-Shot-2017-06-14-at-11.30.05-PM.png" image_id="3965″ link="http://www.forever21.com/Product/Product.aspx?br=F21&category=dress&productid=2000092517″ linktarget="_blank" /][fusion_image image="https://jaclyndeleonstyle.com/wp-content/uploads/2017/06/Screen-Shot-2017-06-14-at-11.58.52-PM.png" image_id="3972″ link="http://shop.nordstrom.com/s/lush-ruffle-one-shoulder-dress/4560897?origin=keywordsearch-personalizedsort&fashioncolor=PINK%20BLUE%20FLORAL" linktarget="_blank" /][fusion_image image="https://jaclyndeleonstyle.com/wp-content/uploads/2017/06/Screen-Shot-2017-06-14-at-11.32.46-PM.png" image_id="3966″ link="http://www.forever21.com/Product/Product.aspx?br=LOVE21&category=contemporary-new-arrivals&productid=2000251968″ linktarget="_blank" /][fusion_image image="https://jaclyndeleonstyle.com/wp-content/uploads/2017/06/Screen-Shot-2017-06-14-at-11.40.25-PM.png" image_id="3967″ link="http://www.charlotterusse.com/floral-ruffle-trim-cold-shoulder-dress/302370885.html?dwvar_302370885_color=741&cgid=#q=off%2Bthe%2Bshoulder%2Bfloral%2Bdress&lang=default&start=14″ linktarget="_blank" /][fusion_image image="https://jaclyndeleonstyle.com/wp-content/uploads/2017/06/Screen-Shot-2017-06-14-at-11.42.02-PM.png" image_id="3968″ link="http://www.charlotterusse.com/floral-cold-shoulder-shift-dress/302366703.html?dwvar_302366703_color=750&cgid=#q=off+the+shoulder+floral+dress&sz=30&start=35″ linktarget="_blank" /][fusion_image image="https://jaclyndeleonstyle.com/wp-content/uploads/2017/06/Screen-Shot-2017-06-14-at-11.53.29-PM.png" image_id="3970″ link="http://www.hm.com/us/product/45762?article=45762-F&cm_vc=SEARCH#article=45762-F" linktarget="_blank" /][fusion_image image="https://jaclyndeleonstyle.com/wp-content/uploads/2017/06/Screen-Shot-2017-06-14-at-11.55.52-PM.png" image_id="3971″ link="http://www.hm.com/us/product/68321?article=68321-A&cm_vc=SEARCH" linktarget="_blank" /][fusion_image image="https://jaclyndeleonstyle.com/wp-content/uploads/2017/06/Screen-Shot-2017-06-15-at-12.00.23-AM.png" image_id="3973″ link="http://shop.nordstrom.com/s/bp-floral-ruffle-hem-dress/4610252?origin=keywordsearch-personalizedsort&fashioncolor=IVORY%20LARGE%20FLORAL%20PATTERN" linktarget="_blank" /][fusion_image image="https://jaclyndeleonstyle.com/wp-content/uploads/2017/06/Screen-Shot-2017-06-15-at-12.02.35-AM.png" image_id="3974″ link="http://shop.nordstrom.com/s/love-fire-strappy-slipdress/4578169?origin=keywordsearch-personalizedsort&fashioncolor=LILAC%20FLORAL" linktarget="_blank" /][fusion_image image="https://jaclyndeleonstyle.com/wp-content/uploads/2017/06/Screen-Shot-2017-06-14-at-11.43.12-PM.png" image_id="3969″ link="http://www.forever21.com/Product/Product.aspx?br=LOVE21&category=dress&productid=2000205196″ linktarget="_blank" /][/fusion_images][/fusion_builder_column][/fusion_builder_row][/fusion_builder_container]
Save