[fusion_builder_container hundred_percent="no" equal_height_columns="no" hide_on_mobile="small-visibility,medium-visibility,large-visibility" background_position="center center" background_repeat="no-repeat" fade="no" background_parallax="none" enable_mobile="no" parallax_speed="0.3″ video_aspect_ratio="16:9″ video_loop="yes" video_mute="yes" overlay_opacity="0.5″ border_style="solid" padding_top="20px" padding_bottom="20px"][fusion_builder_row][fusion_builder_column type="1_1″ layout="1_1″ spacing="" center_content="no" hover_type="none" link="" min_height="" hide_on_mobile="small-visibility,medium-visibility,large-visibility" class="" id="" background_color="" background_image="" background_position="left top" background_repeat="no-repeat" border_size="0″ border_color="" border_style="solid" border_position="all" padding="" dimension_margin="" animation_type="" animation_direction="left" animation_speed="0.3″ animation_offset="" last="no"][fusion_text]
I found the perfect wear everywhere dress for summer and although summer hasn't officially started yet this dress has been on major REPEAT. It's a classic off the shoulder ruffle dress from Abercrombie & Fitch that you can dress up or down. The fabric is so soft and comfortable that I could basically live in it. And the best part is that it comes in 5 colors and you can get it in petite, regular or tall length so it's made for everyone.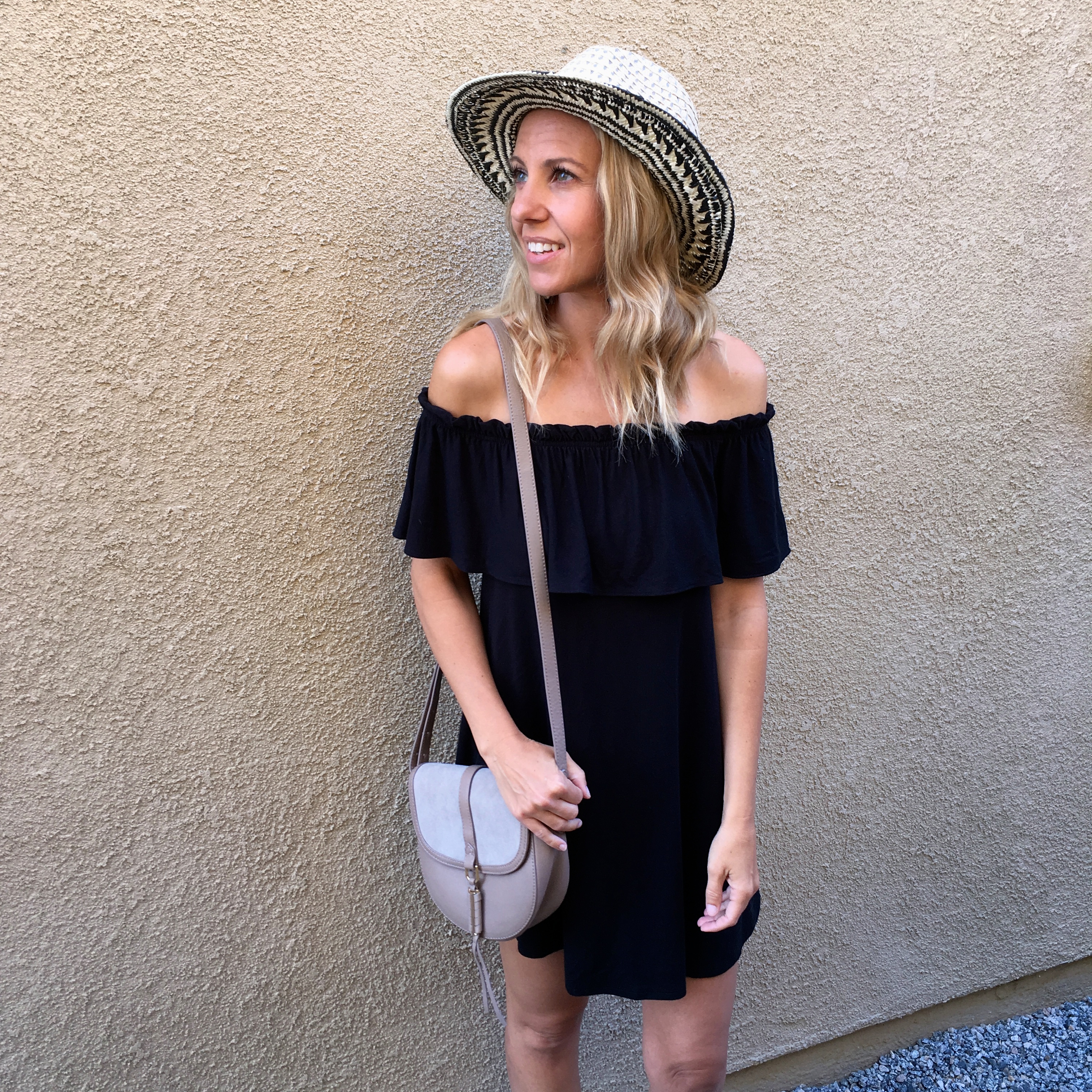 Since this has been my most worn outfit lately I had to share it with you. It is hands down the most versatile piece that I own. So far I've worn it to the beach and the pool as a bathing suit cover up, running errands and daily activities with the kids, and a dinner date night with the hubby. It was perfect for our Palm Springs weekend trip because I went straight from the pool to walking around and having lunch downtown.
For a casual daytime look I usually wear it with my bow slide sandals, and a pair of sunnies or a beach hat. To dress it up I pair it with a classic strappy heel or wedge sandal and my Stella & Dot jewels.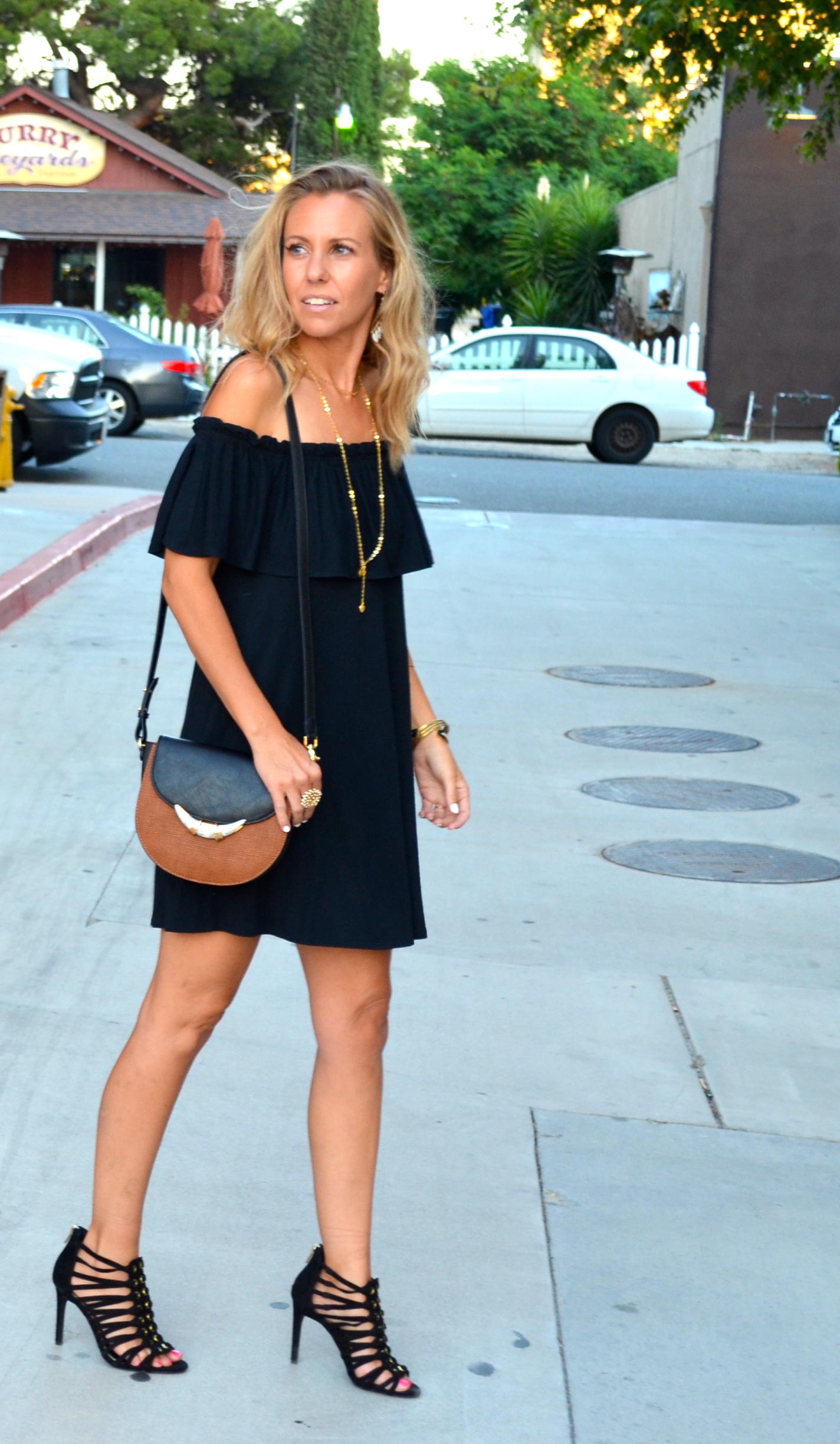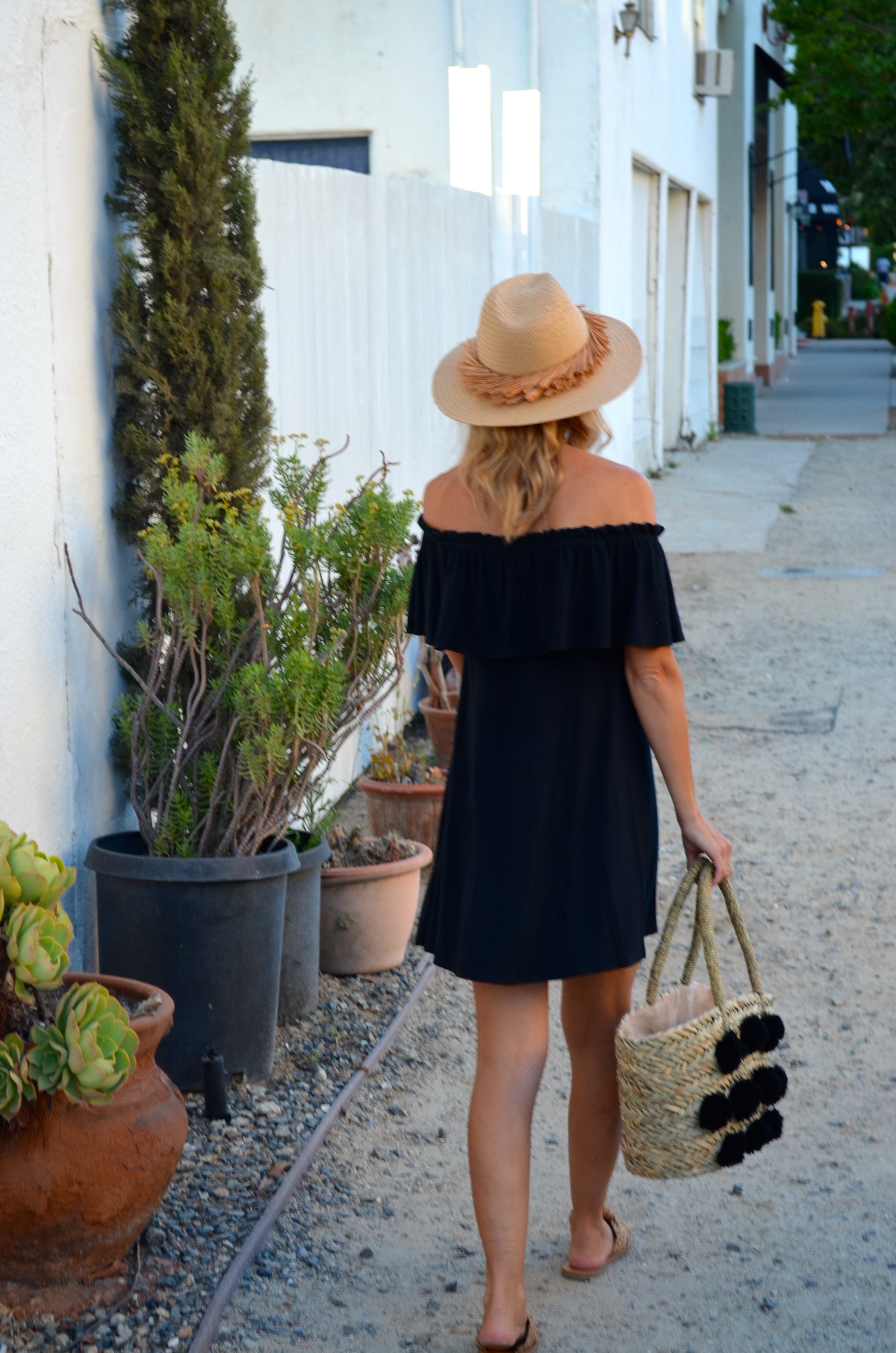 As you can see I've worn this adorable dress everywhere!! Below I've got the details on my dress as well as the accessories worn with it. Let me know if you've got any questions and thanks for stopping by!
Save
[/fusion_text][fusion_title hide_on_mobile="small-visibility,medium-visibility,large-visibility" size="1″ content_align="center" style_type="default"]
Shop
[/fusion_title][fusion_images picture_size="fixed" hover_type="none" autoplay="no" columns="5″ column_spacing="13″ show_nav="yes" mouse_scroll="no" border="yes" lightbox="no" hide_on_mobile="small-visibility,medium-visibility,large-visibility"][fusion_image image="https://jaclyndeleonstyle.com/wp-content/uploads/2017/04/Screen-Shot-2017-04-16-at-9.38.21-AM.png" image_id="3102″ link="https://www.abercrombie.com/shop/us/p/off-the-shoulder-knit-dress-9044230_02?ofp=true" linktarget="_blank" /][fusion_image image="https://jaclyndeleonstyle.com/wp-content/uploads/2017/06/Screen-Shot-2017-06-19-at-4.52.54-PM.png" image_id="4014″ link="https://www.abercrombie.com/shop/us/p/ruffle-off-the-shoulder-dress-9697245_01?ofp=true" linktarget="_blank" /][fusion_image image="https://jaclyndeleonstyle.com/wp-content/uploads/2017/06/Screen-Shot-2017-06-05-at-2.01.07-PM.png" image_id="3834″ link="https://www.stelladot.com/shop/en_us/p/chelsea-bag-saddle-black" linktarget="_blank" /][fusion_image image="https://jaclyndeleonstyle.com/wp-content/uploads/2017/05/Screen-Shot-2017-05-18-at-9.41.13-AM.png" image_id="3601″ link="https://www.target.com/p/women-s-dv-alina-knotted-slide-sandals/-/A-51913360″ linktarget="_blank" /][fusion_image image="https://jaclyndeleonstyle.com/wp-content/uploads/2017/05/Screen-Shot-2017-05-29-at-9.29.39-AM.png" image_id="3759″ link="http://www.forever21.com/Product/Product.aspx?br=F21&category=ACC&productid=1000092373″ linktarget="_blank" /][fusion_image image="https://jaclyndeleonstyle.com/wp-content/uploads/2017/04/Screen-Shot-2017-04-25-at-9.09.49-AM.png" image_id="3289″ link="https://www.nordstromrack.com/shop/product/1925859/bcbg-straw-fringe-panama-hat?color=NATURAL" linktarget="_blank" /][fusion_image image="https://jaclyndeleonstyle.com/wp-content/uploads/2017/04/Screen-Shot-2017-04-02-at-12.32.29-AM.png" image_id="2833″ link="https://www.stelladot.com/shop/en_us/p/the-covet-sloane-bag-mushroom" linktarget="_blank" /][fusion_image image="https://jaclyndeleonstyle.com/wp-content/uploads/2017/04/Screen-Shot-2017-04-17-at-10.12.39-AM.png" image_id="3136″ link="https://www.stelladot.com/shop/en_us/p/jewelry/necklaces/necklaces-all/trevally-necklace" linktarget="_blank" /][fusion_image image="https://jaclyndeleonstyle.com/wp-content/uploads/2017/04/Screen-Shot-2017-04-29-at-8.21.24-PM.png" image_id="3344″ link="https://www.target.com/p/women-s-oversized-sunglasses-black-cream-black-marble/-/A-51349482″ linktarget="_blank" /][fusion_image image="https://jaclyndeleonstyle.com/wp-content/uploads/2017/06/Screen-Shot-2017-06-19-at-11.02.28-PM.png" image_id="4029″ link="http://shop.nordstrom.com/s/jessica-simpson-rainah-sandal-women/4552524?origin=keywordsearch-personalizedsort&fashioncolor=BLACK" linktarget="_self" /][/fusion_images][/fusion_builder_column][/fusion_builder_row][/fusion_builder_container]
Save