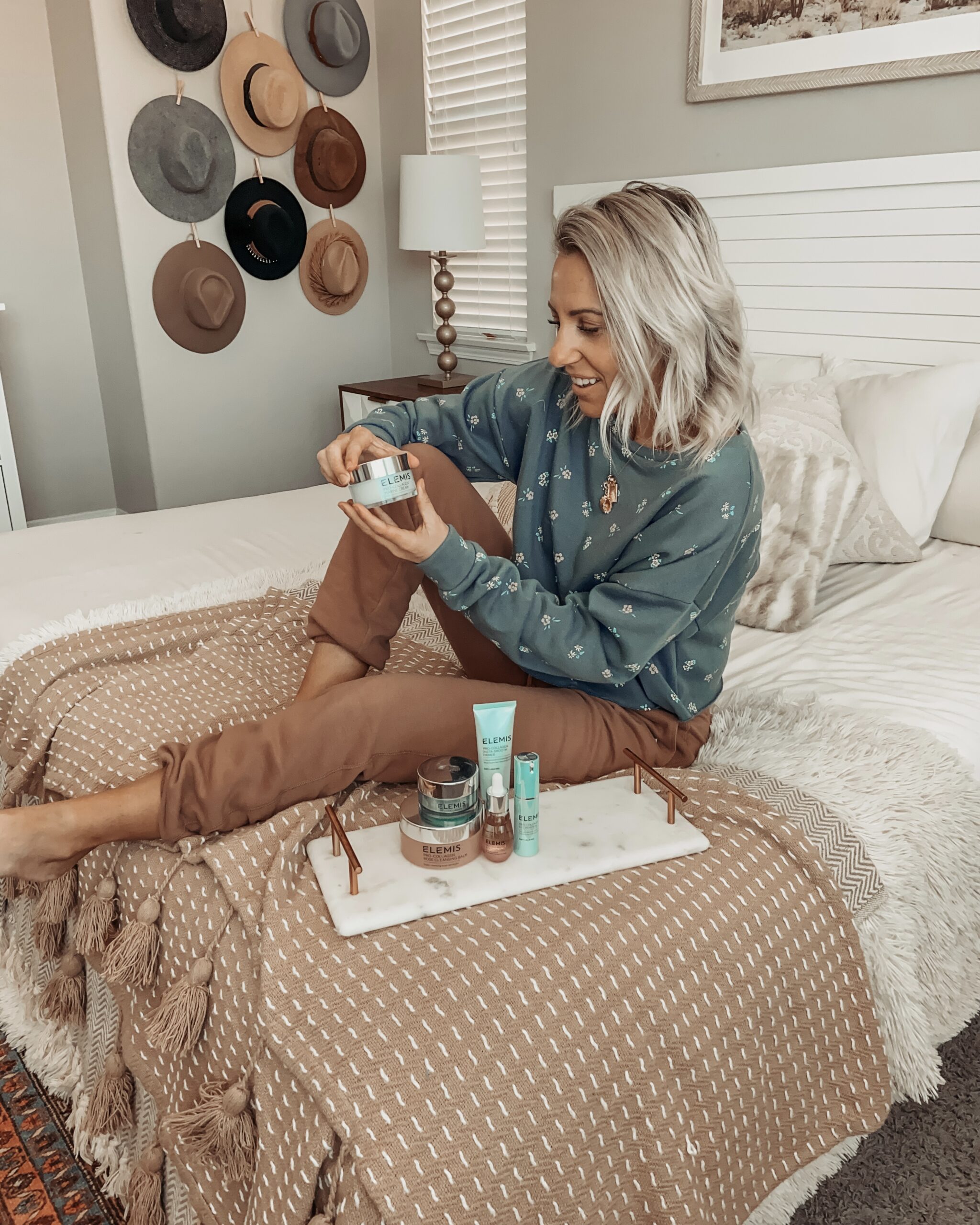 I've been using Elemis skincare products since May of last year + to say I'm obsessed would be an understatement. Their products have completely changed my skin and I honestly can't rave about them enough.
If there is one thing that you need to invest in it's your skincare! And who doesn't love getting a discount on it at the same time. I am so excited that I have an Elemis discount code where you can get 20% with code JACLYN20.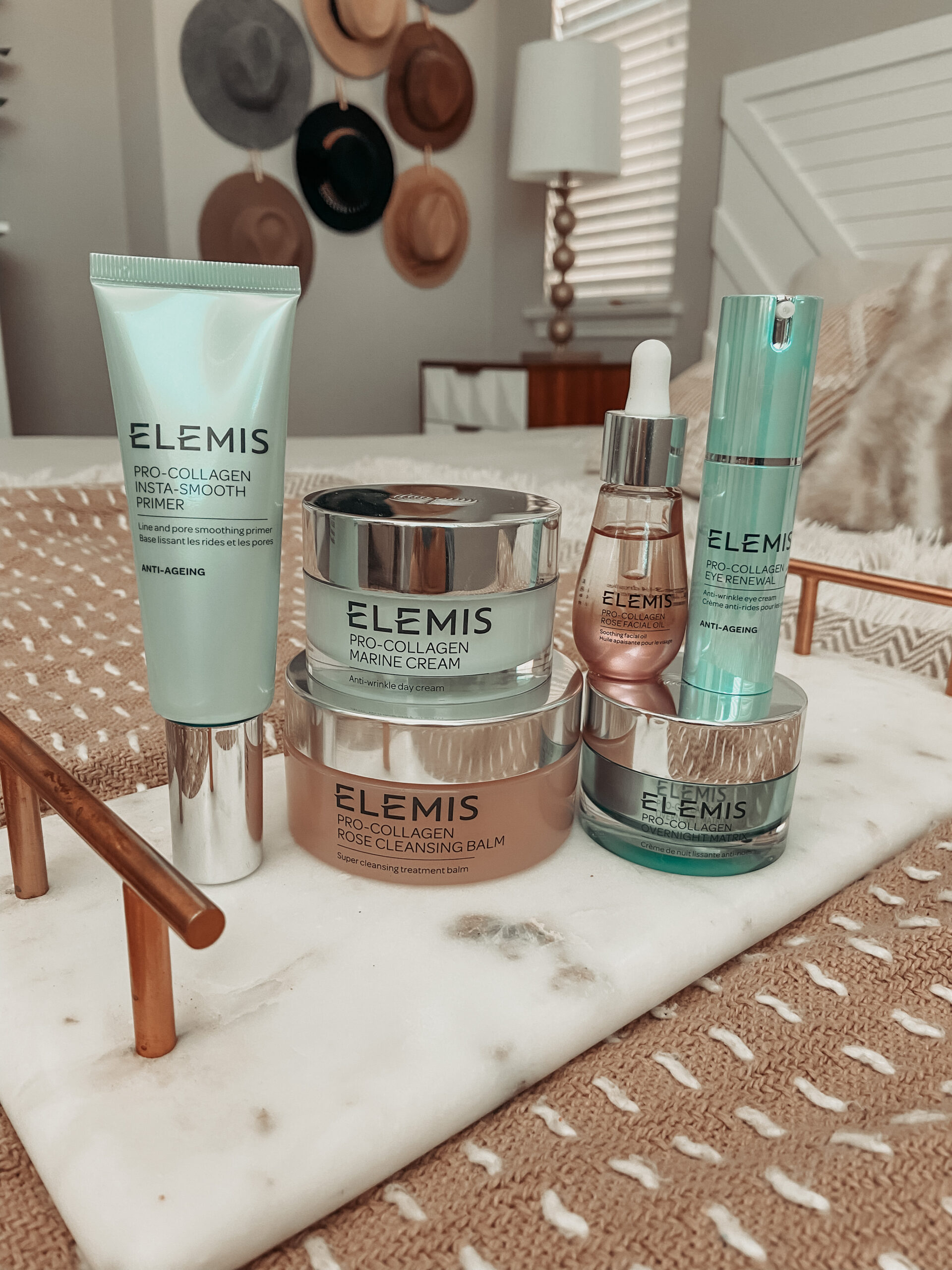 I'm genuinely love with everything I've tried from Elemis but I'm particularly impressed with their pro-collagen line. If I had to break it down to my top 6 must-haves these would be it! And don't forget to use JACLYN20 to get 20% off!
1- Pro-Collagen Marine Cream: This is my #1 HOLY GRAIL product + if I could only use 1 skincare product for the rest of my life this would be it. It is an anti-wrinkle day cream that leaves your skin extremely hydrating (clinically proven to increase hydration up to 248% in one hour to be exact). It firms skin, improves overall skintone + reduces the look of fine lines and wrinkles. It leaves my skin looking more plump + youthful and what I like to think is like Botox at home. Best part is it works for all skin types. I have combination acne prone skin + it leaves my skin hydrated without feeling oily.
The perfect 5 star reviews + several beauty awards shows that I'm not the only one who loves this product. I use the classic Marine Cream but it also comes with spf 30 or the Ultra Rich which is perfect if you have very dry skin.
I never go a day without this product + just put it on at the end of my morning skincare routine before my primer + makeup. Let's just say this day cream is so good that I've gotten all my family + friends hooked as well.
2- Pro-Collagen Rose Facial Oil: I have added facial oils to my nighttime skincare routine for just over a year and have tried several. This rose one is my personal favorite + hands down the best out of all the facial oils I've tried. I was always scared of using oils on my skin since I am acne prone + have combination skin but this has worked wonders. This anti-aging oil helps to soften the look of lines and wrinkles and leaves your skin looking more youthful.
It only takes a few drops at night + it's easily absorbed into your skin resulting in a radiant and dewy fresh complexion come morning. And the subtle rose scent makes you feel like you're at an expensive spa.
3- Pro-Collagen Overnight Matrix: Since I loved the Day Cream so much I knew I would love the Overnight cream as well. I love that it works throughout the night to dramatically improves the look of fine lines and wrinkles for a youthful, radiant appearance in the morning. Every time I use it I wake up with a noticeably firmer, smoother-looking complexion.
This is the most expensive product on my list but 100% worth it in my opinion (it lasts quite a while as well).
4- Pro-Collagen Rose Cleansing Balm: I've been using a cleansing balm for several months and this one is my favorite because of the subtle rose scent. You first warm up the product on your finger tips and then rub it on your skin + it completely melts off your makeup and skin impurities. I then add a water to a facial towel and gently wipe it off. The water emulsifies the balm to a hydrating milk that easily rinses off, creating an exceptional cleansing experience.
I always double cleanse at night and use this balm as my first step. I talk more in depth on why you need to use a Cleansing balm on THIS post
5- Pro-Collagen Eye Renewal: I've recently added this anti-wrinkle eye cream to my skincare routine + have been impressed with the results. You can use it day or night but I LOVE how in the morning it has a cooling affect that really wakes up the eye area. It nourishes, smooths + firms leaving the delicate eye area for brighter + younger look.
6- Pro-Collagen Insta-Smooth Primer: This is also a newer product to me + I have been loving it as well. It's an ultra-firming primer that visibly reduces the look of fine lines and pores while leaving skin perfectly prepped for makeup. This is the last product I use on my skin in the morning and I love how it bridges the gap between skincare + makeup. I've also noticed that it keeps my makeup in tact and on longer through out the day. Another award winning product with 5 star reviews that is completely worth they hype.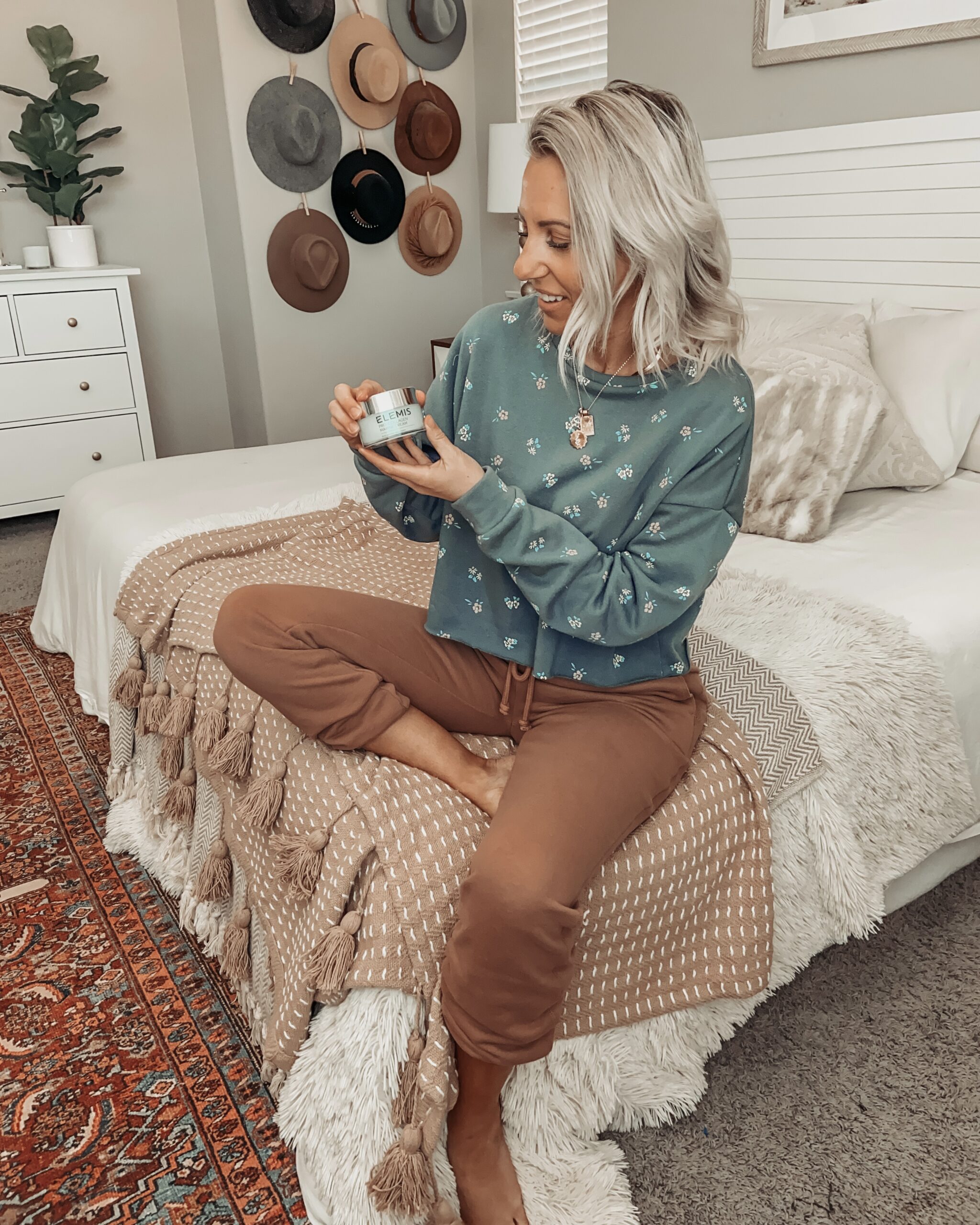 I hope my overview of my top Elemis products has helped make a decision on investing in your skincare. If anything I just wish I had discovered Elemis earlier!
If there is only ONE product you purchase from Elemis make sure it is the Pro-Collagen Marine Cream. It has completely transformed my skin! I love the original award winning one but it also comes in SPF 30, in Ultra Rich for dry skin, the Lunar New Year limited edition and also the version For Men so you can grab one best suited for your needs.
Don't forget to use JACLYN20 at checkout so you can save 20%. Below are a few great bundle options that my discount code also works on so you can get yourself the BEST DEAL!!
Thanks for stopping by!