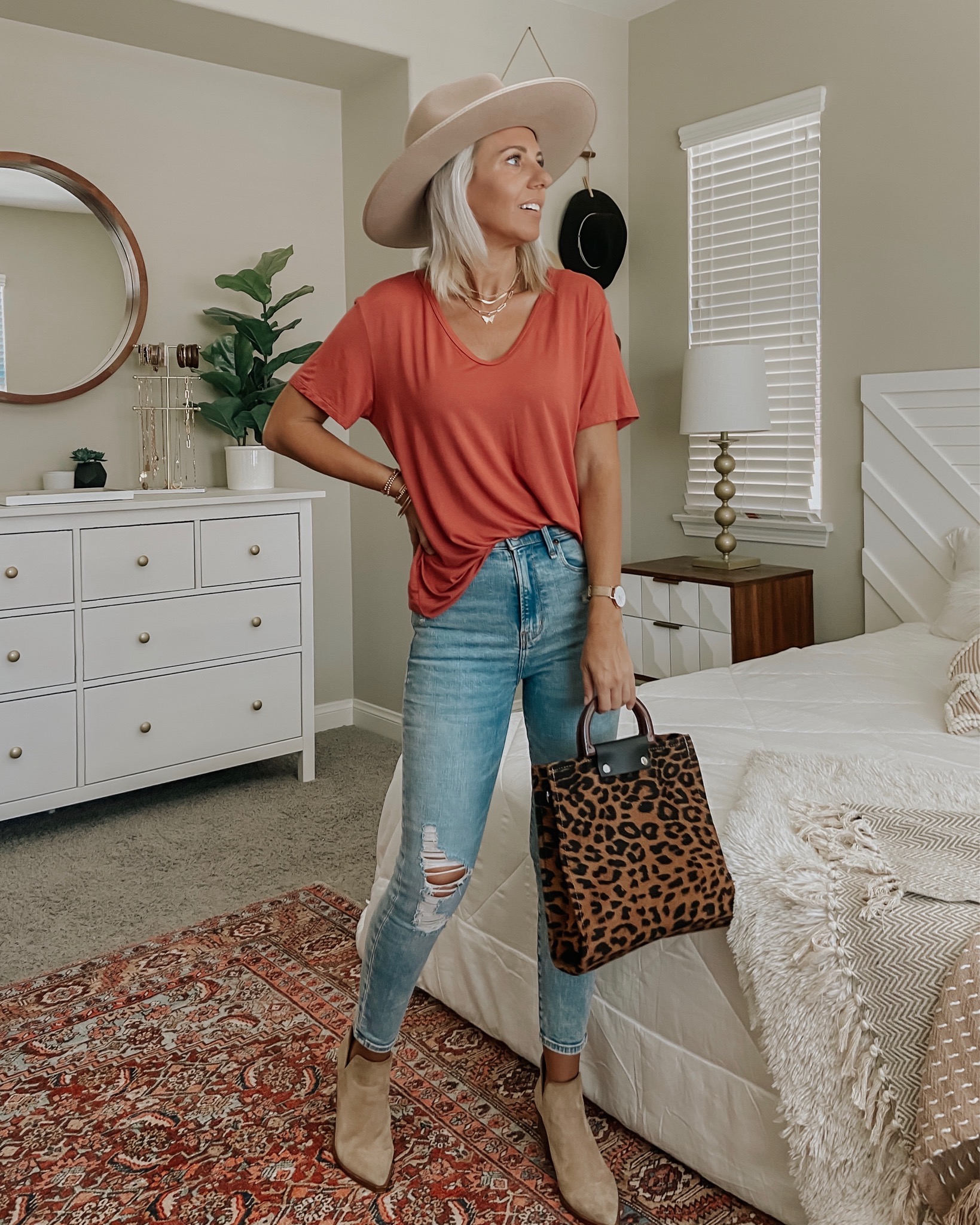 Well the Nordstrom Anniversary Sale has officially begun for all card holders. I was able to visit the store this week and do a quick try-on so I'm sharing all the details here. You can also watch it all on my NSALE story highlight on Instagram.
First off if you are in need of some closet staples I HIGHLY recommend grabbing these All In Favor tees in every color. They are ridiculously soft and great for layering. They do fit tts + come in tons of colors. The boots I'm wearing above are my favorite purchase from last years sale + are back in a new fresh style which you can check out HERE.
I also grabbed the black top below from the same brand. This top is another great Fall piece that you can easy dress up or down depending on what you pair it with. It also fits tts + comes in a couple different color options.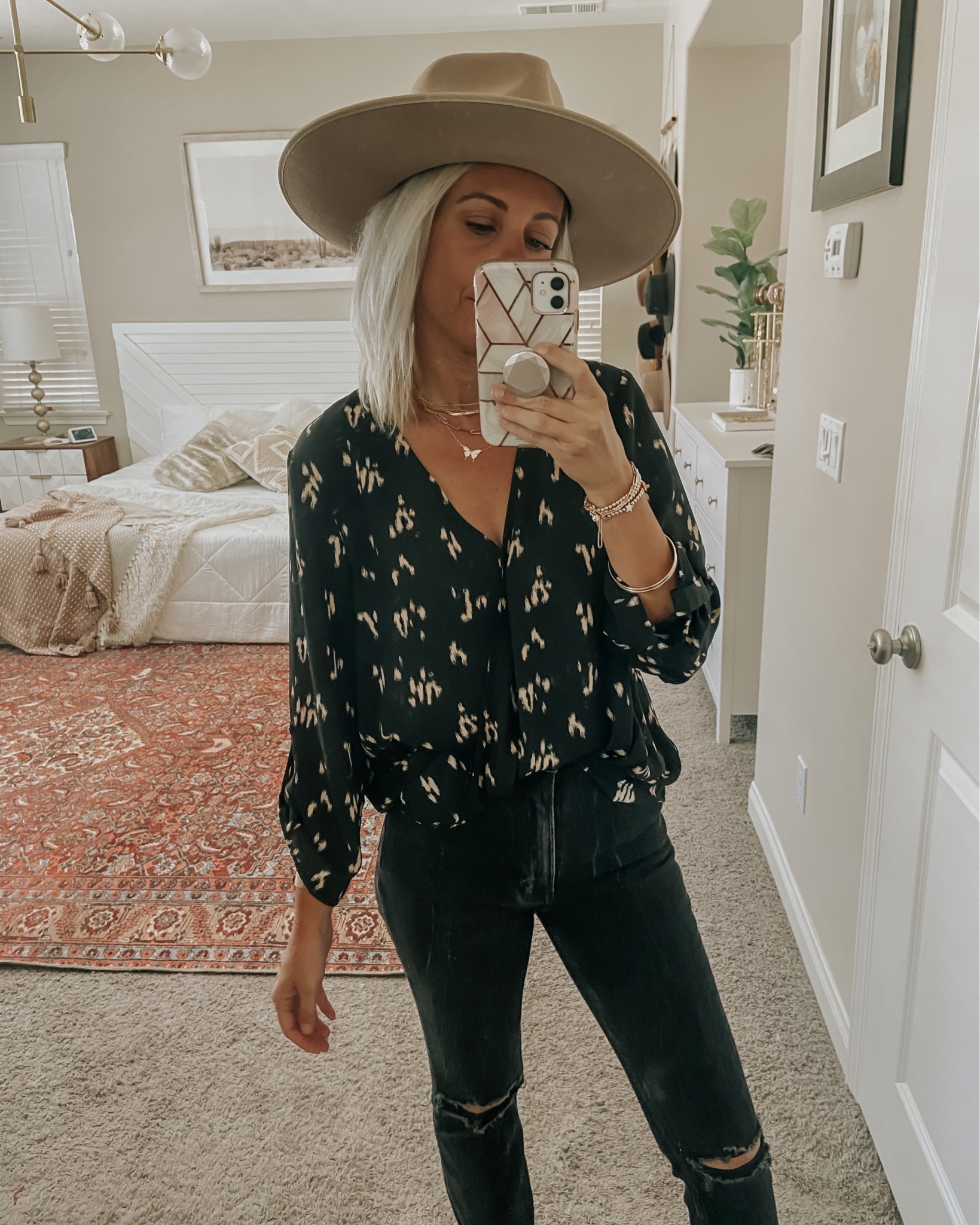 Luckily I was able to grab those two tops online before the sale started + I'm so glad I did. Next I'm going to share my in store try-on from the other day. Tons of the store was already picked over + sold out but I did find quite a few goodies. Hands down the best items of the sale in my opinion are the shoes! The Steve Madden Mules are so good I had to grab 2 colors.

The first outfit consists of these must have leopard jeans + utility jacket. I have almost identical ones from last year that I still wear all the time. The next two pair of jeans by Topshop fit great and of course I took both home with me. The black washed dad jeans I will need to cut to make them a little more cropped since I'm only 5'2. Both sweaters are cute but not an absolute must-have in my opinion. The burgundy one was very holey and you would need to wear something underneath. The moto jacket on the far right is definitely a closet staple for everyone! The Blank NYC jackets are hands down the beset and last forever. I have an almost identical one from two seasons ago that I still have all the time. This one is only $56 and so much better than the $48 Topshop one + definitely an essential in my opinion.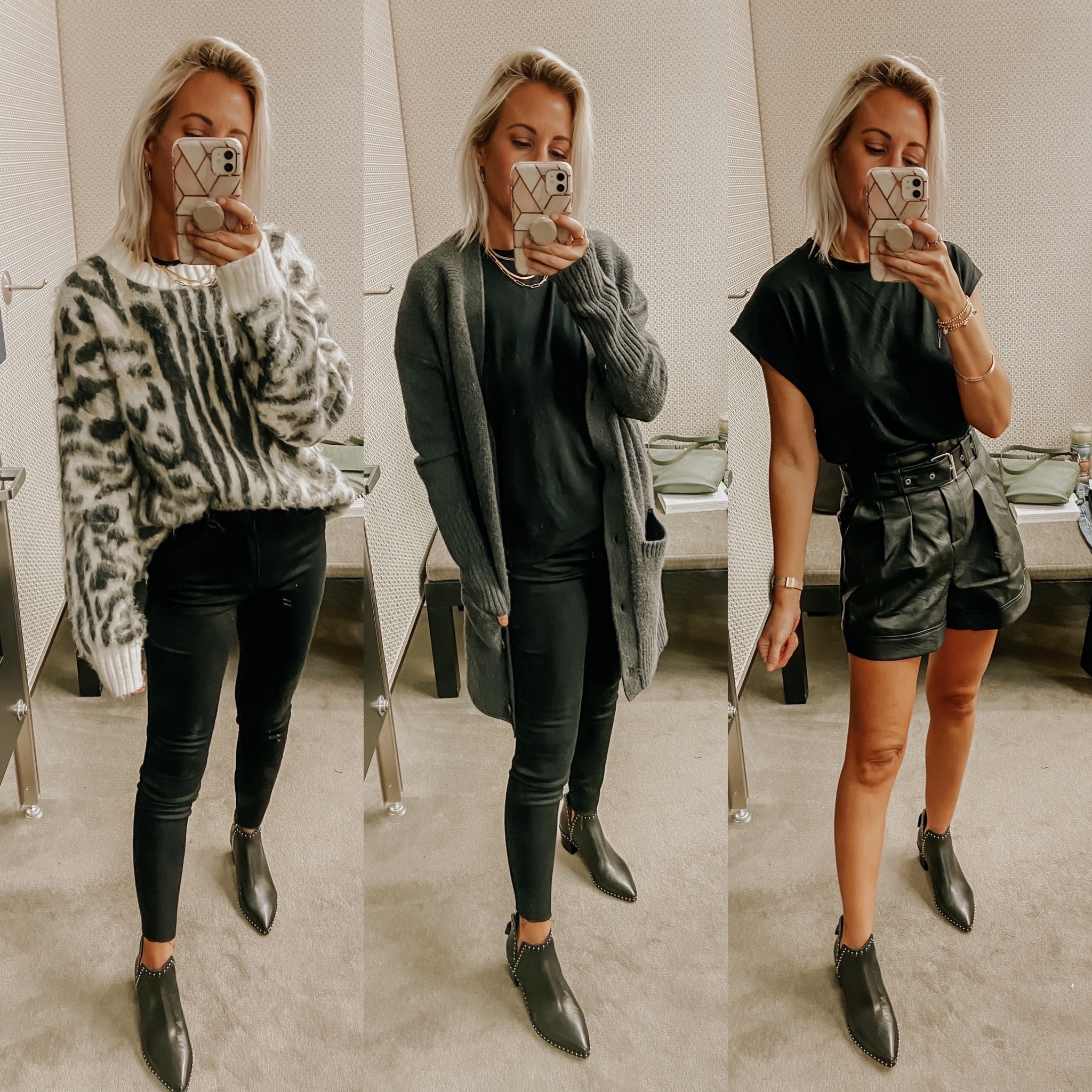 Went a little edgy + chic for the next couple looks. These boots have a fun studded detail on them and are a great staple (fits tts too). These Kut from the Kloth jeggings are very lightweight, stretching + very flattering if you're looking for a good classic pant (fits tts + I'm wearing a 0). Both sweaters are soft but the animal print fits very oversized while the cardigan was just right. And don't get me started on these faux leather shorts. They are so fun (fits tts too) and I can't wait to style them more ways.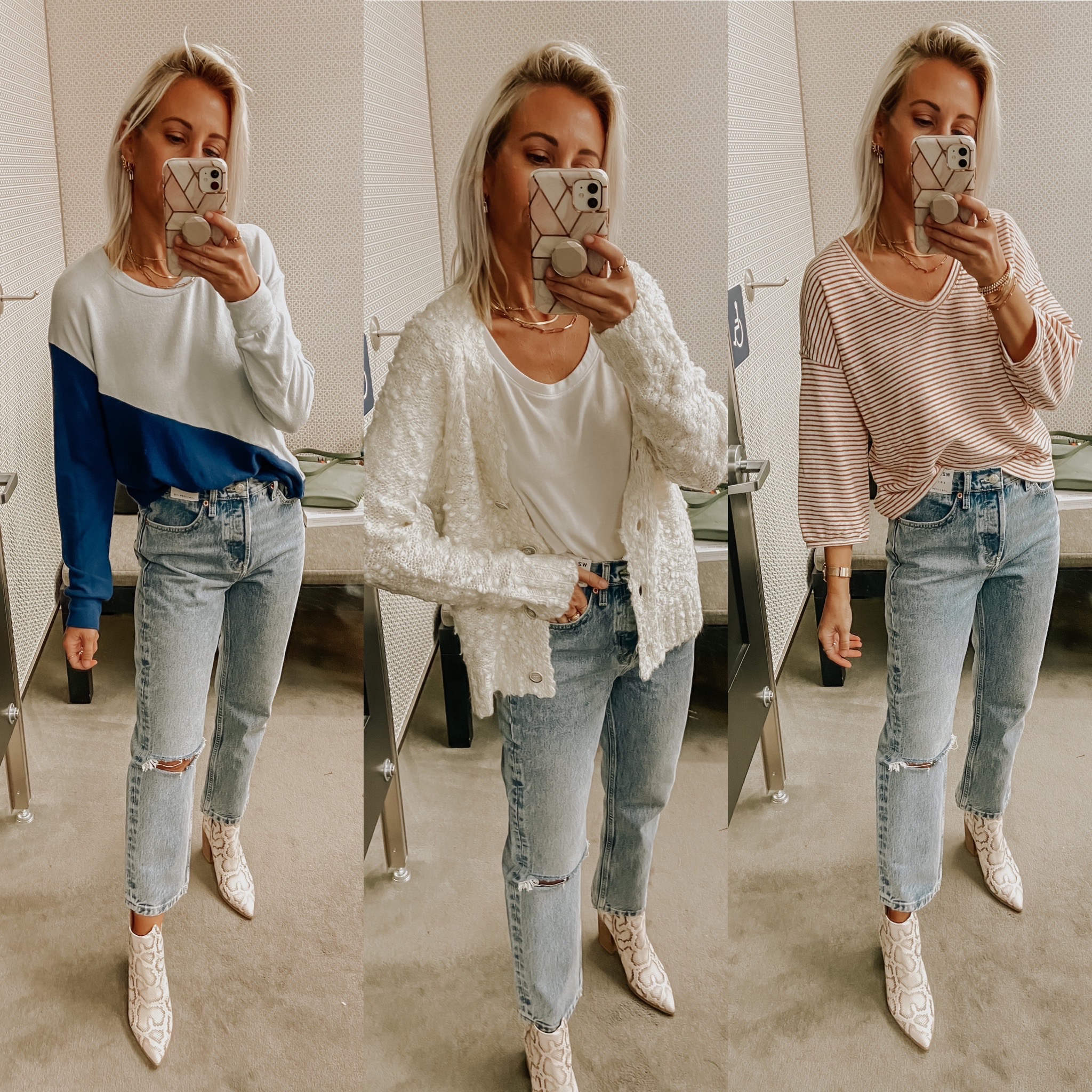 Of course I found a few more sweaters that are perfect for Fall. I had originally had my eye on the black + white color block sweater but I loved this blue shade in person (fits tts-wearing xs). This middle bubble sweater was a surprise for me as I didn't even notice it online but love the texture + softness of it (fits tts-wearing xs) Unfortunately I couldn't find this last striped sweater online but of course the denim + boots came home with me (both fit tts).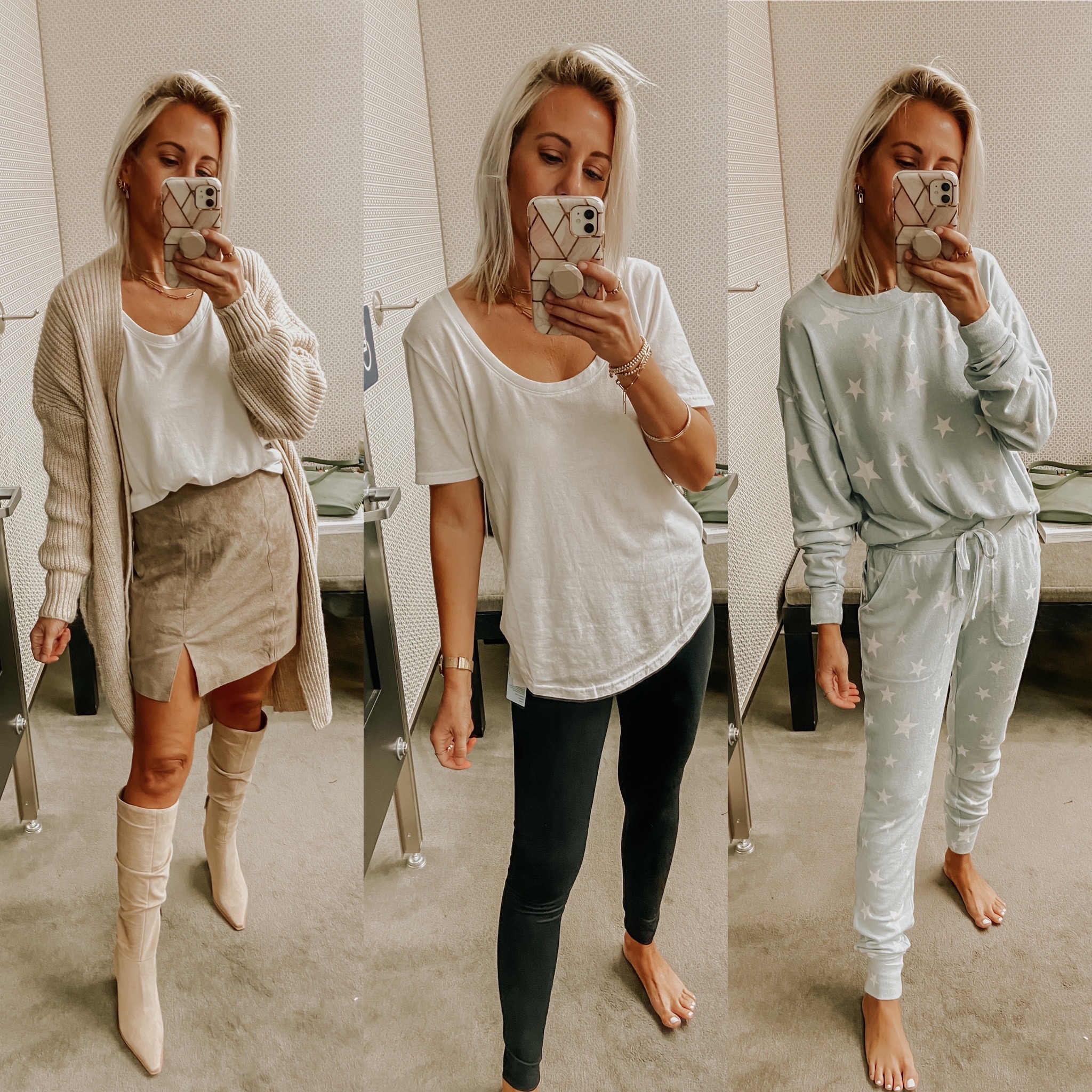 Above are the last few items from the try-on. I had my eye on these high boots and ended up taking them home with me (fits tts + great quality). I can't wait to see what else I can style them with. I paired them here with a Blank NYC skirt, basic tee + oversized sweater/coatigan (wearing my usual xs in all of them). I love the neutral color tones of this look. Tons of the activewear I wanted to check out was not available in store but I had to try out these Zella leggings. They did not disappoint and are great quality for the price. They fit tts but I'm looking to grab them in other prints/colors and hopefully the cropped length. Lastly is this cozy set that comes in tons of fun colors. The material is soft + very lightweight (fits tts too) which would be great to sleep in, but I don't imagine actually wearing them anywhere. I was hoping to get the solid gray pair to wear out but I think they're too thin + pj like to wear out. Atleast that's my opinion.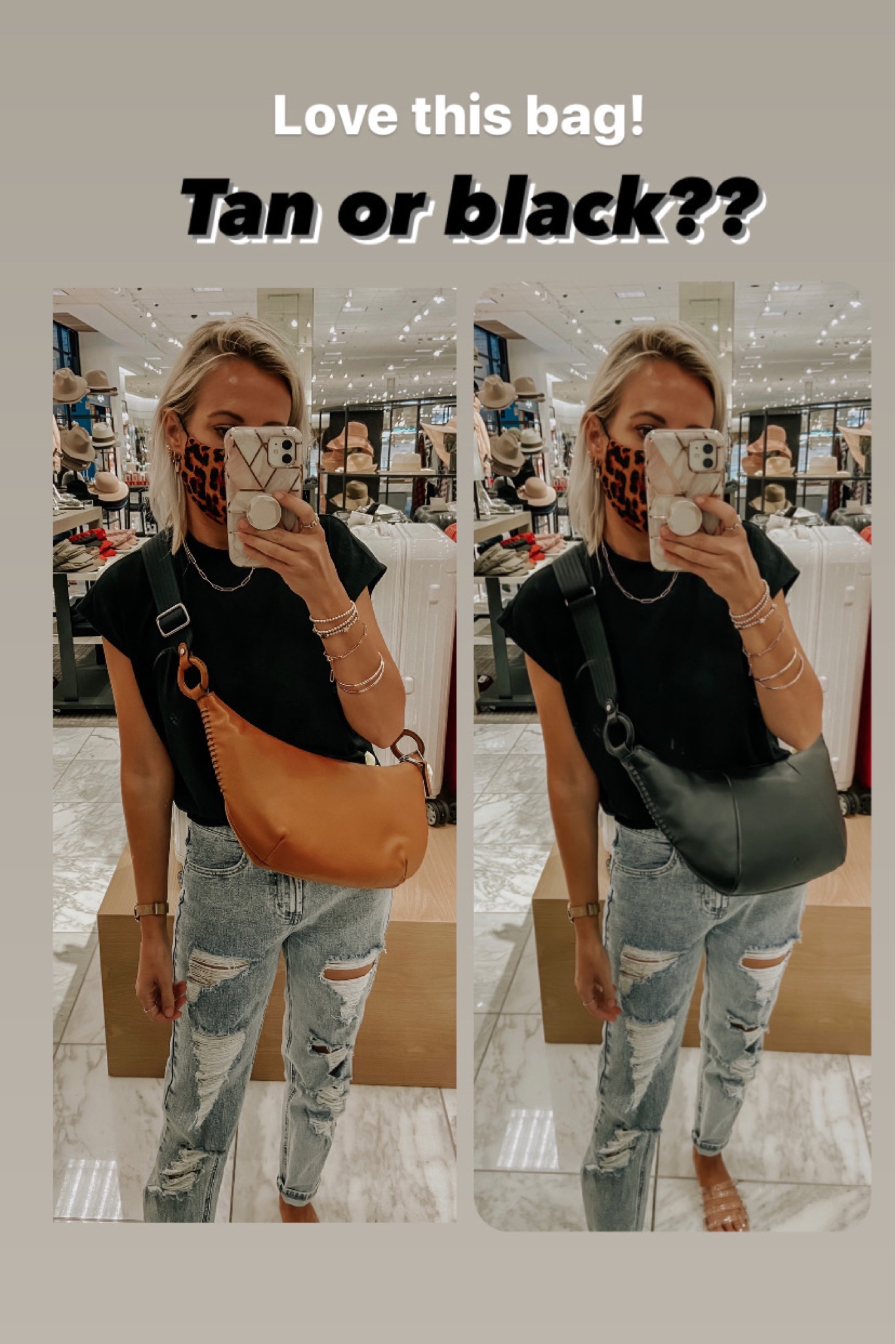 Lastly I hit up the handbag dept and of course had to grab this crossbody bag that I've had my eye on since my friend Katie shared it last week. It's so much better in person that by the photo online and it's under $65. Although I love both colors I took the tan one home with me. And then of course I had to take THIS Kurt Geiger handbag home with me as it's such a crazy steal of a price + under $150.
Since of course tons of the items I had my eye on were not available in store I will be placing an online order today. There's also a few things I want that have already sold out like a couple hats, coats + dresses that I will keep my eye on for restocks. Below are the items I have in my cart.

Please let me know if you have any questions on anything + again thank you for shopping my links and for all your support! I truly love doing this!!