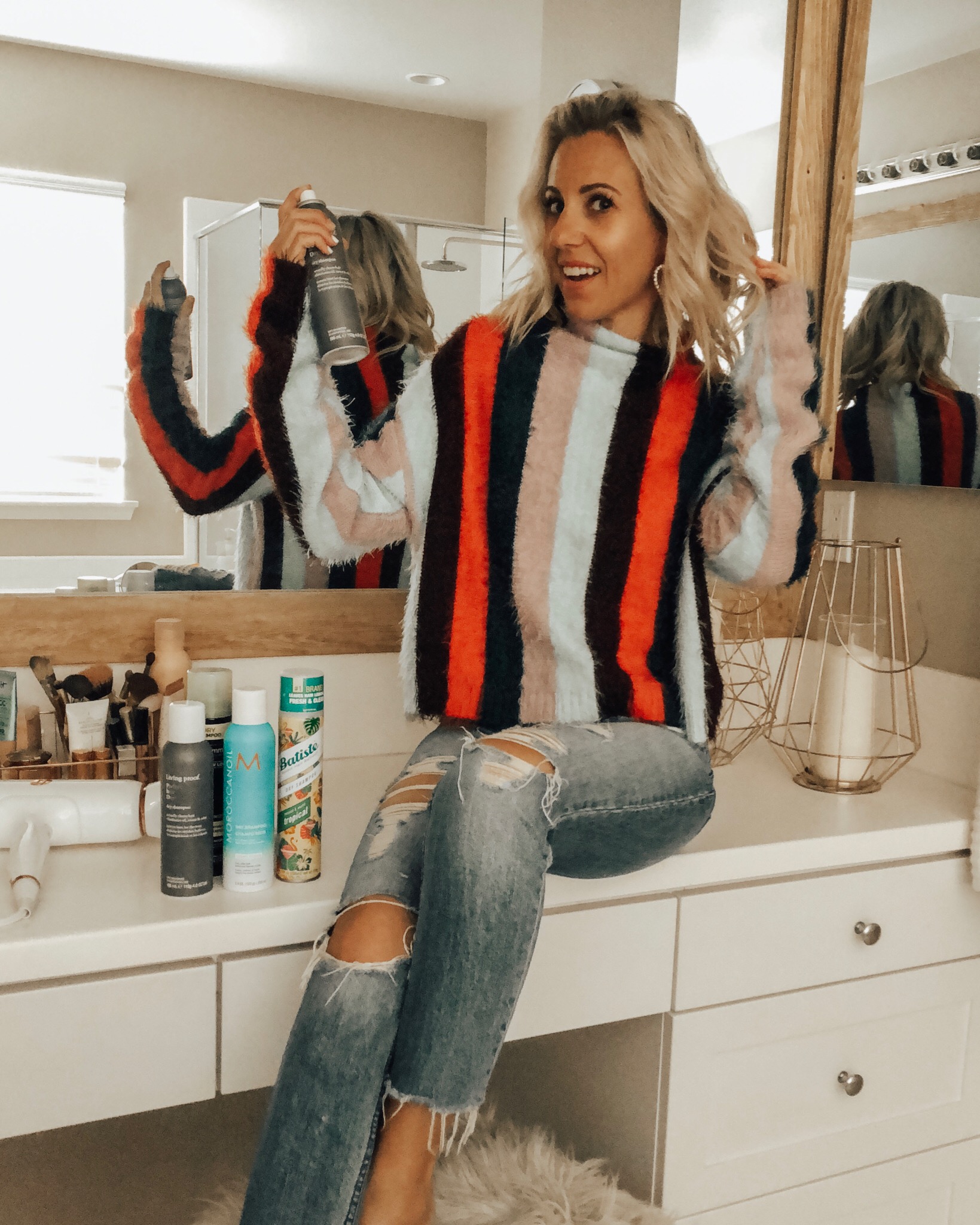 Today is National Dry Shampoo Day!!  I know, I didn't really know it was a thing either, but hey, any excuse to celebrate right?!  Dry shampoo might be the one hair product that I could never live without.  So in honor of this special day I thought I would give you a run down of my favorite dry shampoo's.
I used to say I didn't know a dry shampoo I didn't like but as I tried more and more products I could definitely tell a difference.  I am constantly trying new beauty products whether brands are sending them to me or I am purchasing them myself so I have definitely tried my fair share of dry shampoo's.  I decided to break it down to my top 4 must haves- 2 are budget friendly and 2 are worth the splurge.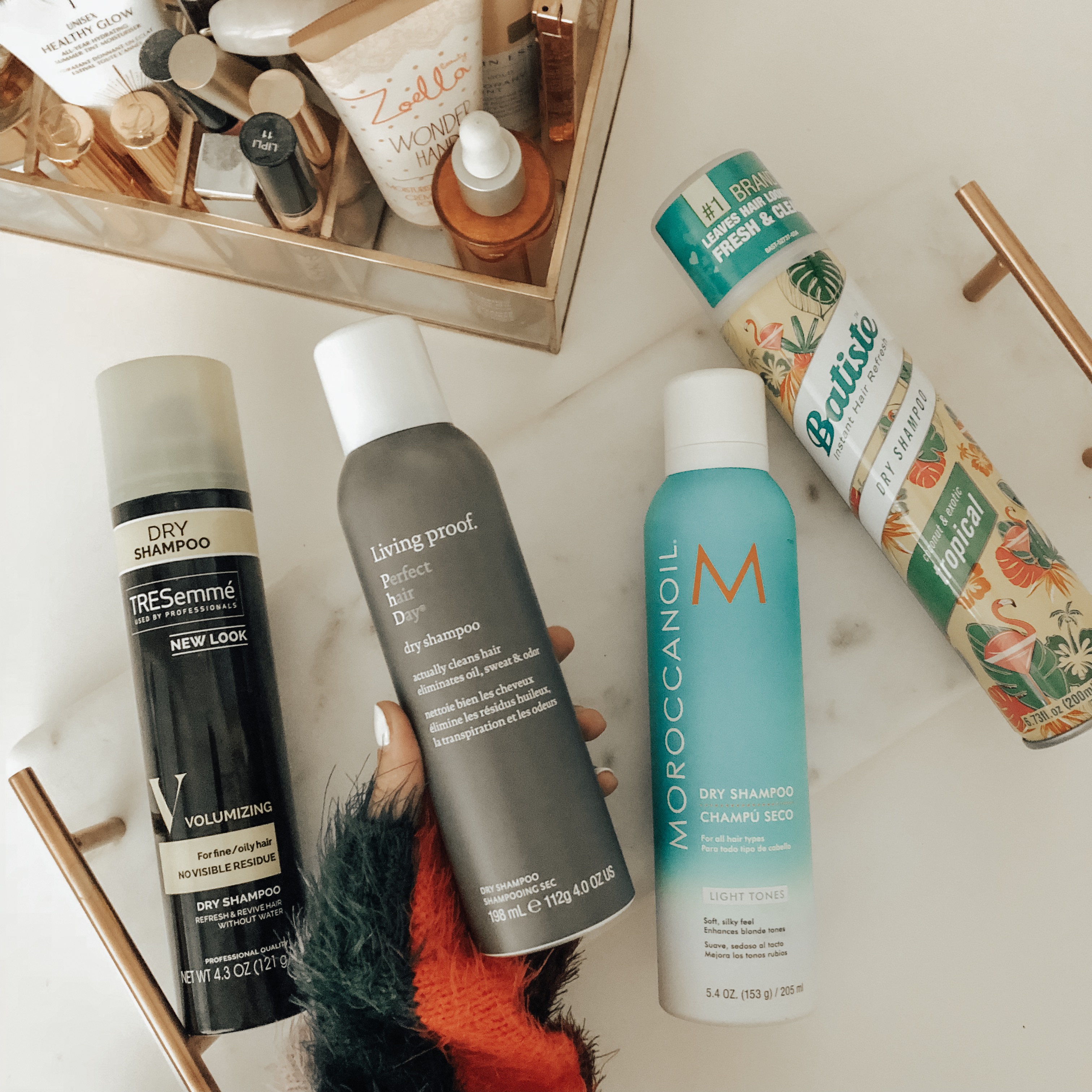 WORTH THE SPLURGE
1-Living Proof Perfect Hair Day dry shampoo: This product does exactly what it says right on the bottle.  It actually cleans hair and eliminates oil!  This dry shampoo works great on all types of hair and I love it on my days old hair as much as I do on my freshly washed hair.  It really adds texture and grit to your roots which makes your hair easier to style and adds more volume.  It doesn't leave any type of white residue and is great for any hair color.  All I can say is that it's worth all the type and it truly gives you a perfect hair day!
2-Moroccan Oil Light Tones dry shampoo: This dry shampoo is made specifically for light colored hair so it's perfect for me.  If you have dark hair I would recommend the Dark Tones dry shampoo instead.  Since I have very light or shall I say platinum blonde hair, I love how this dry shampoo enhances my hair color and balance brassiness.  It's almost like a purple shampoo and dry shampoo in one- genius right?!  It cleanses dirty hair by eliminating oil and providing body and volume.  I especially love using even more when I'm in need of a hair appt at the salon but haven't quite made it in.  All I can say is that it's definitely splurge worthy!
BUDGET FRIENDLY
3-Batiste Tropical Coconut & Exotic dry shampoo: Batiste is known as the original dry shampoo and they have so many different options in types and scents.  The tropical one is my personal favorite because it smells like an exotic vacation (but not too over powering) and it's perfect for light colored hair like mine.  If you have darker hair I would recommend their Divine Dark dry shampoo.  This product does an amazing job of eliminating oil and adding the perfect amount of volume.  Best part is that it's only $9!  With such a low price tag I can feel comfortable using as much as I want and if you know me I love using A LOT.  I currently use this product the most out of all four and I usually buy several bottles every time I make a Target Run.
4- TRESemme Fresh Start Volumizing dry shampoo:  Another great working dry shampoo with an amazing price tag- under $5!.  I've tried just about every drug store cheap dry shampoo and most of them are just that- cheap.  This one works great for all hair types but is especially good for lighter hair colors.  My hair is only the oily side so I prefer this volumizing one but they also have their Fresh + Clean dry shampoo which is not as strong.  Overall a great dry shampoo especially for the price!
Well that's it my run down of my top 4 dry shampoo's!  What's your go-to dry shampoo?  Comment below with your favorite.
SHOP MY FAVORITES