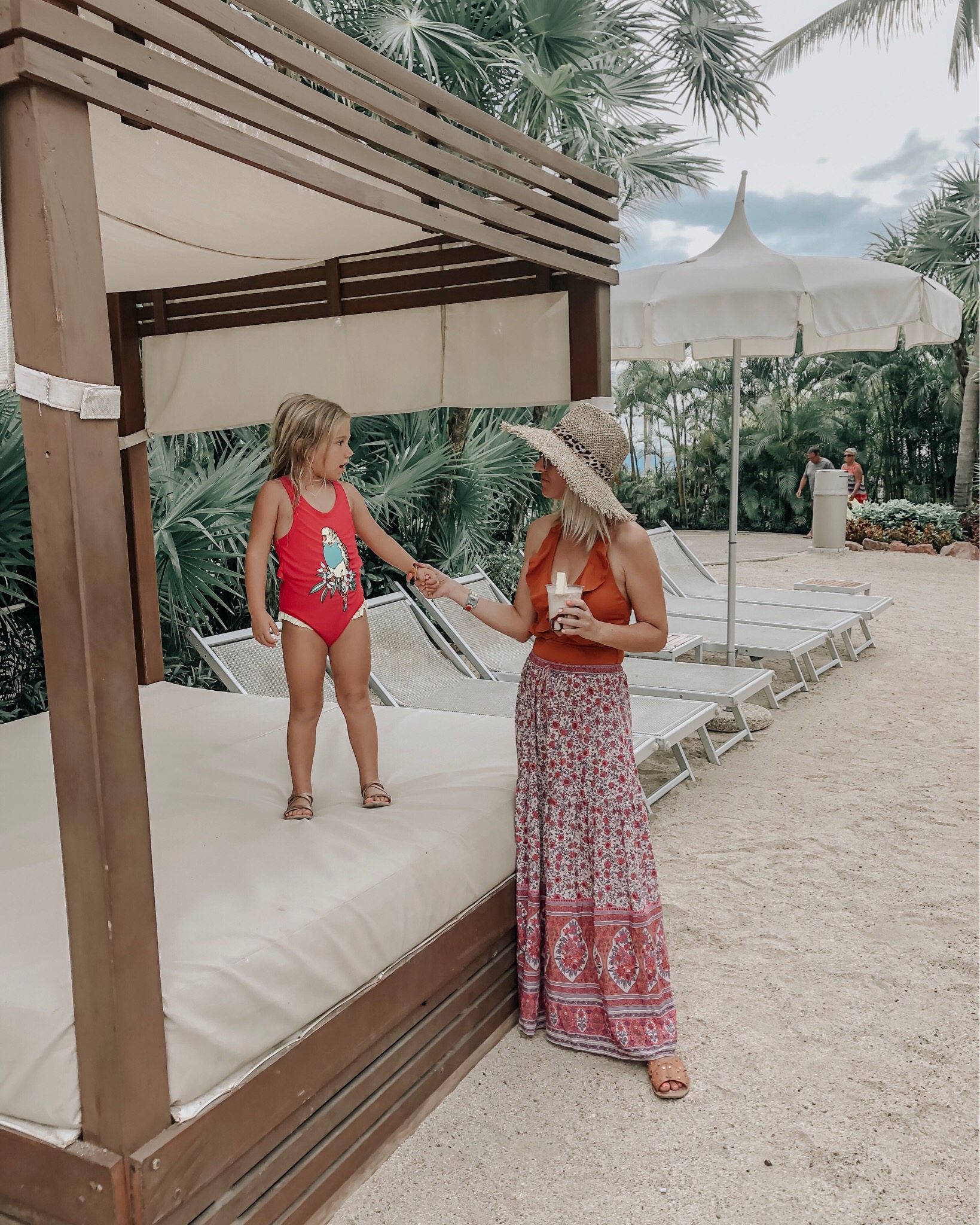 It's been one month since we went on our big family vacation to Puerto Vallarta so I thought I would quickly run down all the details to help you plan your next Mexico vacation.
First off we stayed in the Vidanta Resorts in Puerto Nuevo. That's a small city just outside of Puerto Vallarta that is known as the New Vallarta. Vidanta has resorts in six vacation destinations throughout Mexico from Los Cabos to Acapulco. The Puerto Nuevo resort is absolutely breathtaking with 4 different hotels on the resort. Let's just say it's so amazing that Bachelor in Paradise just did a big Wedding there on the latest season!
We stayed at the Grand Mayan which I think is the best family friendly hotel. It has the best pools with water slides, a wave pool and a 20 minute lazy river ride around the resort. Yep it's that big of a resort! My parents stayed with us as well so we got a large 2 bedroom suite which came with a complete kitchen, family room and mini pool on the balcony. It was the largest hotel room we've ever had!! You can check out more about the exact room we stayed in HERE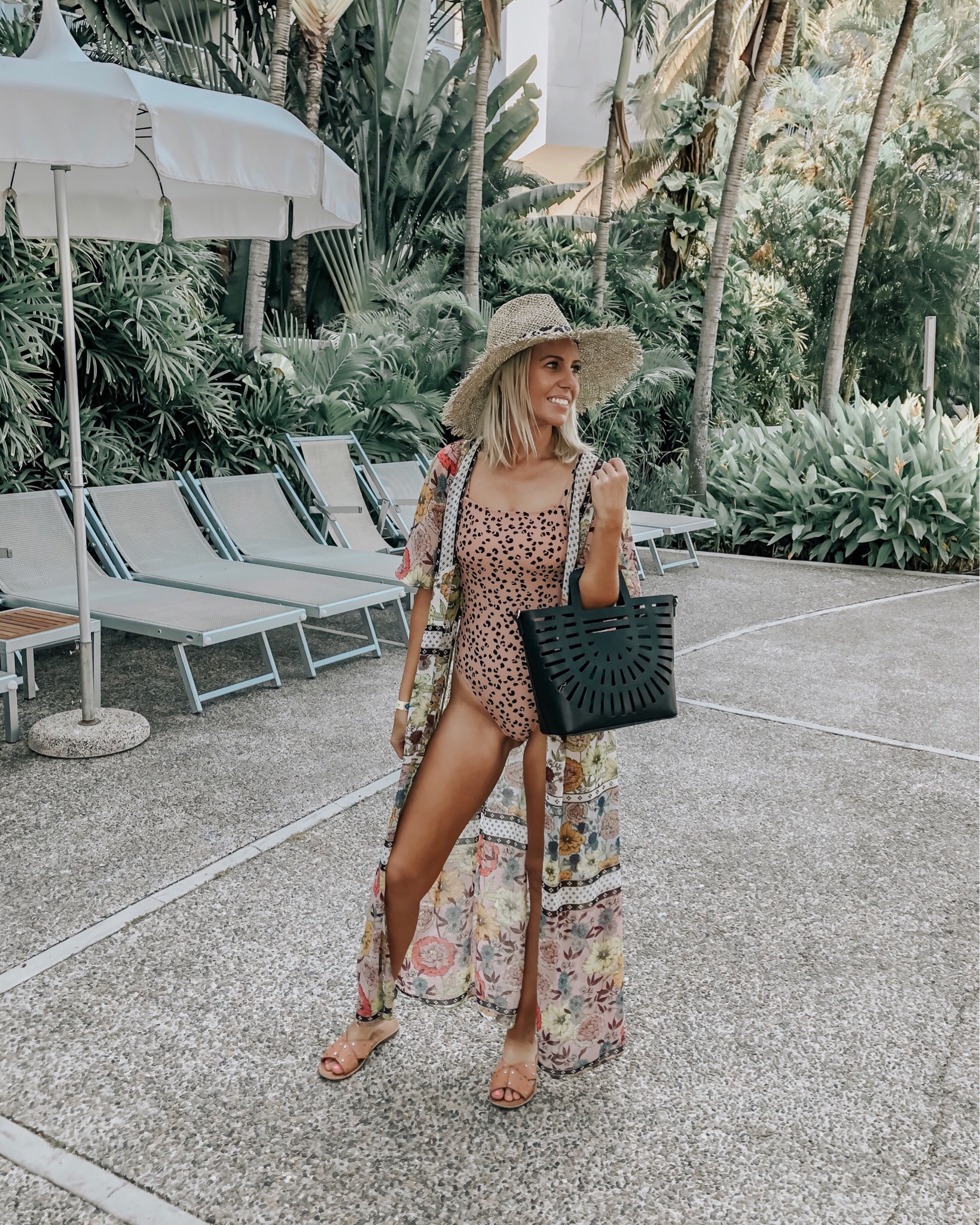 We spent most days at the pool since the resort had tons of family friendly activities including water slides, a wave pool, lazy river, pool volleyball and more. And there was a daily happy hour from 11-3 so I definitely enjoyed a few margaritas as the pool! To save on food expenses since of course the hotel food prices were pretty inflated we made a trip to Sam's Club on the first day and loaded up on food for daily breakfast and lunch. That way we could enjoy going out to dinner each night.
We ate a couple days at the Resort and then got tired of the over prized food and wanted to venture out a big. The only bad thing about the Vidanta Resort is that they really make it difficult for you to leave the resort. Luckily my dad asked around and heard that a short walk across the beach gets your out of the resort and into a small cute harbor town with a couple good restaurants. That's where we found Eddie's Place which we ended up going to several times. They had the absolute best jumbo shrimp I've ever had! I highly recommend it but do note that it is a cash only restaurant. They do have an ATM on the premises but just want you to be prepared.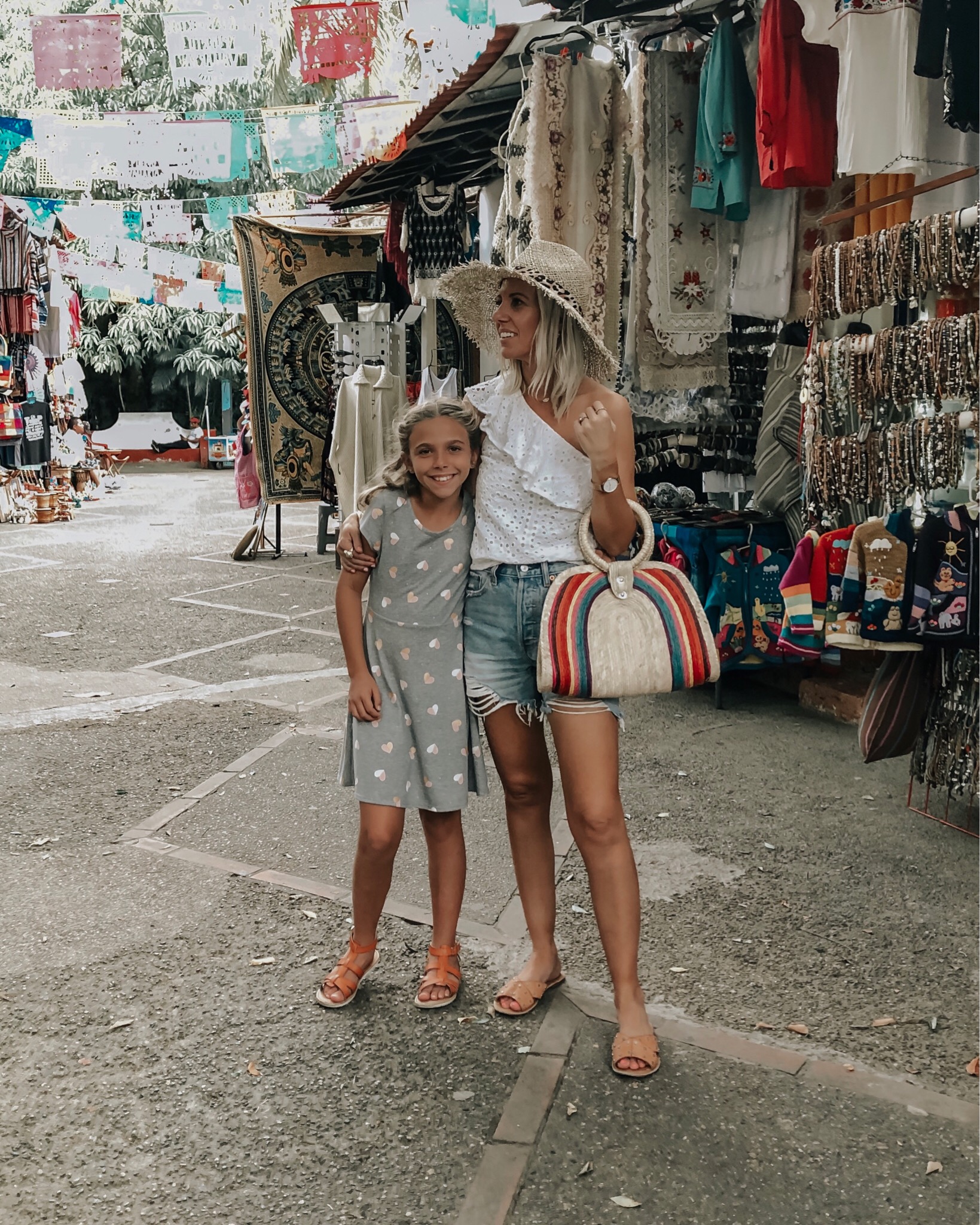 A few days we took cabs and headed into the actual city of Puerto Vallarta. To be honest I was a little bit nervous since we were traveling with the kids but overall I felt pretty safe. Nevertheless you need to be careful because it is Mexico and you never know what could happen.
We were able to do a little bit of shopping at the market shops where the kids got to each pick our something for themselves and I scored the cutest rainbow straw bag. We also made it to our favorite Puerto Vallarta restaurant Pipi's and it was even better than I remember. The last time I went to Puerto Vallarta was when I was in college which was almost 20 years ago! Pipi's makes the most amazing guacamole right at your table and my watermelon margarita was to die for(check out the picture below)! If there's one restaurant you need to eat at while in Puerto Vallarta it's Pipi's.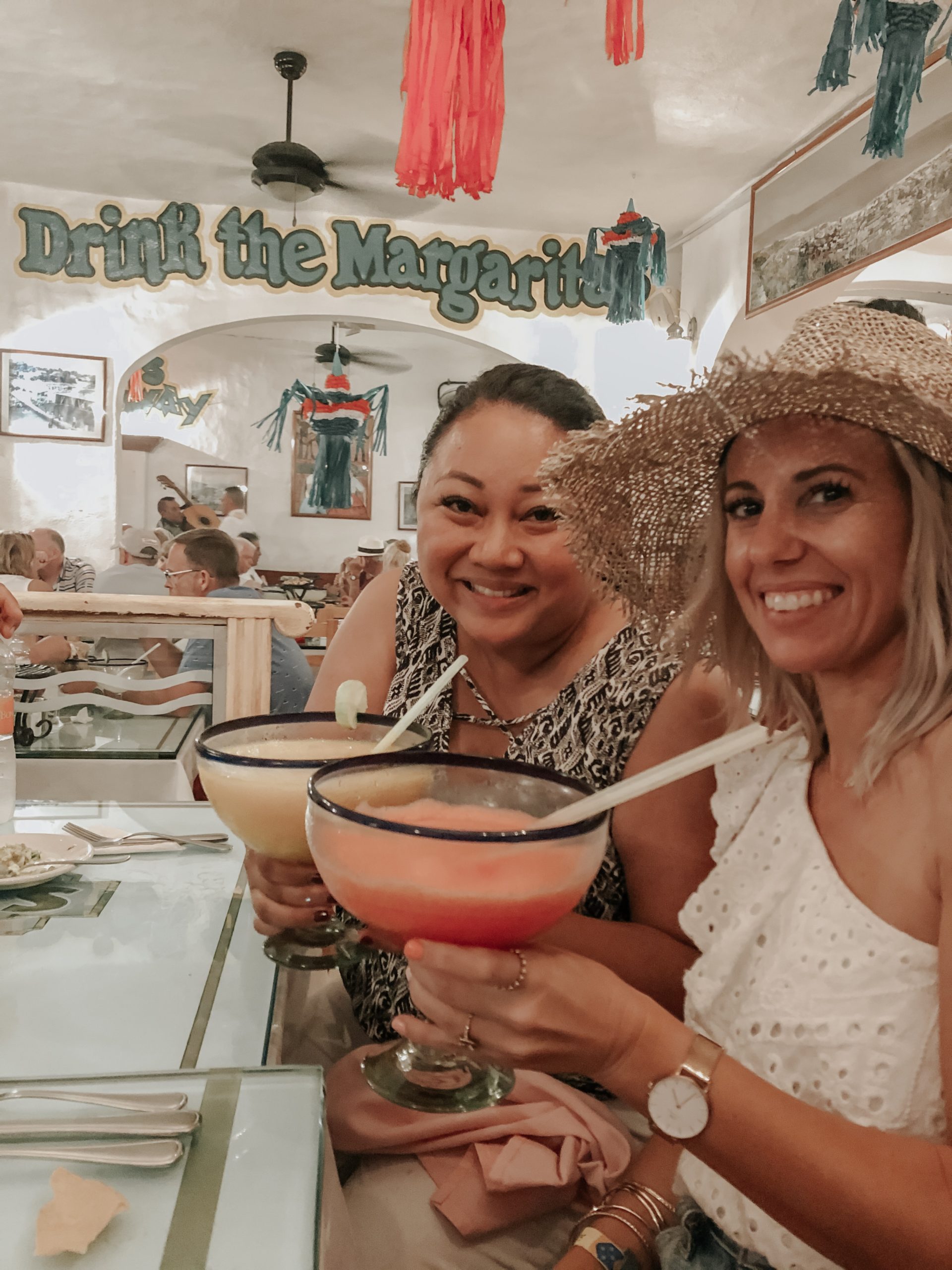 One of my absolute favorite things we did on the trip was swim with the dolphins. We got a great deal on the excursion with Vallarta Adventures which is a company that provides activities and excursion in all through out Mexico. We actually got the Dolphin adventure package where we first went swimming with the dolphins and then took a boat out snorkeling- where we got to see and touch a baby octopus- and then relaxed on a private beach with lunch and drinks. Below is a photo of me and Rod on the private beach. It was a pretty amazing day!
I do have to say that my only complaint about Vallarta Adventures is that they don't allow personal photos when swimming with the dolphins and they really try to rip you off on the price of their photos. For us to buy the photo and video package it was more expensive than what the adventure actually cost. Pretty crazy to me!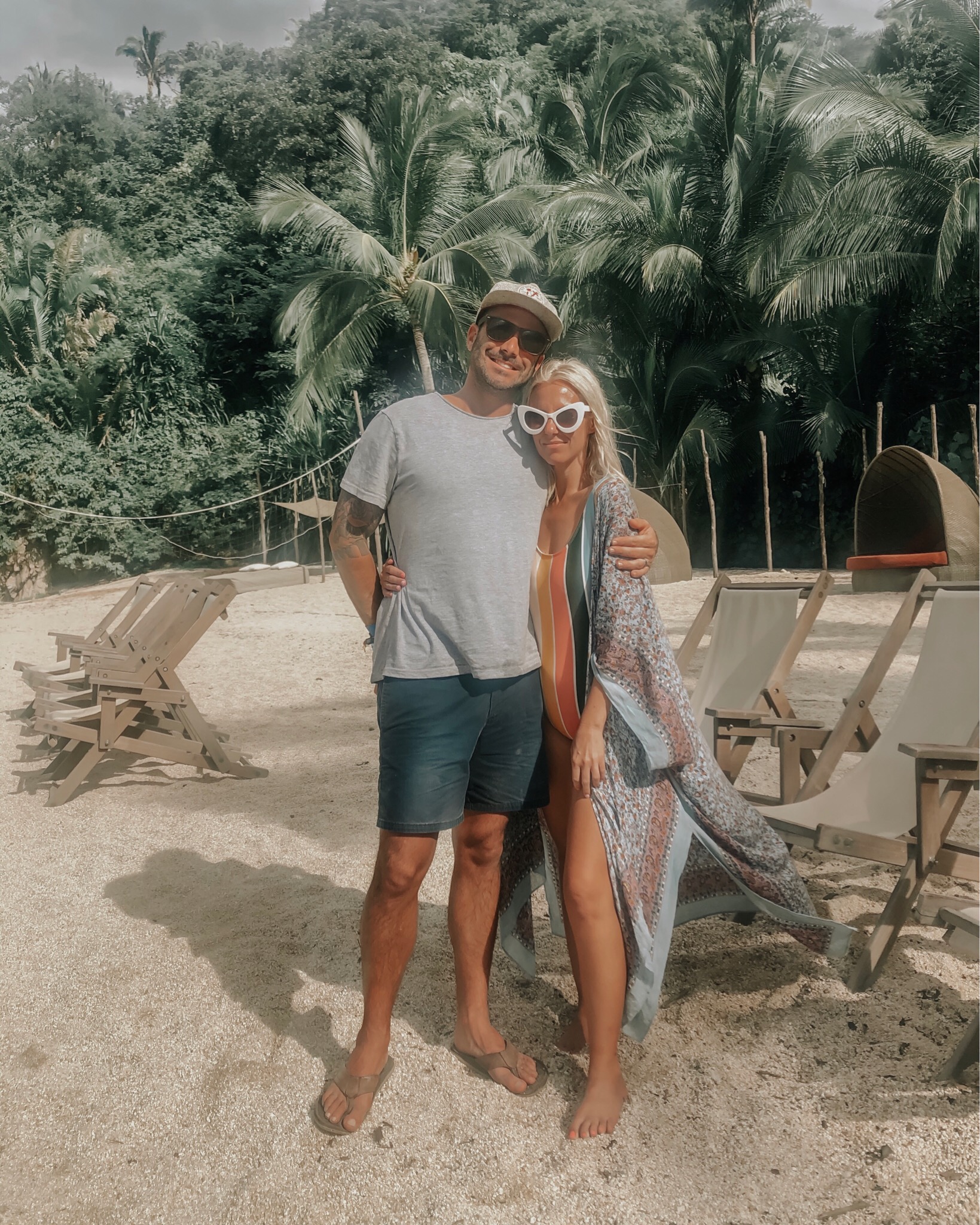 But hands down the best part of the vacation is that we went with my parents and a close friends family. We got to experience all the amazing sights and enjoy all the activities together. You know how usually your kids start getting sick of each other and fighting? Well when there's other kids to play with it's more relaxing for the parents because there is a lot more fun and a lot less fighting. Nothing's better than watching the kids have fun and play together while sipping a margarita with you bestie!!
In a nut shell family vacations are even better with another family!
Ok now for a few quick travel tips! If you are traveling to Mexico or our of the Country I highly recommend getting your passports done asap. You need all the children's birth certificates, passport photos (which you can easily get done at Costco), all paperwork filled out and both parents present to get it all completed. We actually had to make two trips to the Post Office since we had missing items!
When packing for the trip I recommend getting a great quality luggage set (mine HERE) and THIS Logan + Lenora travel bag which is a complete game changer! It slides right over your suitcase handle, has a waterproof inner lining and just the right amount of compartments. When it comes to packing my suitcase I always use my travel makeup case, travel jewelry case and beauty travel roller and get travel size hair and beauty products so it doesn't take a lot of space in my bag. Other than that when it's a fun tropical vacation you only need swimsuits, beach dresses and coverups and you're good to go!
You can easily shop my travel essentials below.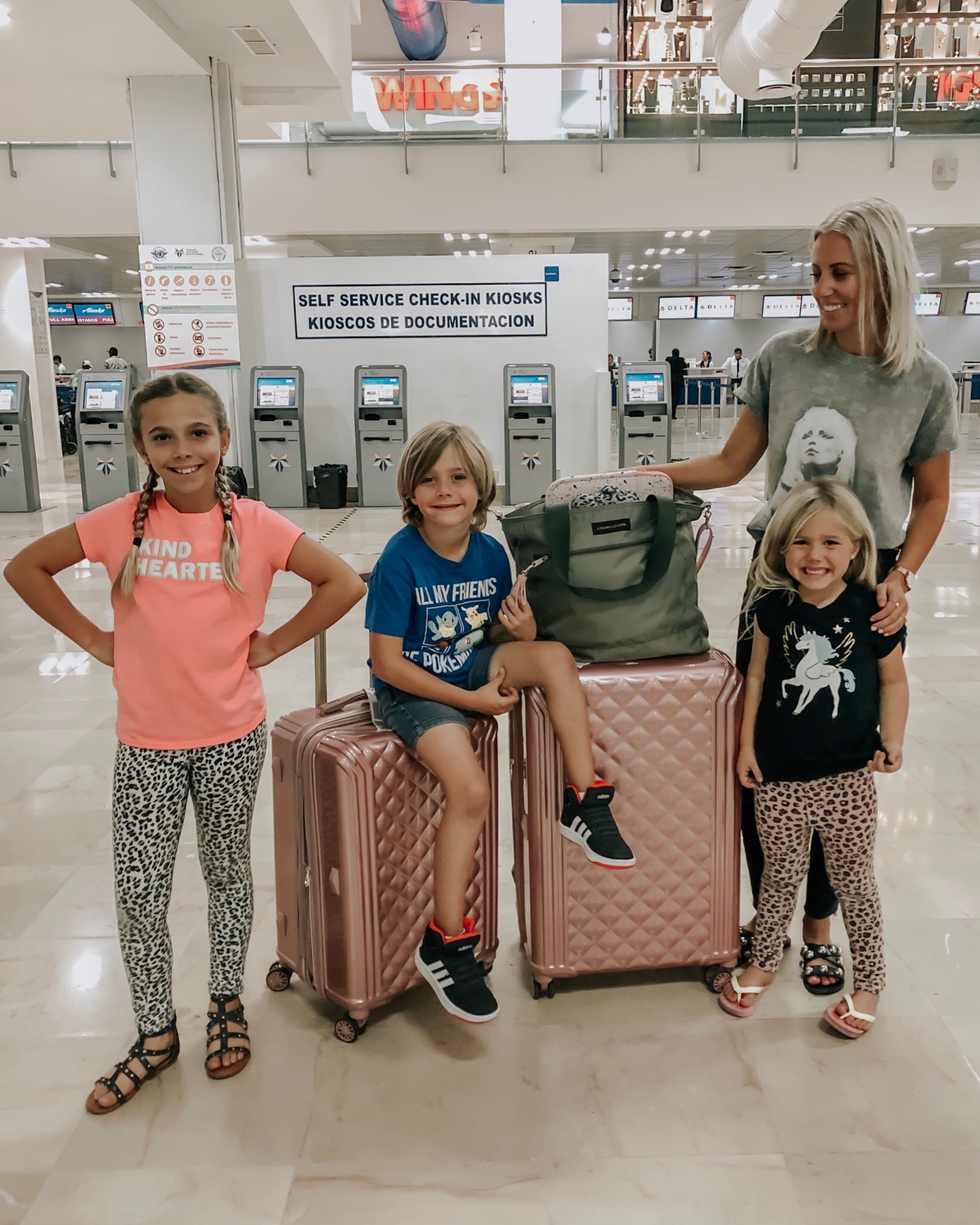 TRAVEL ESSENTIALS

Hands down one of my favorite family vacations to date! I hope you enjoyed my little summary of our trip. If you want to find out more about our hotel or places we went please don't hesitate to reach out.
And of course while on this vacation we already started planning the next so stay tuned!