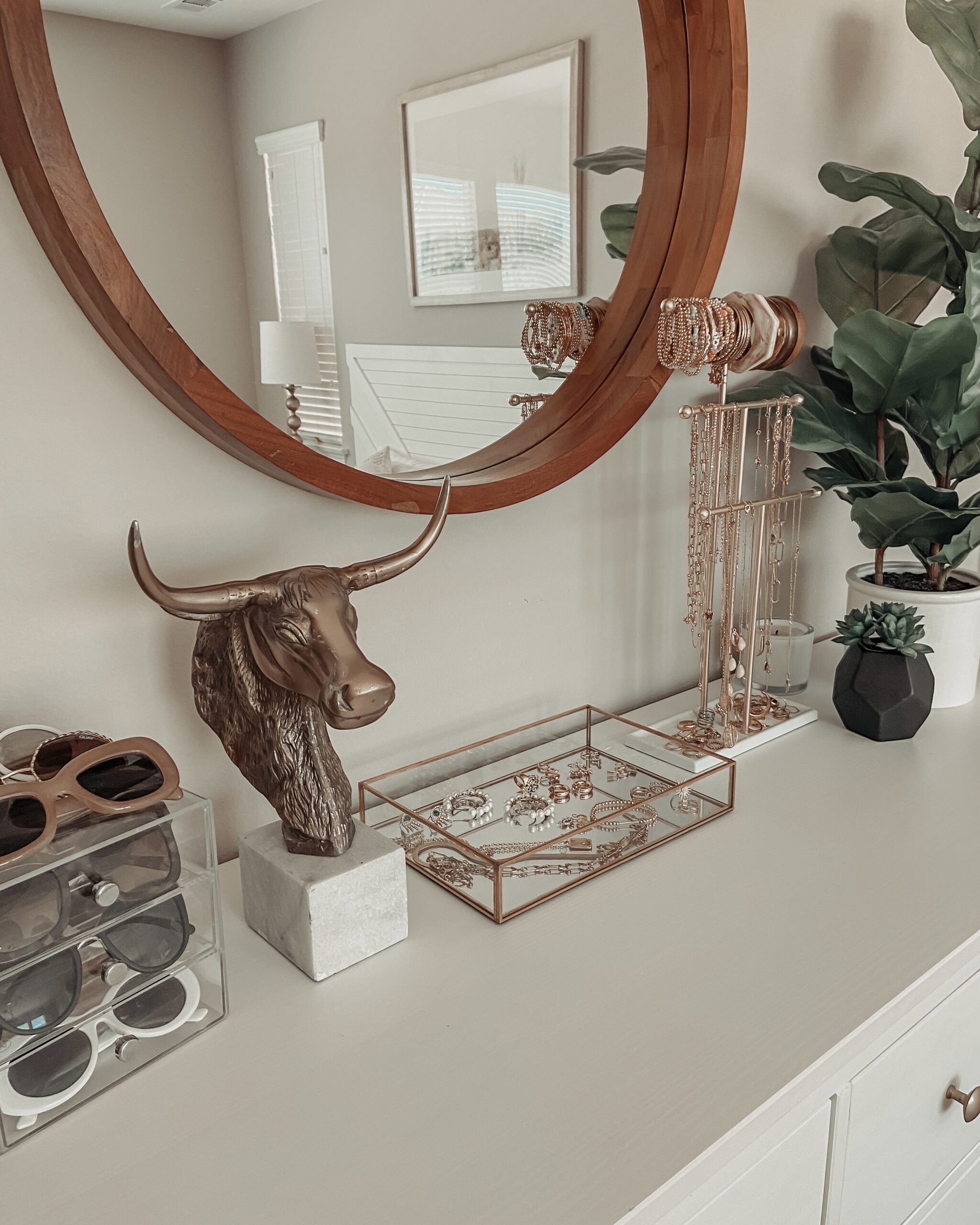 It's a New Year + time for a refresh. I love to focus on organizing everything in the month of January but sometimes it can feel overwhelming. This year I am trying to take it one day at a time + only one drawer at a time. It only took me about 30 minutes to organize our kitchen junk drawer and I already feel so much better.
Since most of us are also in the organizing mood I thought I would share some of my favorite organizational finds. Most of what I'm sharing are not only items to keep you organized but cute display pieces as well.
Starting with my dresser I've got 2 gold jewelry display items that I love + my sunglasses organizer. I put my most worn jewelry here so it's easy to access and still looks so pretty. I grabbed all three of these organizational items from Amazon + they're all under $30.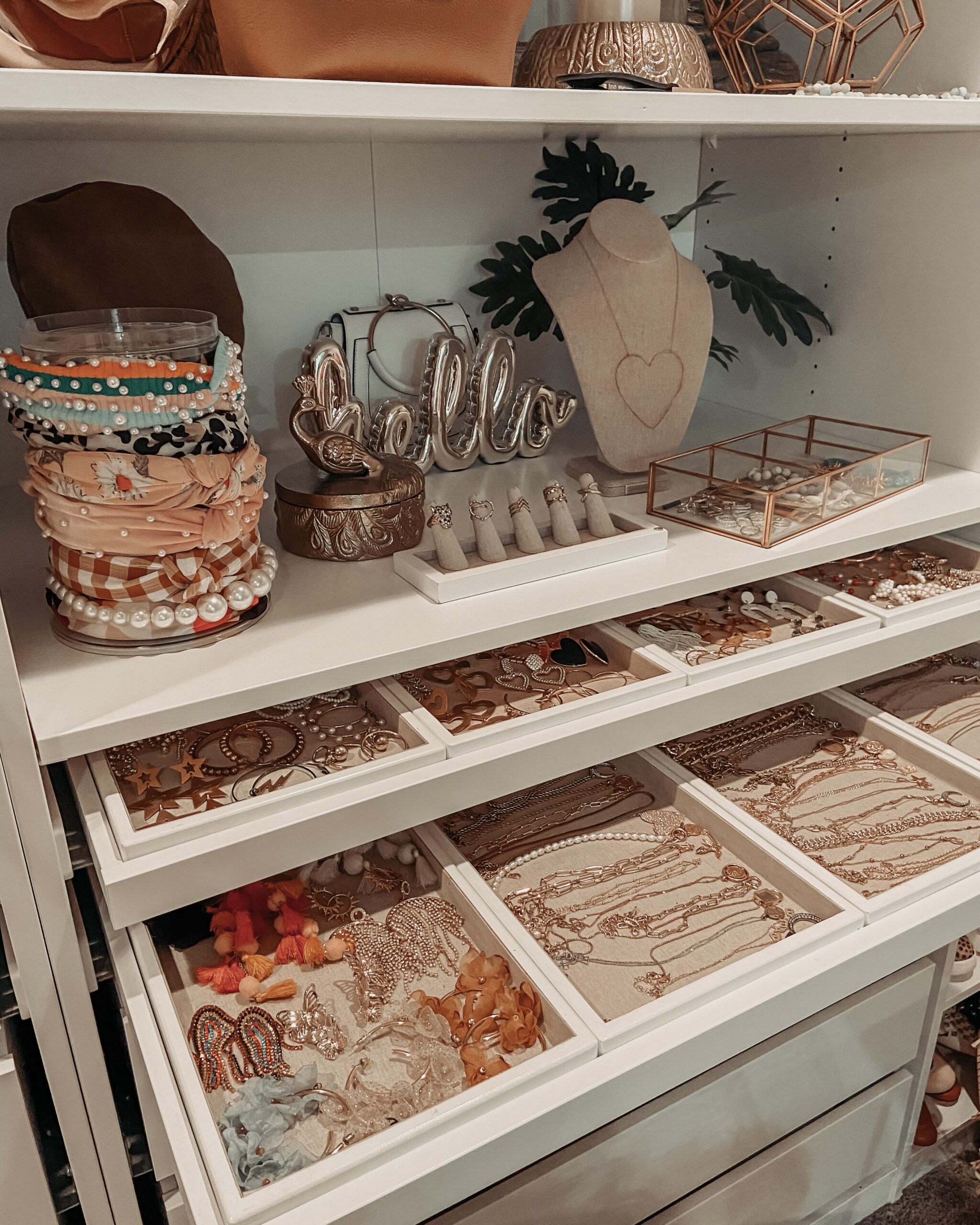 This is a snapshot of my closet office where I also have display + organizational pieces. I love how this headband holder also has a compartment on the inside so it can hold hair clips + scrunchies too. I also love to rotate necklaces that I display on this stand and my favorite rings are easy to access.
When you pull out the accessory drawers I added these white trays to help keep all my jewelry organized + displayed. Then I separate them by earrings, necklaces + bracelets. Don't worry I've got another two more drawers next to these as well.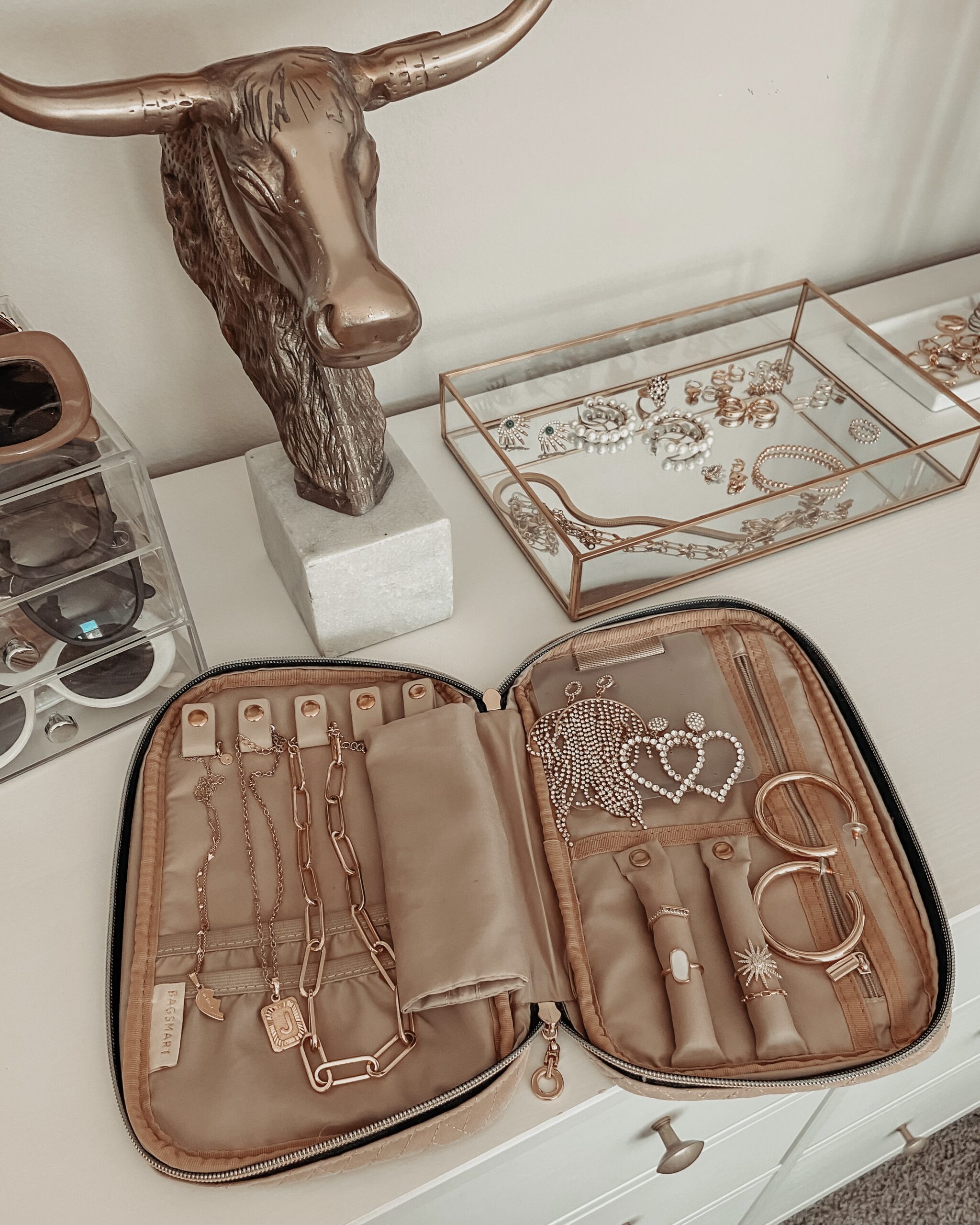 This here is one of my favorite Amazon purchases of all time. I love taking my jewelry on vacation with me but I always hated how my necklaces got tangled + it was hard to see everything. This travel jewelry case is a total game changer! Necklaces are separated individually so they don't get tangled + you can easily see all the earrings + rings you have. Then I usually put hoop earrings + bracelets in the zipper pocket.
Lastly I wanted to share my bamboo bathtub caddy organizer. I love how I can keep my bath stuff organized on it but it also is a cute display piece. You can also prop up a book or your phone so you can relax hands free while in the bath.
I'm still busy working on organizing more spaces in my home but if you're looking for a good place to start I hope you got some good ideas. Most of the items I have are from Amazon or Target which makes them affordable + easy to get. Below I'm linking these favorites as well as a few similar ones.
Thanks for stopping by!!