Tula is one of my absolute favorite skincare brands and I love so many of their products! Probiotics are the foundation of all Tula products. Yes probiotics are the same bacteria that are best known to help balance and calm your stomach. They are used in skincare to soothe and calm skin, target signs of aging, reduce inflammation, and overall boost healthy looking skin. In a nutshell I LOVE IT and if you've been on the fence to try it now is the time!
Now that the company has really taken off they are reducing all discount codes (JACLYNDE) from 20% off to 15% off starting February 1st. So I thought I would quickly run down my favorite Tula products so you can capitalize on my 20% off code JACLYNDE.

MY FAVORITES:
1- Rose glow + get it- cooling + brightening eye balm: This is hands down my absolute favorite product of all. It is a cooling and brightening stick that instantly cools, brightens, and improves the look of dark circles under the eye. I use this balm every morning, through out the day when needed and always when I travel.
2- Purifying face cleanser: This refreshing gel cleanser is a must-have in my book. It not only smells amazing but leaves your skin feeling fresh + clean. It's great for all skin types and I always use it to help remove makeup and toxins from my skin.
3- Face filter blurring + moisturizing primer: I love how this product is a great moisturizer + primer all in one. It has "glow particles" which almost act as a light foundation to reduce redness and even out skin tone. It gives your skin a slight sun kissed glow and I use it in place of a moisturizer. I love to mix it with my Dr Brandt pore refining primer for the perfect base to my makeup.
4- So polished exfoliating sugar scrub: It took me a minute to really fall in love with this product because I'm not much of a scrub girl but now I'm hooked. Not only does it smell absolutely amazing but it gently exfoliates the skin leaving it clean and refreshed. I love using it as a lip scrub when I have really dry lips and then I apply my Laneige lip mask which has been a complete game changer for me.
5- Detox in a jar exfoliating treatment mask: If you know me you know I love a good face mask and try to do them a couple times each week. You can check out all my favorite face masks HERE. Of course this exfoliating mask is on my list as it detoxes the skin and leaves it smoother and healthier.
6- Get toned pro-glycolic 10% resurfacing toner: This toner is a great second step after cleansing your skin. To be honest I switch back and forth between this toner and the Clear it up-Acne clearing + tone correcting gel. Both are great alcohol free toners that help brighten the skin.
7- 24-7 Moisture hydrating day + night cream: To be honest I don't use this product daily but that's because I am someone that has oily/combination skin. I tend to use this cream more in the winter when my skin gets drier but if you suffer from dry skin then this cream is for you. It's extremely hydrating and doesn't leave your skin greasy and oily looking.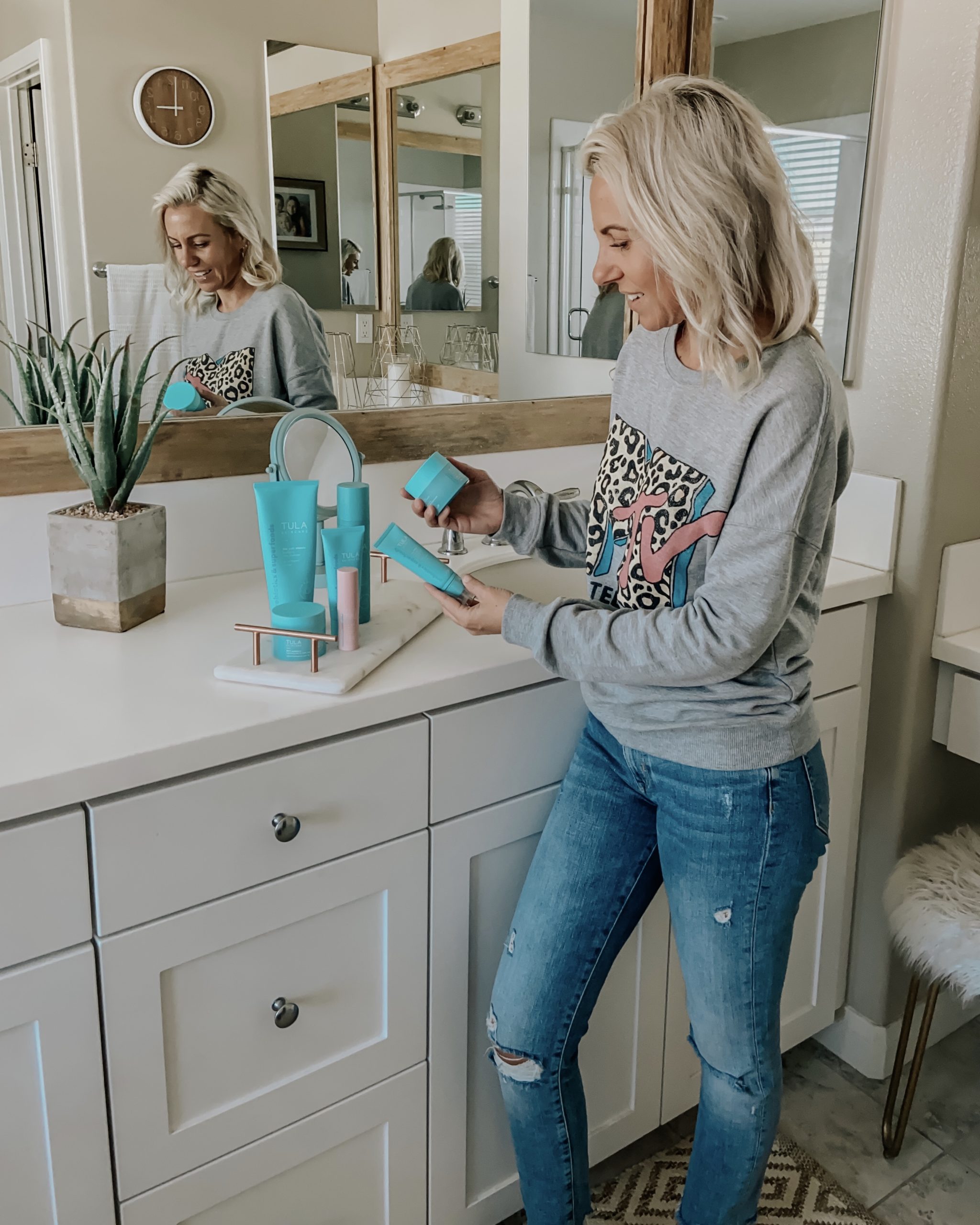 That pretty much sums up my must-have list from Tula! If you're looking to get a couple different products then I highly recommend grabbing a kit. You can use my discount code JACLYNDE on top of the discounted bundle price you get with a kit. If I had to choose just one kit to recommend it would definitely be the Glow Getters 6 piece set. It has my must-have top 3 products in it and you also get a couple masks and a cute bag. And best part is you get everything at a discount! Other great kits are the best seller kit, the best seller travel kit and the discovery kit. You can also take a skincare quiz to find out what's best for your skin!

Don't forget to take advantage of my 20% off with code JACLYNDE. Starting February 1st the discount will be reduced to 15% off so you better act fast!!
Feel free to message me or reach out with any Tula questions. I'm happy to help! And thanks for stopping by!!